This SIBO friendly hearty beef stew is perfect for cold winter's nights. Bursting with flavour, enjoy a steaming bowl at the end of a cold day.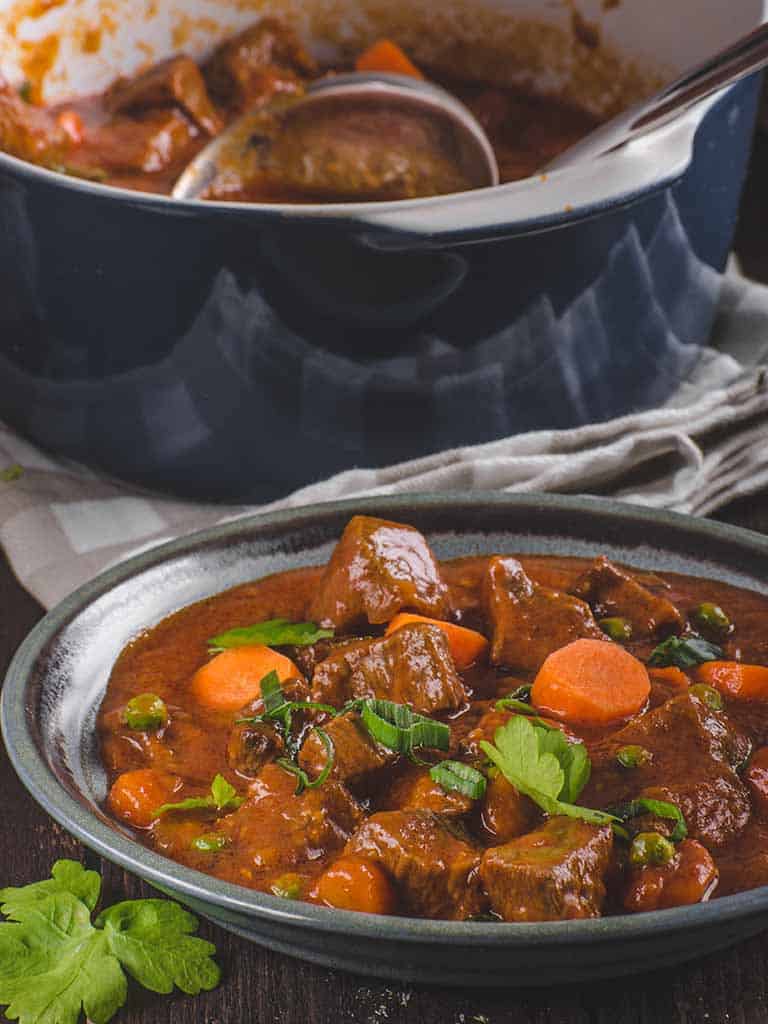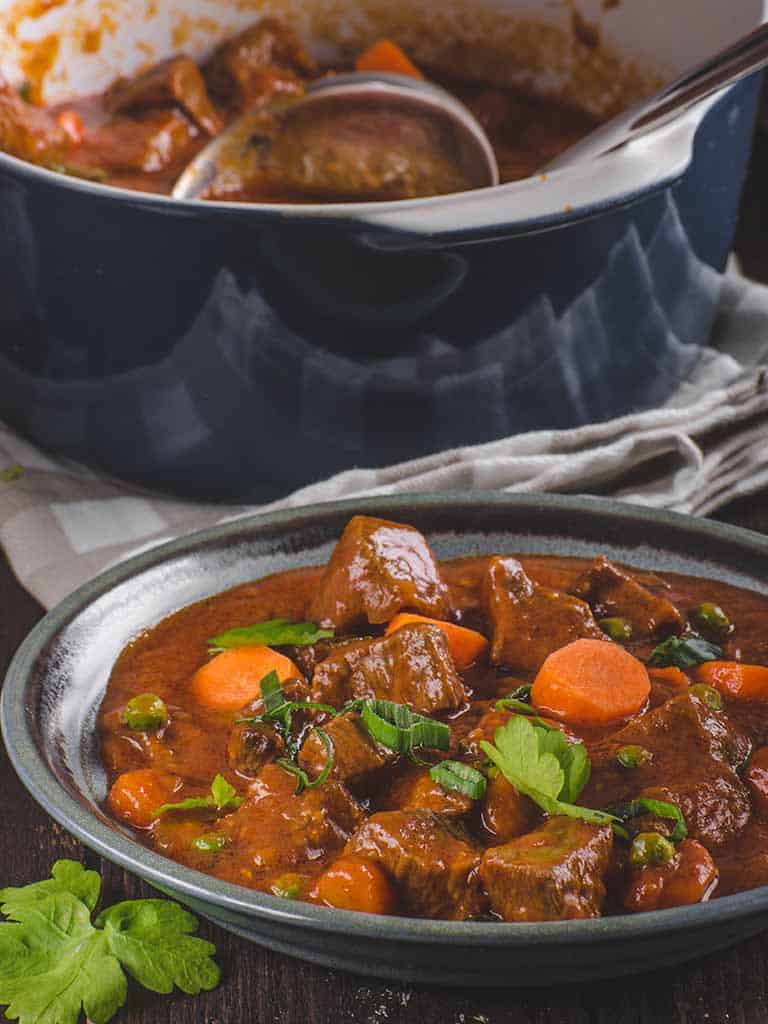 Ingredients
Stew
2 tbs tallow
3 lbs beef chuck steak, cubed
6 strips bacon (no nitrates or sugar), chopped
2 large carrots, chopped
2 large sticks celery, chopped (optional)
4 cups (32 oz) beef stock
1 x 14 oz tin diced tomatoes
2 tbs tomato paste (no nitrates or sugar)
2 tbs chopped fresh rosemary
1 tbs chopped fresh thyme
1 tsp salt
1 tsp pepper
1 cup green peas (fresh or frozen)
Garnish
Large handful fresh parsley, chopped
1 orange, zest only
Method
Stew
Pre-heat your oven to 320F.
Melt 1 tablespoon of tallow in a heavy, oven-proof casserole dish. Brown the meat, ensuring all sides are seared and browned. Brown the meat in batches, being careful not to overcrowd the pan. Once browned, remove from the pan and store on a large plate. Add more tallow as necessary.
Once all of the meat has been browned and removed from the pan, add the bacon to the pan. Cook, stirring frequently, while the fat escapes from the bacon. Remove with a slotted spoon, keeping the bacon fat in the pan.
Next, add the carrots and celery (if using). Cook in the bacon fat until softened.
Add all of the beef back to the pan, including any juices that have come out of the meat. Add the beef stock, tinned tomatoes and tomato paste. Stir through the rosemary, thyme, salt and pepper. Bring to a boil then reduce the heat to a simmer.
Cover with a lid and place in the oven for 2 hours.
Remove from the oven. Stir through the peas and return, uncovered, for a final 30 minutes.
To Serve
Ladle spoonfuls of stew into deep bowls. Top with chopped parsley and a sprinkle of orange zest.
Delicious on its own or can be served with a side of steamed vegetables. For non-SIBO people or those who can tolerate it, mashed potato or mashed cauliflower is a perfect way to mop up the delicious stew juices.
Note
If not using celery, add an extra 2 carrots or another vegetable you can tolerate.
If your stew has too much liquid, you can leave it in the oven with the lid off for longer until it achieves a consistency you like. If you prefer a wetter stew, you can add some extra beef stock before serving.
You can use any high quality fat that you prefer if you don't have tallow.
Tell your friends
Why not share the love? We love it when you tell your friends about The Healthy Gut Recipes. Simply click one of the icons below to share it with your favourite social media platform.