Enjoy 40 delicious, affordable and easy to make soup recipes from the SIBO Soups eCookbook. Recipes are suitable for people following a SIBO Bi Phasic Diet, Low FODMAP Diet or Gluten-Free Diet.
This electronic cookbook contains basic stock recipes, vegetarian and vegan soup recipes, chicken and poultry soup recipes, fish and seafood soup recipes and meat-based soup recipes (beef, pork, lamb).
Recipes are gluten-free, dairy-free (or dairy-free alternative), sugar-free, and grain-free (except the occasional use of rice and rice noodles). It is delivered immediately via PDF download to your email account.
Recipes Included in SIBO Soups Cookbook
Vegetarian and vegan soups
Roasted tomato and basil soup

Roasted butternut squash and sage soup

Indian spiced carrot and lentil soup

Creamy broccoli, kale and leek soup

Carrot, ginger and orange soup

Broccoli and pumpkin curry noodle soup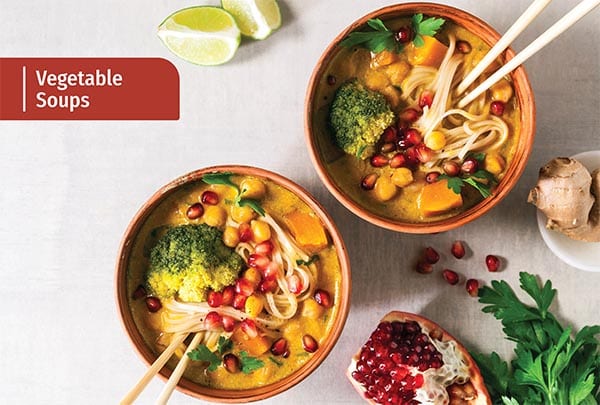 Chicken and poultry soups
Turkey meatball and rice soup

Japanese roast duck ramen noodle soup

Creamy turkey and broccoli soup

Roasted duck and vegetable noodle soup
Get your copy of the SIBO SOUPS Cookbook
Malaysian prawn laksa soup

Spicy roasted red capsicum and prawn soup
Meat based soups (Beef, Pork, Lamb)
Chinese lamb and rice soup

Beef and winter vegetable soup

Chilli bacon and lentil soup
Get your copy of the SIBO Soups Cookbook