Monthly SIBO Meal Plans to Help You Follow Your SIBO Diet Protocol
Eating for SIBO can be stressful and overwhelming.  Meal planning takes time, especially when you are new to SIBO and still trying to wrap your head around your new way of eating.  That's why Rebecca Coomes developed the Monthly SIBO Meal Plans.  You'll get:
4 weeks of SIBO friendly meals

Over 50 delicious SIBO recipes in each meal plan

All recipes 100% gluten-free, grain-free, soy-free, corn-free, sugar-free, dairy-free. Low FODMAP options included

Handy hints and tips to make cooking easier to keep you out of the kitchen

Seasonal recipes. Choose from Spring/Summer and Fall/Winter meal plans so you eat right for your season

Delivered immediately as a PDF via email
People Living Well With SIBO
"I'm so thankful for your meal plan, I have just found out I have all these nasty parasites, SIBO and low stomach acid so this was the best thing to come across. Really making the whole process a lot less daunting."
About The SIBO Meal Plans
Let's be honest. Eating for SIBO can be challenging. It can downright suck at some points. You've already got a lot going on, with your treatment, remembering to take all of your medications, supplements, herbs, etc. Not to mention the daily management of your symptoms, brain fog, exhaustion… the list goes on. Having someone else take the hassle away from planning your food can make your day just a little bit easier.
During Rebecca Coomes' SIBO treatment, she got busy in the kitchen creating delicious meals that were easy to make.  Now she's sharing her recipes with you, so you can make your SIBO journey just as tasty.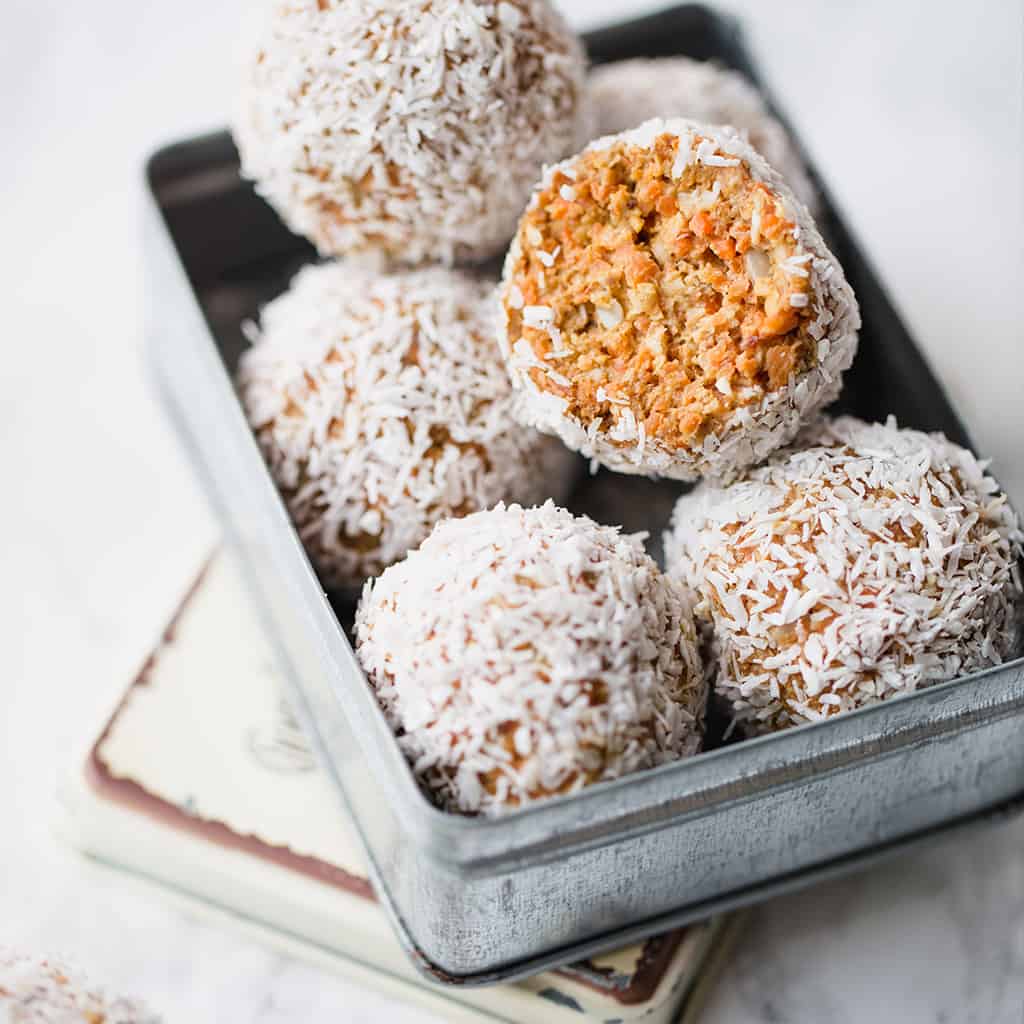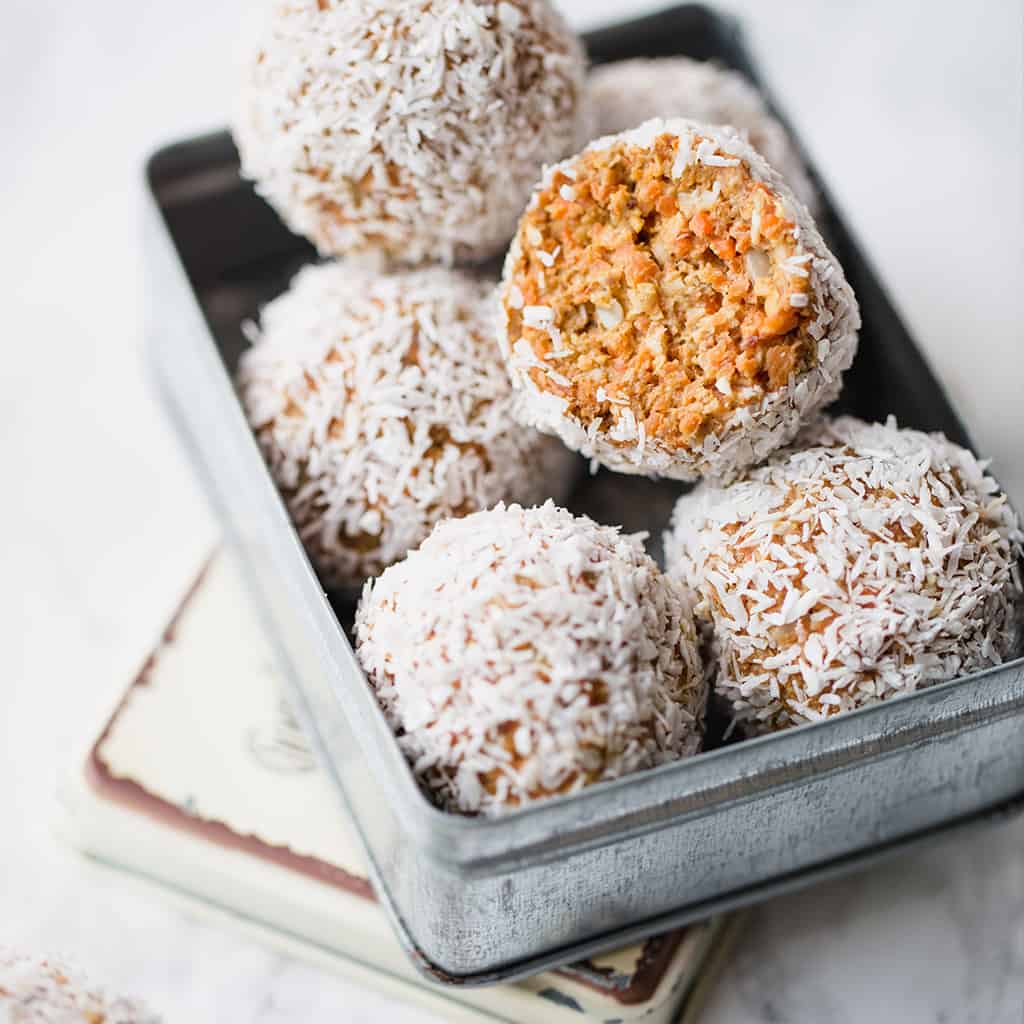 Delicious Recipes
With over 50 different recipes in each SIBO Meal Plan, you will never be left wondering what to eat.  Recipes provide AU, US and UK measurements, temperatures and ingredient names, so you don't have to search for the conversions. Enjoy delicious breakfasts, lunches, dinners and accompaniments.  Choose from a selection of SIBO-friendly sweets and treats as special occasion food. Each meal plan is based on 2 serves per meal.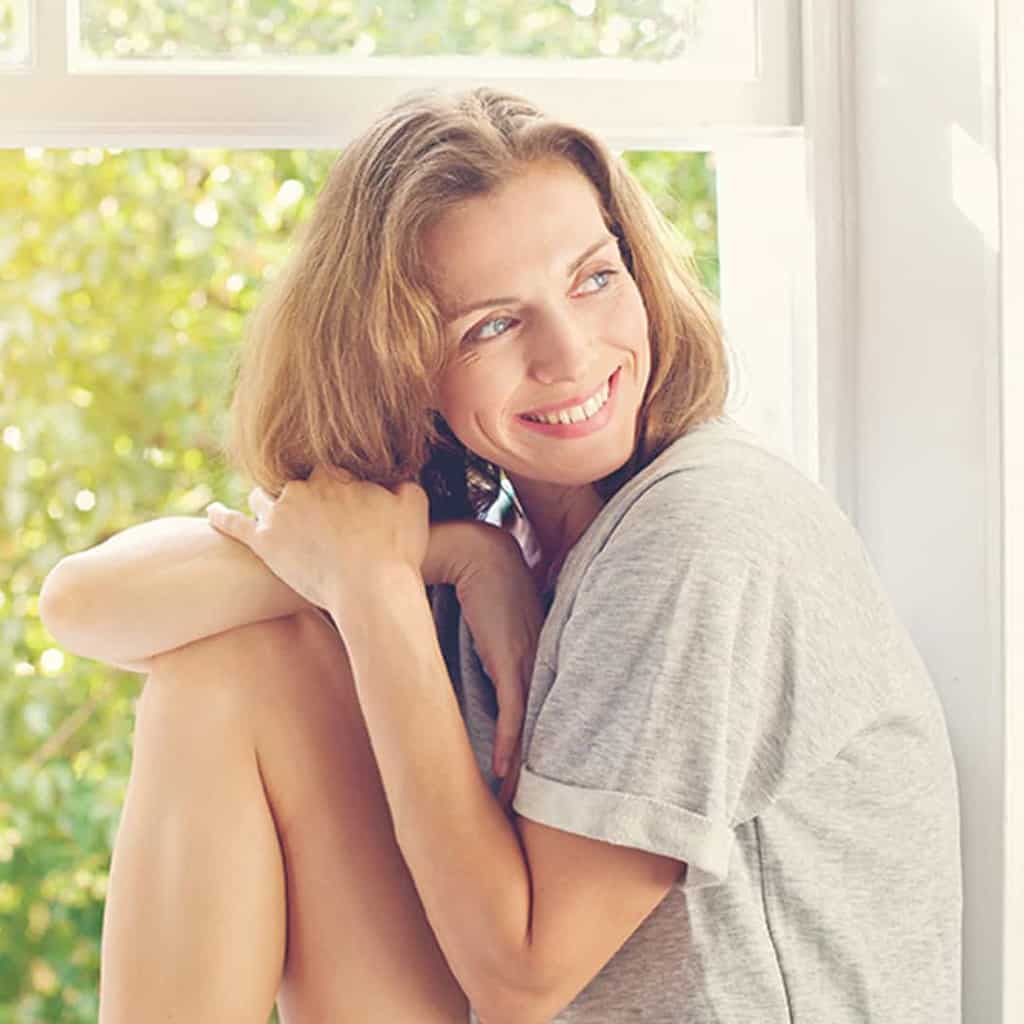 SIBO Compliant
The SIBO Meal Plans are based on the SIBO Bi Phasic Diet, Restricted Phase by Dr Nirala Jacobi.  Each meal plan only contains recipes that are suitable for the Restricted Phase, so you don't have to worry about whether the recipes are suitable for you to eat.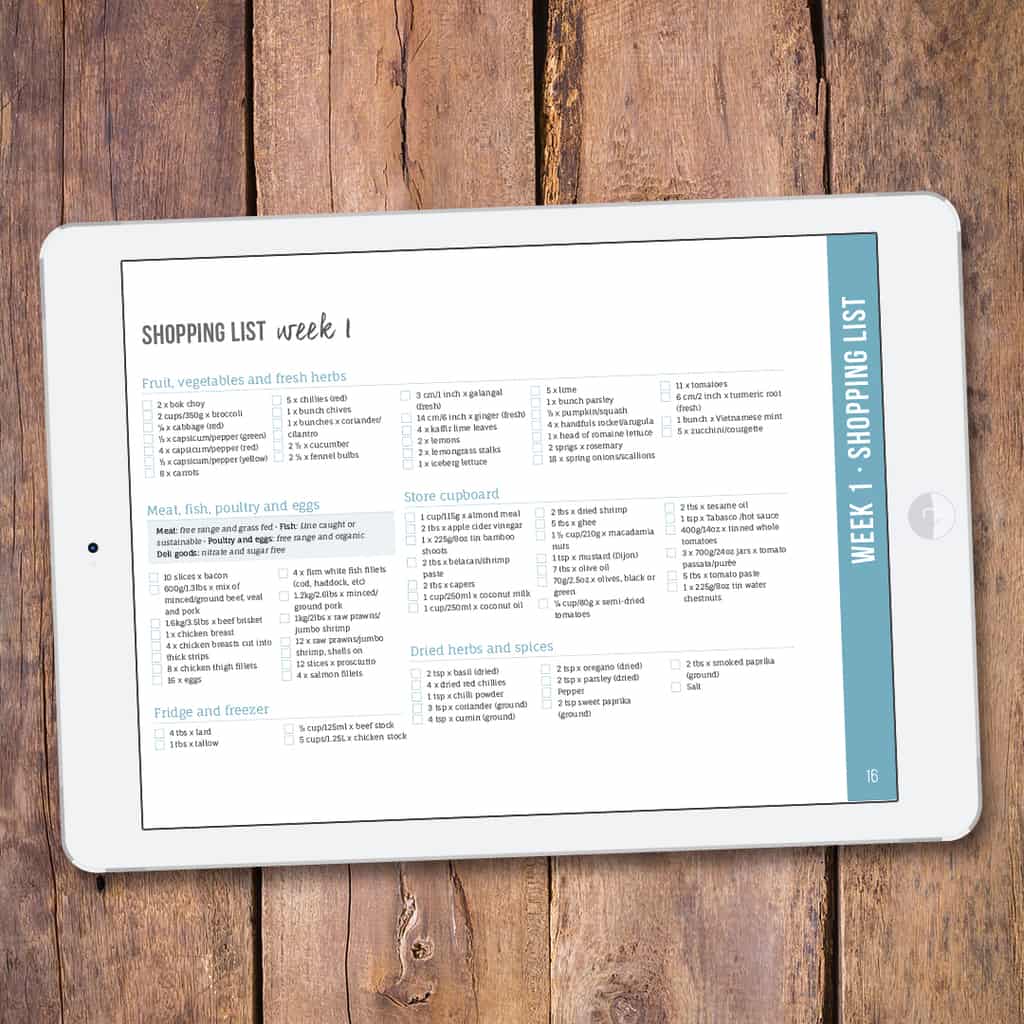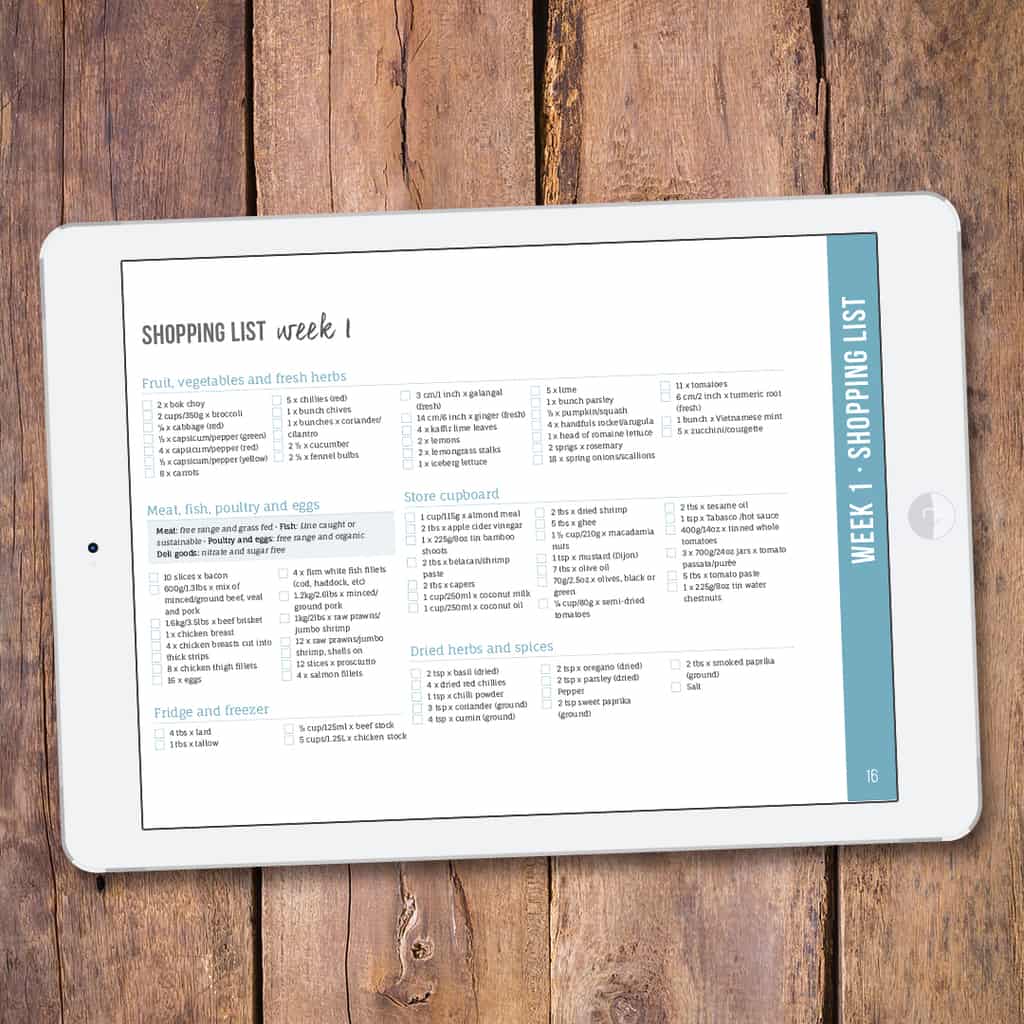 Shopping Lists
You get weekly shopping lists, listing all the ingredients you need to cook the recipes for that week. Simply print out each list out or have it with you on your device when you go shopping.  Ingredients can be found in your local supermarket, fresh food market, butcher, health food store, fishmonger or shop online to save even more time.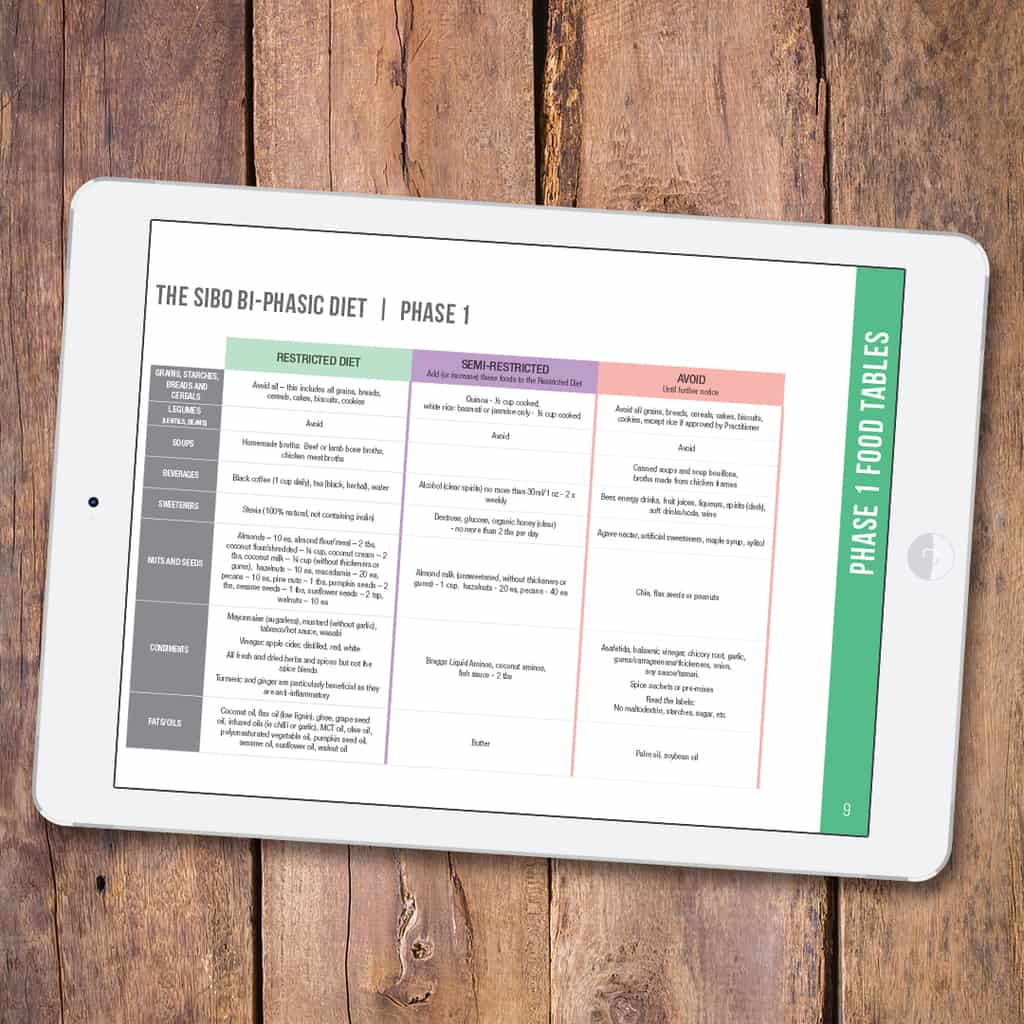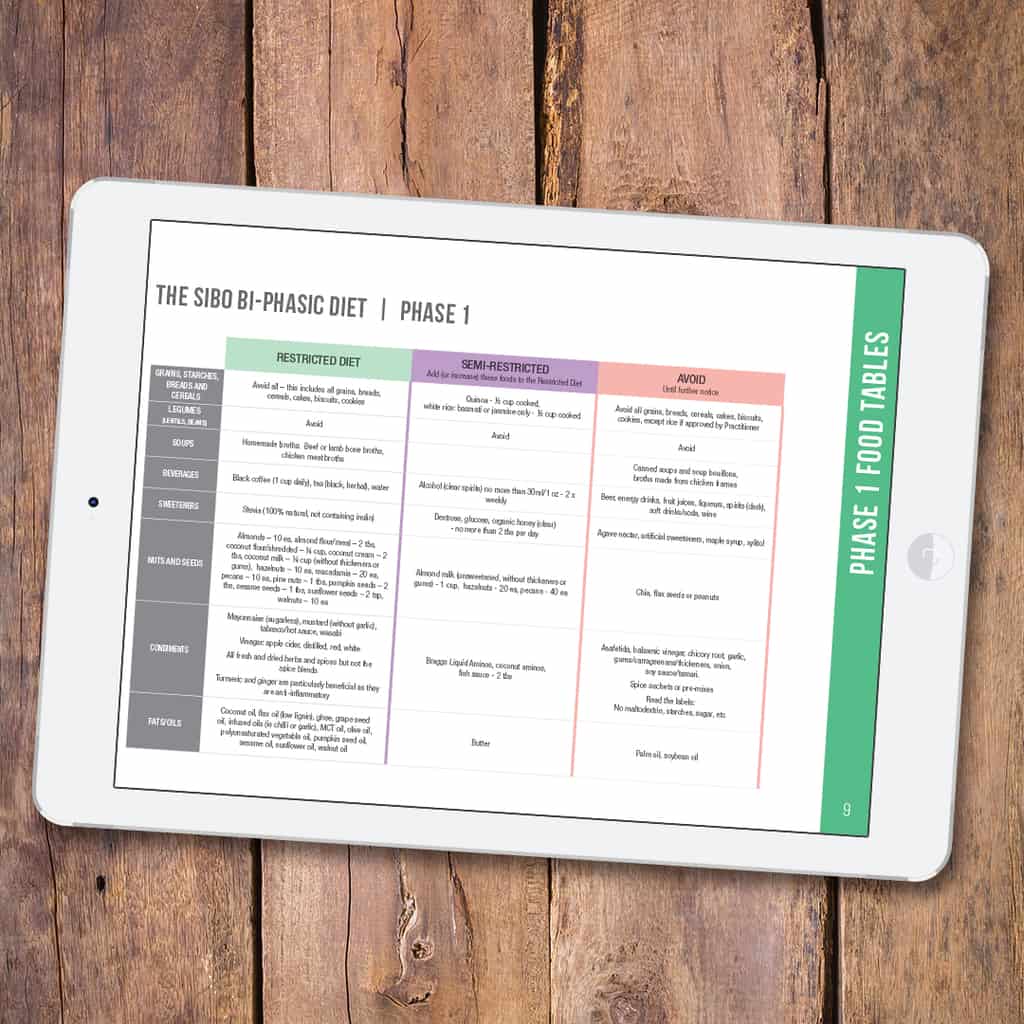 SIBO Bi Phasic Diet
Along with delicious recipes, the SIBO Meal Plans include information on the SIBO Bi Phasic Diet so you can be up to date with the latest information on the protocol. The food tables are included so you can check what ingredients are included at each phase of the protocol.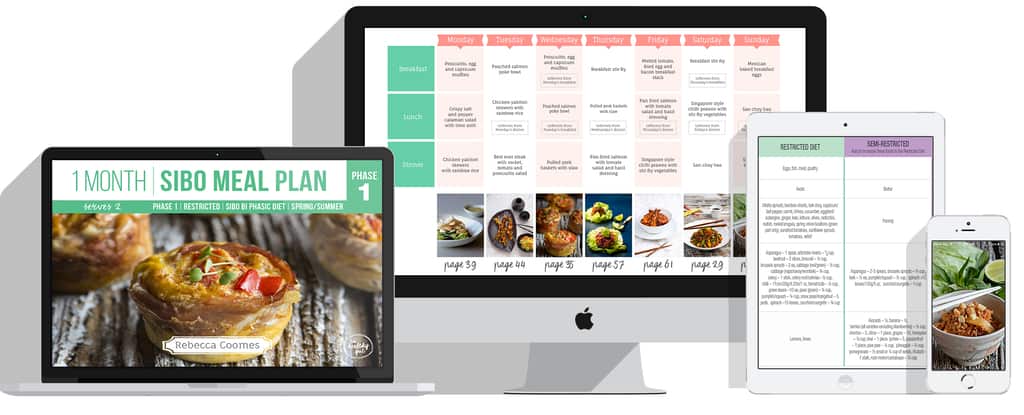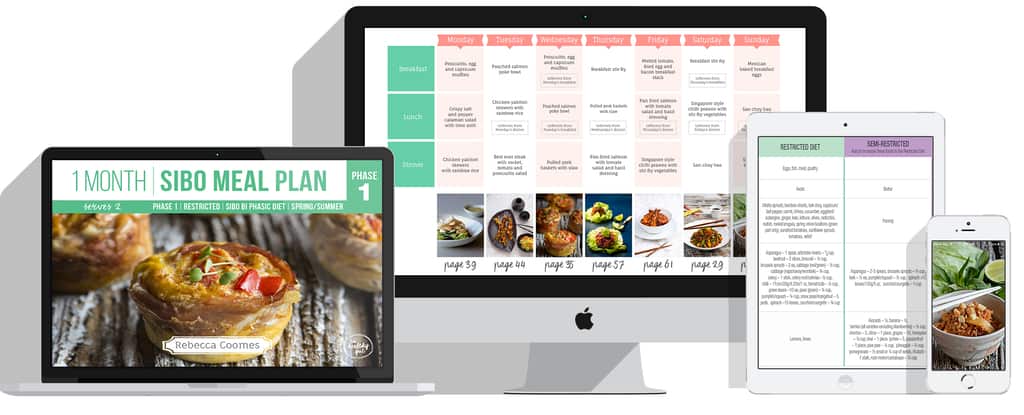 * Please note, the SIBO meal plans are an electronic product only. They are sent to you as a PDF download immediately after you purchase them. *
Stop Fearing Food and Start Living Well With SIBO
When you live with SIBO you learn that food can cause you pain, bloating and embarrassing symptoms.  It's easy to become terrified of eating.
The SIBO Meal Plans take that stress away from you.  All recipes are based on the SIBO Bi Phasic Diet by Dr Nirala Jacobi and have been developed specifically for SIBO patients.  You will no longer need to spend hours every week looking for suitable recipes, as every recipe within the SIBO Meal Plan is compliant for the phase it follows.
If you have been feeling frustrated that you haven't been able to stick to your SIBO diet, or annoyed at the number of hours you spend searching online or thumbing through recipe books for SIBO friendly dishes, then these meal plans are for you.
All of the work has been done for you.  Simply follow the shopping list to ensure you have a week's worth of food ready to cook.  Not only will it save you time, but you will save money as you only buy the ingredients you actually need.  Plus, you will get to taste new and exciting recipes, giving you new and delicious meals every day.
And if you have additional dietary requirements such as food intolerances or allergies, you can easily substitute those ingredients for others, or simply swap out a meal for another one.
Access Immediately via Electronic Download. Print Out or View on Your Device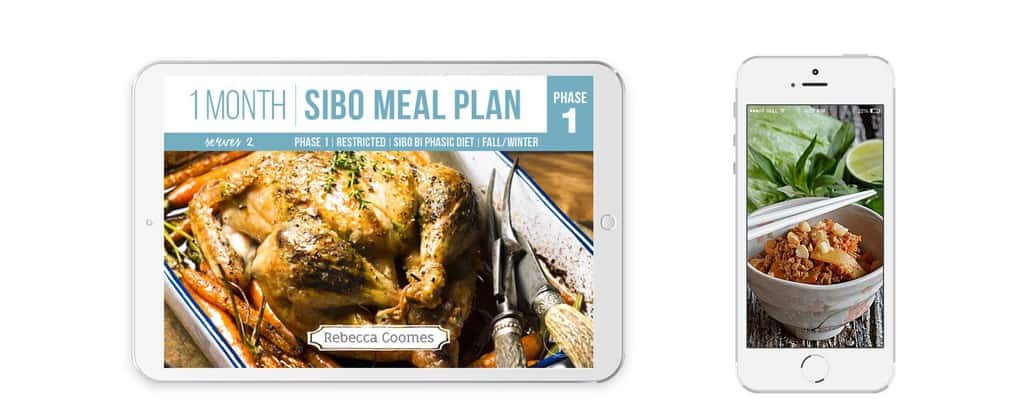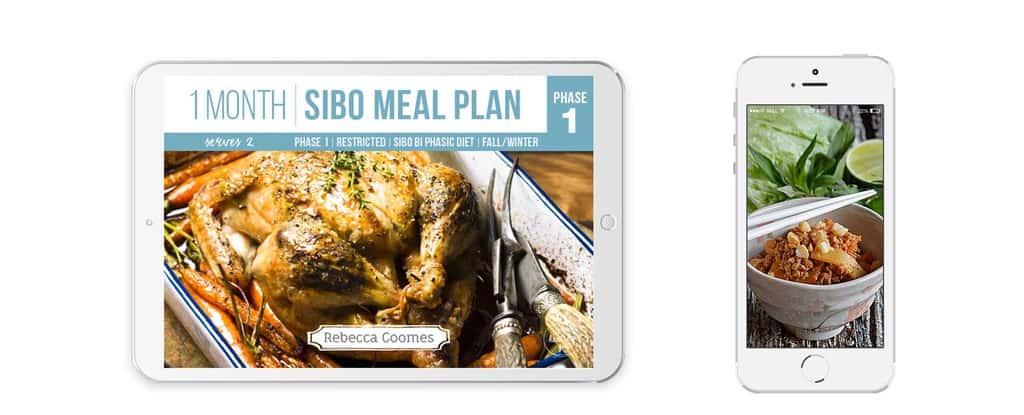 Upon purchase, the Monthly SIBO Meal Plan is delivered to you immediately via email as a PDF download.  You will be provided a link to download the plan, which will be delivered to you in a PDF file format. You can then save this to your devices such as a tablet, smartphone or computer.  Alternatively, you can print it out.  You may even like to do all of the above so you have a copy of it wherever you go.  The choice is yours. Please note, the SIBO Meal Plans are not available as a printed book.
Choose The Meal Plan That Will Suit Your SIBO Diet Protocol
Take the stress away from eating for SIBO.  At only $29.95, get an entire month of SIBO friendly breakfasts, lunches and dinners delivered straight to your inbox.  Choose from a range of sweets and treats to help make your SIBO journey a little more delicious. Delivered immediately as a PDF download.
Only $29.95 per meal plan | *Prices in AUD
Frequently Asked Questions