The SIBO Summer Cookbook is bursting with delicious recipes for people treating Small Intestinal Bacterial Overgrowth (SIBO).  All recipes are based on the SIBO Bi-Phasic Diet Protocol developed by Australia's leading SIBO specialist, Dr. Nirala Jacobi ND.
Each recipe is classified by which phase it is suitable for, making menu planning a breeze.  Recipes are gluten-free, dairy-free (or dairy-free alternatives), low sugar, soy-free, grain-free, have low FODMAP options, are easy to make, affordable and most importantly, delicious.
Rebecca Coomes believes in eating food when it's at its best: in season.  This cookbook features gorgeous summer produce, giving you a wide array of meals which are perfect for the warmer summer months. She uses a wide range of ingredients that will leave you feeling satisfied and happy to be eating a SIBO-friendly meal.
The US edition of the eCookbook is now available for immediate download.  Orders for the US edition of the printed cookbook for deliveries in the US and Canada are available via QuinTron.
Look Inside The SIBO Summer Cookbook
100% SIBO-friendly recipes

100% dairy free recipes (or dairy-free options)

All free from refined sugar
Low FODMAP recipe options

Vegetarian and vegan recipe options

Based on Dr Nirala Jacobi ND's SIBO Bi-Phasic Diet protocol

Recipes categorised for Restricted, Semi-Restricted and Remove and Restore phases
Recipes Included in SIBO Summer Cookbook
Hot smoked salmon breakfast bowl

Lemony scrambled eggs with smoked trout

Prosciutto, egg and capsicum muffins

Zucchini fritters with crispy bacon and smoky salsa

Berry good breakfast bowl

Vanilla and cinnamon granola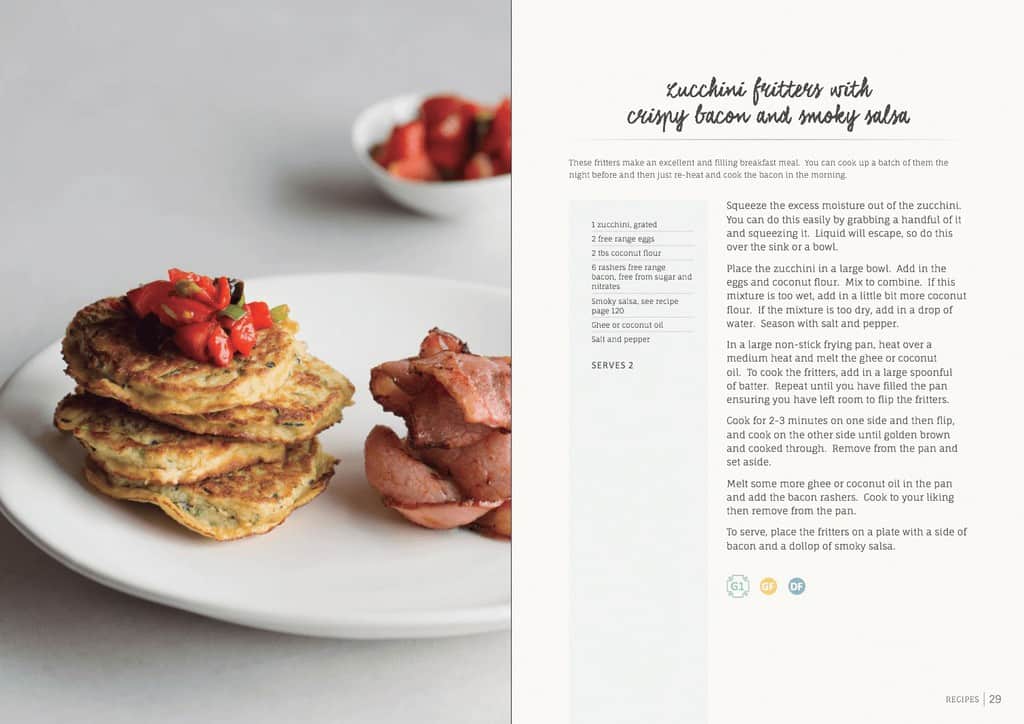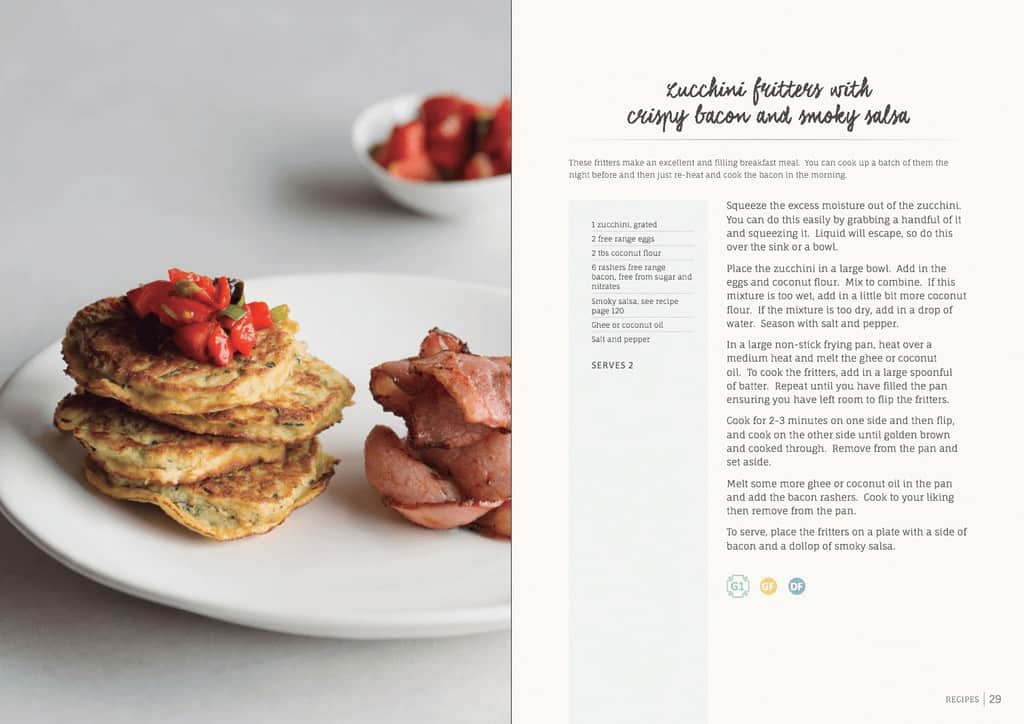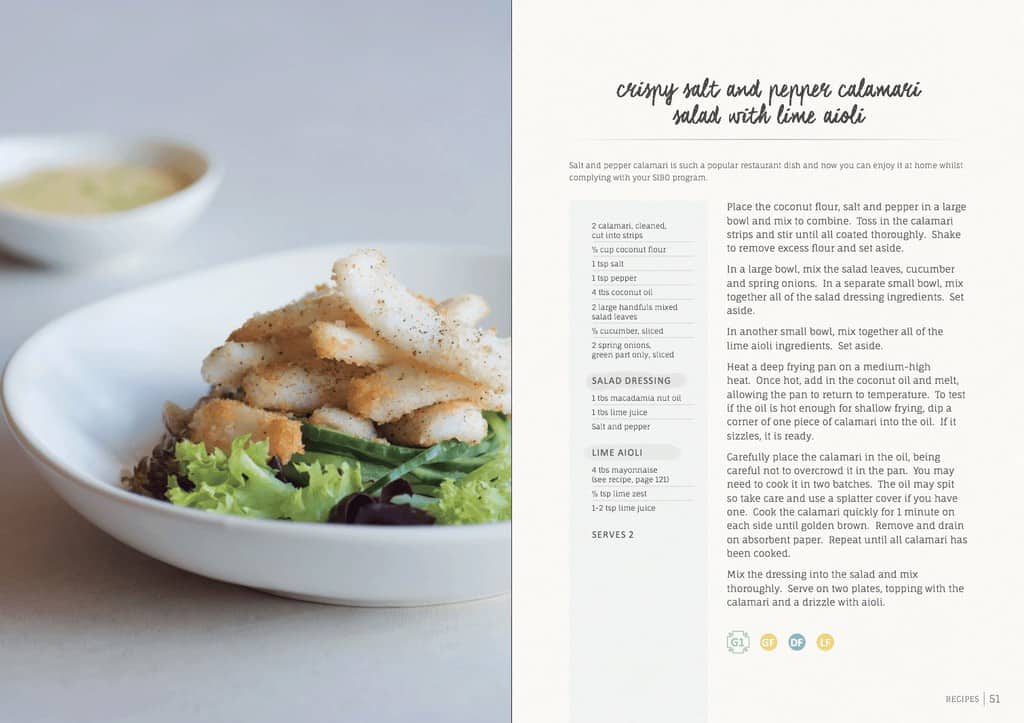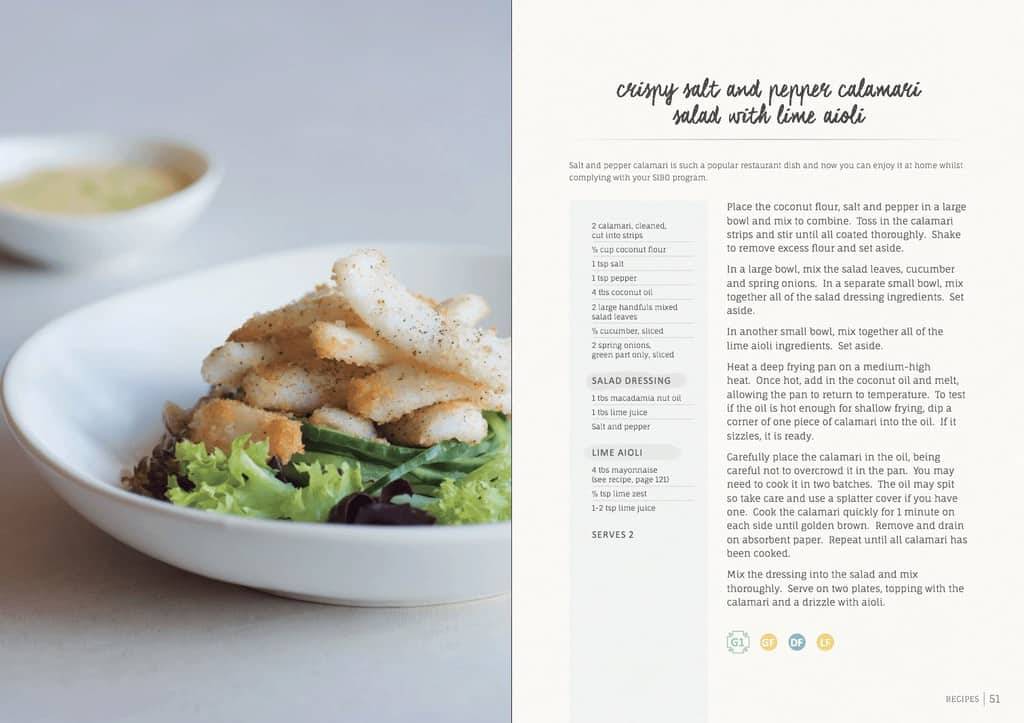 Aussie burger with the lot and a side of carrot chips

Salt and pepper calamari salad with lime aioli

Marinated lamb skewers with a Greek salad

Zesty fish cakes with dipping sauce

Crunchy chicken tacos with coleslaw and guacamole

Crustless quiche lorraine
Best ever steak with rocket, tomato and prosciutto salad

Crispy chicken strips with lime aioli

Lemon and lime BBQ snapper

SIBO-ghetti and meatballs

Thai style marinated chicken drumsticks

Succulent lamb cutlets with a pomegranate, pecan and pumpkin salad
Italian pan-fried broccoli
Get your copy of the SIBO Summer Cookbook
Summer pineapple with coconut whip

Vanilla and strawberry ice

Choc chip piklets with berry coulis and coconut cream
Chunky roast pumpkin and macadamia nut dip with fresh vegetables

Salt and pepper pork crackling

Salt and vinegar smashed sardines

Smoked paprika kale chips

Chai spiced banana muffins
Get your copy of the SIBO Summer Cookbook
SIBO Summer Cookbook Reviews
A million thanks to The Healthy Gut team for this inspiring collection of SIBO friendly recipes. I had been on the SIBO diet for two months and was really struggling to bring variety to my cooking. Too busy (and unwell) to be creative, I just kept falling back on the same safe recipes. And we can all agree how limiting and boring that can be! I was blown away by the coco-nutty-bites, they genuinely taste like truffles. After weeks of deprivation, discovering something so delicious, that was SIBO friendly, almost made me cry. I have been able to cook for my whole family from this recipe book, which is such a blessing because it's difficult enough wrapping your head around the SIBO diet, without having to cook multiple meals! I would recommend this cookbook to anyone trying to treat SIBO, whether you're new to the diet or have been on it for a while and need inspiration.
In my years of treating SIBO, the most difficult commitment for my patients has been the SIBO diet. It is an intentionally restrictive diet to reduce the fermentation of food by bacteria in the small intestines. In addition to treatment, I designed this two-phased diet for people to follow for 3 months, but because it makes them feel so much better, people typically stay on it longer. Once treatment is completed, however, transitioning to a whole foods, varied diet is the goal. There are many resources for SIBO diets on the internet, but in my experience, most are far too lenient (or confusing) that can lead to SIBO relapses. I am so glad that Rebecca has written this book, and especially glad since she herself has overcome SIBO with the right treatment and diet protocol (as I recommend on www.sibotest.com). What better person to write this book than someone who has experienced it herself. The phased diet tables are easy to understand and the recipes are delicious. I am thankful that SIBO sufferers will now have this valuable tool to help them navigate through the treatment towards the path of health.
Dr Nirala Jacobi ND, SIBO Test