Light and fluffy, these spinach souffle pancakes with roasted tomato and bacon are a perfect lazy Sunday brunch.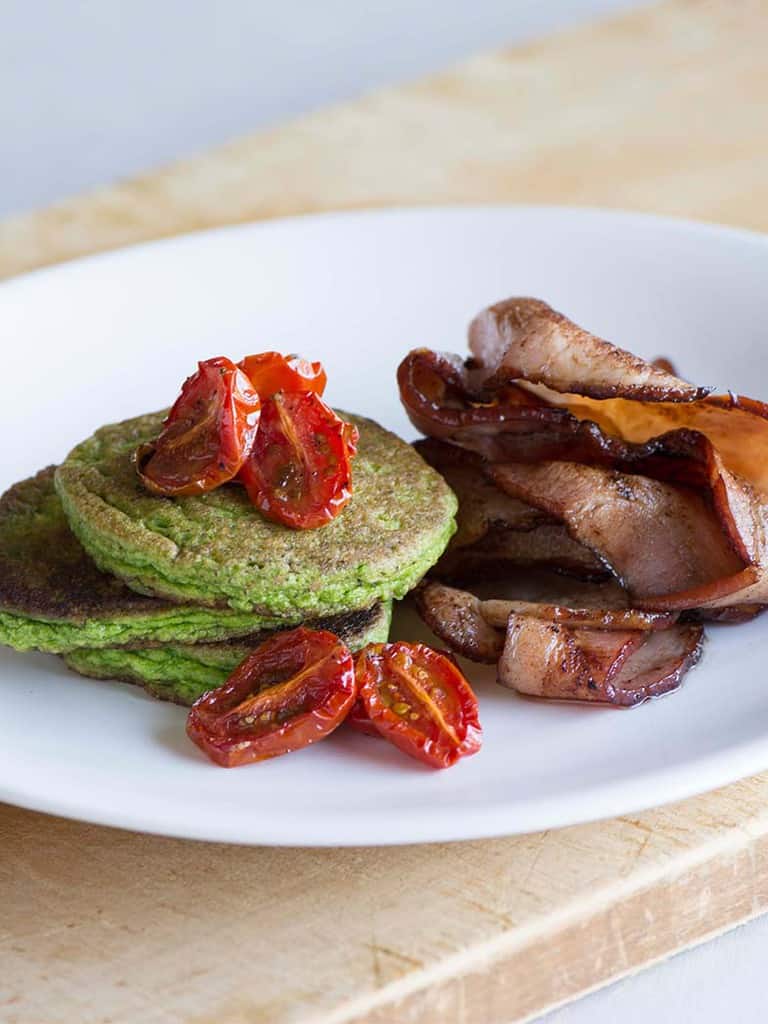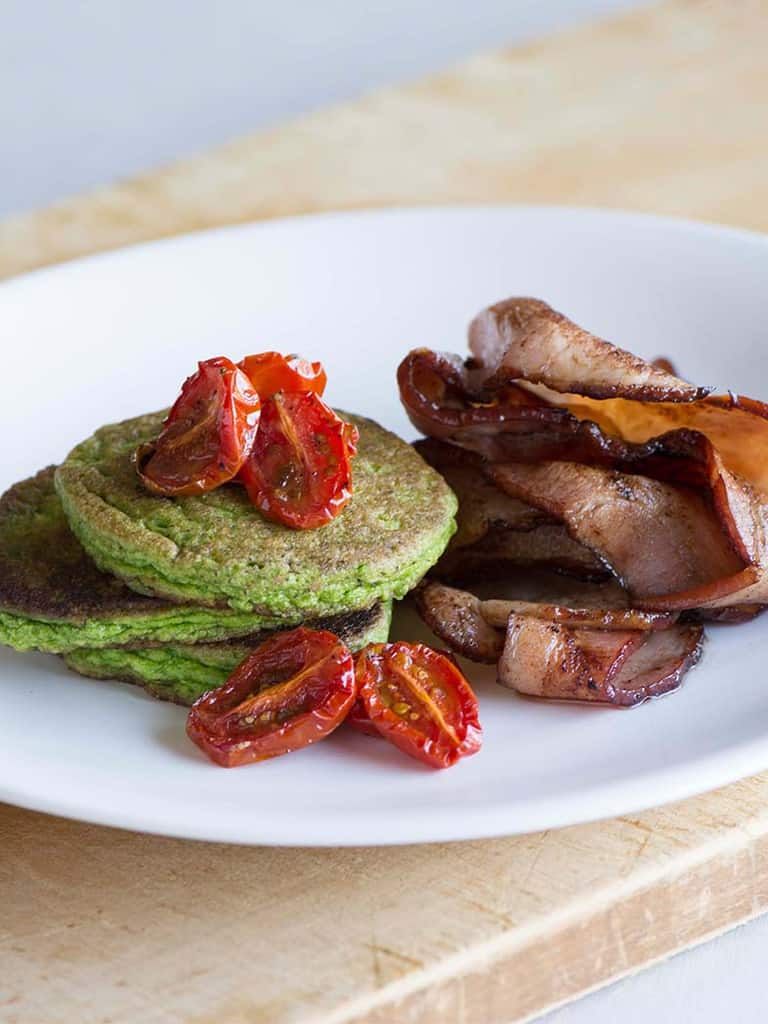 Ingredients
Roasted Tomatoes
7 oz cherry tomatoes, halved
2 tbs olive oil
½ tsp salt
½ tsp pepper
Bacon
1 tbs lard or ghee
8 rashers free range bacon (no sugar or nitrates added)
Pancakes
4 free range eggs
1 x 5 oz bag baby spinach, washed
¼ cup almond meal
1 tsp salt
Method
Pre-heat the oven to 350F.
Place the cherry tomatoes in a large bowl, and cover with 2 tablespoons of olive oil, and ½ teaspoon each of salt and pepper. Line a baking sheet with parchment paper.
Place the tomatoes on the baking sheet and bake for 30-40 minutes or until roasted. Remove from the oven and set aside.
Meanwhile, make the pancakes. Separate two of the eggs. Place the egg whites into a clean bowl. Place the yolks and the two remaining eggs, spinach, almond meal and salt in a blender. Blitz until well combined and the spinach as been fully incorporated. Pour into a large bowl.
Using electric beaters, whip the egg whites until stiff peaks form. Place one spoonful of whipped egg whites into the spinach mixture. Mix well to combine. You don't need to be too careful at this stage, as you are just incorporating the ingredients together. Fold in the remaining egg whites, this time being careful not to deflate the mixture.
Heat a large frying pan over a medium heat. Melt some lard or ghee in the pan, then spoon the spinach mixture into the pan. You may be able to fit 4-6 pancakes in the pan, depending on the size of your pan. Cook for 2-3 minutes on one side, then flip and cook the other side until the pancakes are cooked through. Remove from the pan and repeat the process with the remaining mixture.
Meanwhile, in a second frying pan, cook the bacon to your liking. To serve, evenly divide the pancakes over four plates. Top with roasted tomatoes and a side of bacon.
Tell your friends
Why not share the love? We love it when you tell your friends about The Healthy Gut Recipes. Simply click one of the icons below to share it with your favourite social media platform.