A comforting soup that can brighten up your cold days. I always love how colorful and tasty this pea and ham soup is. If you want to make it more special, top it off with strips of bacon and freshly cracked black pepper.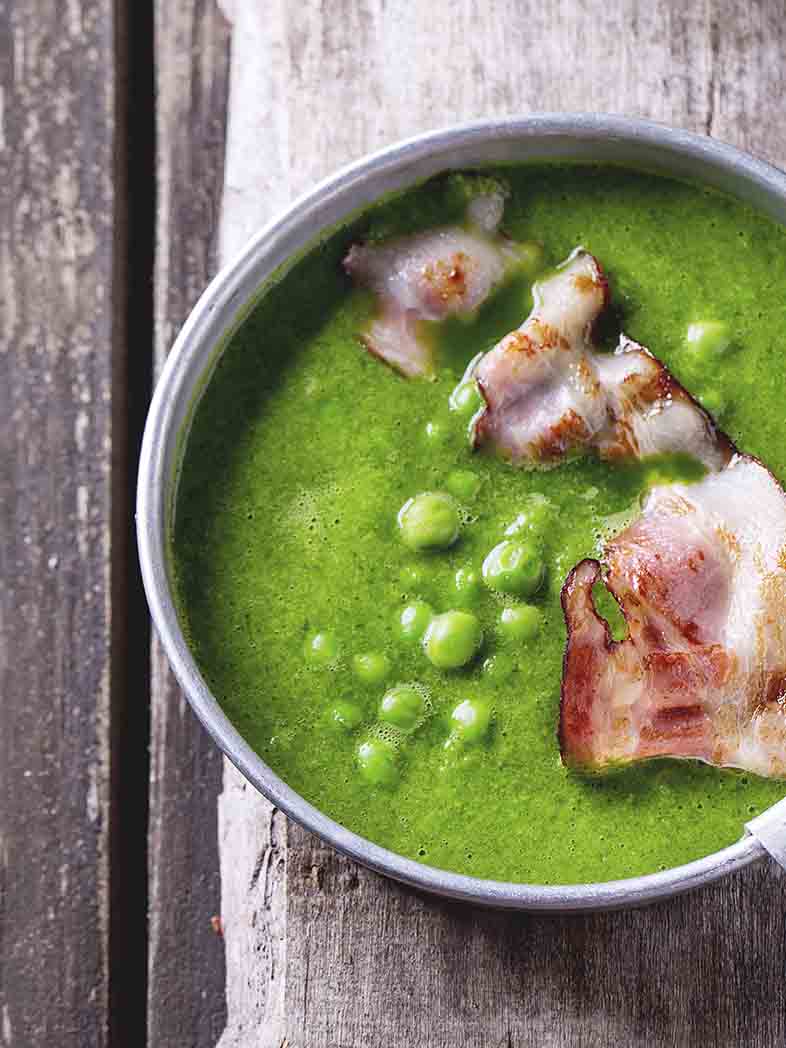 Ingredients
2 tbs olive oil
6 scallions, green part only, chopped
2 sticks celery, diced
2 carrots, diced
2 ham hocks
½ cup dried green lentils
1 cup green peas
1 large handful parsley, chopped
4 strips bacon
Salt
Pepper
Method
Heat a heavy-bottomed pot over a medium heat. Add the olive oil, then add the scallions, celery and carrots. Cook until softened and slightly browned.
Add ham hocks and cover with water (about 1 gallon). Bring to a boil then reduce the heat and simmer for 1.5 hours or until the meat is falling off the bone. Remove the hocks from the pan and set aside to cool slightly. When cool enough to handle, strip the meat from the bone, cutting into small chunks. Discard the bone or use it in another stock.
Meanwhile, add the green lentils and cook for 45 minutes or until they are very soft. Add the green peas and parsley and cook for a few minutes, until the peas are bright green. Purée half the soup in a high-powered blender then return to the remaining soup. If you prefer a completely creamy soup, purée the whole mixture. Stir the meat into the soup and reheat slightly. Taste and season with salt and pepper accordingly.
To Serve
When ready to serve, cook the strips of bacon to your liking. Divide the soup between 4 large bowls, topped with a piece of bacon across each bowl.
Tell your friends
Why not share the love? We love it when you tell your friends about The Healthy Gut Recipes. Simply click one of the icons below to share it with your favourite social media platform.