Hosting a party? Serve these loaded potato skins to huge applause. Filled with cheese and bacon, they are the perfect party finger food.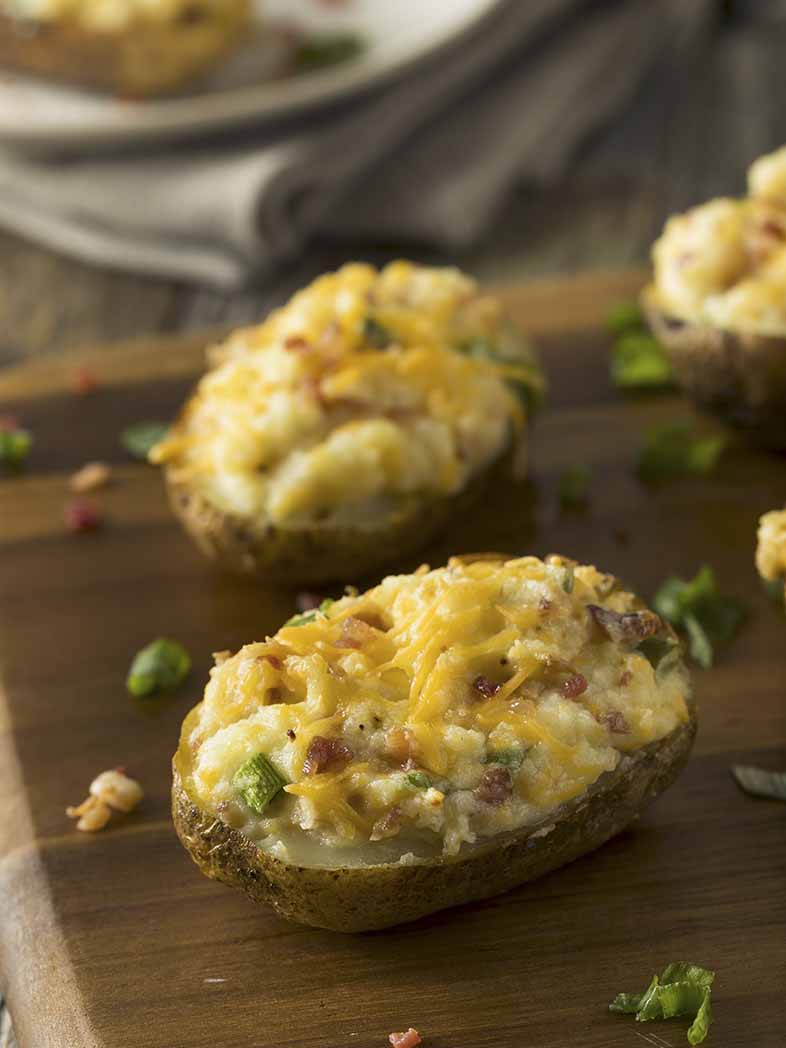 Ingredients
6 medium potatoes
2 tbs olive oil
4 tbs butter or ghee
4 rashers bacon (sugar and nitrate free, ideally free-range)
3 scallions, green part only, finely chopped
2 tsp salt
2 tsp pepper
1/2 cup grated parmesan cheese
Method
Main Dish
Pre-heat your oven to 400F.
Pierce the skins of your potatoes with a fork, then rub them with olive oil and sprinkle with 1 teaspoon each of salt and pepper. Place on a tray and roast in the oven for 1 hour, or until the flesh feels soft when pierced with a knife or fork.
Meanwhile, cook your bacon. Chop your bacon into small pieces. Heat a frying pan over a medium heat and melt 1 tablespoon of butter or ghee, then add the bacon. Cook, stirring frequently, until the bacon is crispy and the fat has rendered out of the bacon. Using a slotted spoon, remove the bacon and drain on absorbent paper. Retain the bacon fat.
Once the potatoes are cooked, remove from the oven and allow to cool slightly. Slice each potato in half and scoop out the soft flesh into a bowl. Mix through the butter, bacon and bacon fat, scallions and remaining salt and pepper. Stir until well combined.
Scoop the mixture back into the potato skins then sprinkle with parmesan cheese.
Place on a tray and return to the oven for 15 minutes or until the cheese has melted and the skins are hot.
To Serve
Tell your friends
Why not share the love? We love it when you tell your friends about The Healthy Gut Recipes. Simply click one of the icons below to share it with your favourite social media platform.