Broccoli and butternut squash curry noodle soup is an all-time favourite amongst my SIBO community because it is hearty, delicious and incredibly satisfying. Perfect on a cold winter's night. To make this soup extra filling, I added some rice noodles. If you're not ready to try rice noodles yet, you can omit them or swap them for zucchini noodles.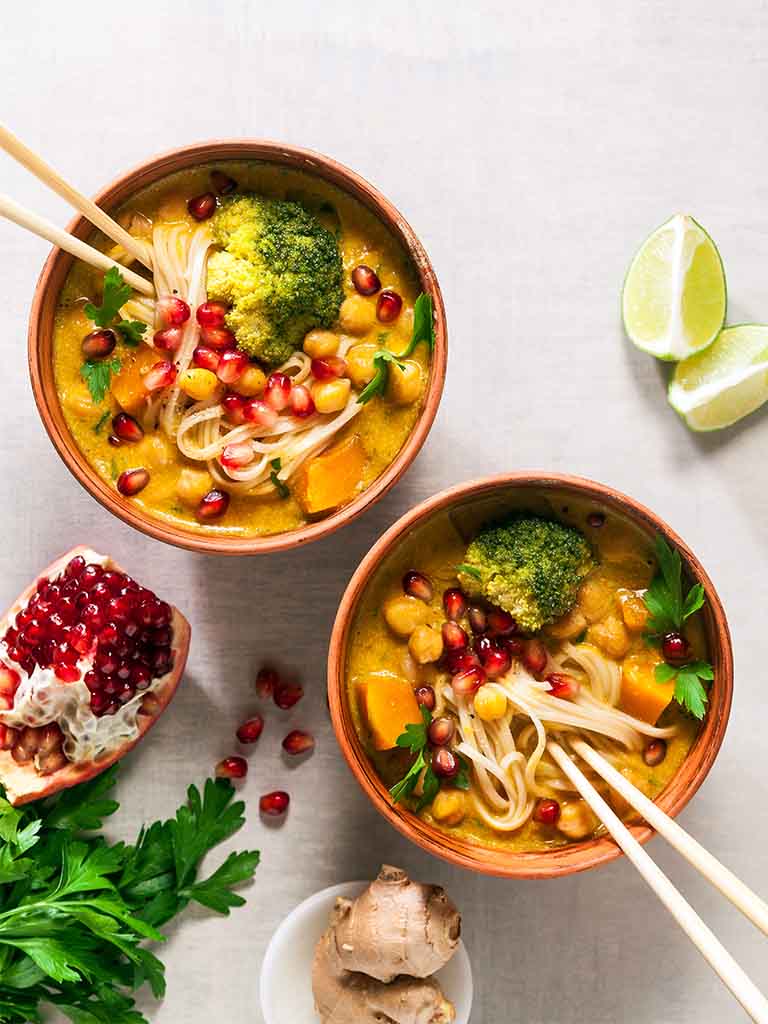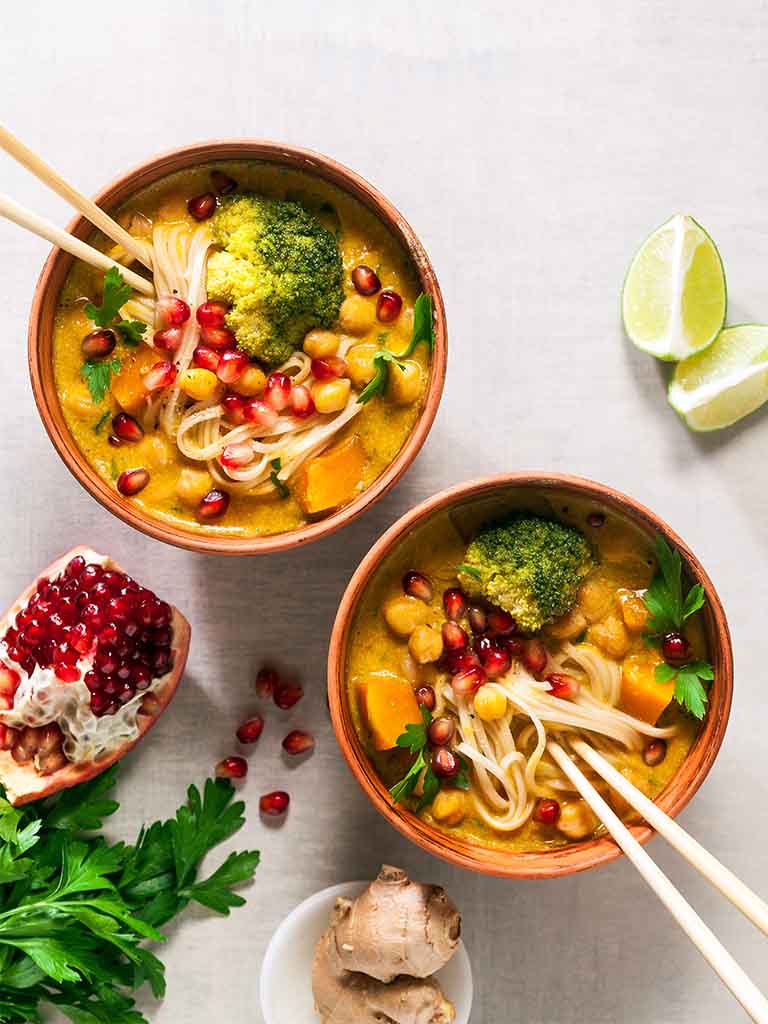 Ingredients
2 tbs coconut oil
1 leek, finely chopped
2 sticks celery, finely diced
1 thumb size piece of ginger, grated
2 tsp ground cumin
1½ tsp ground coriander
1 tsp garam masala
1 tsp turmeric
¼ tsp cloves
1 tsp salt
1 quart vegetable stock
10.5 oz butternut squash, cubed
1 cup coconut milk
10.5 oz broccoli, cut into pieces
4.2 oz rice noodles
Pepper
40 macadamia nuts
1 pomegranate, seeds only
Handful parsley leaves
1 lime, cut into wedges
Method
Heat the coconut oil in a large pot then add the leek and celery. Sauté for 5 minutes or until softened and slightly golden. Stir in the ginger and cook for 1 minute. Add the cumin, coriander, garam masala, turmeric, cloves and salt, and stir for 1 minute or until aromatic. Pour in the vegetable stock. Stir well to combine. Add the butternut squash, cover, and simmer for 15 minutes.
When the butternut squash is soft, pour in the coconut milk. When simmering, add the broccoli and rice noodles and cook for a few minutes or until the noodles are soft and cooked through and the broccoli is tender. Taste and season with salt and black pepper accordingly.
To Serve
Divide the soup between 4 large bowls. Top with macadamia nuts, pomegranate seeds and parsley. Serve with a wedge of lime.
Note
To make this soup Low FODMAP, swap the leek for 5 scallions, green part only.
Tell your friends
Why not share the love? We love it when you tell your friends about The Healthy Gut Recipes. Simply click one of the icons below to share it with your favourite social media platform.