Get your noodle fix with my version of the Japanese ramen. Don't be scared by cooking duck, once you've got the hang of it, this soup will regularly feature on your weekly meal plan. This ramen recipe has a flavorful broth that everyone will definitely love. It's so much healthier than a traditional ramen and it's SIBO friendly, too.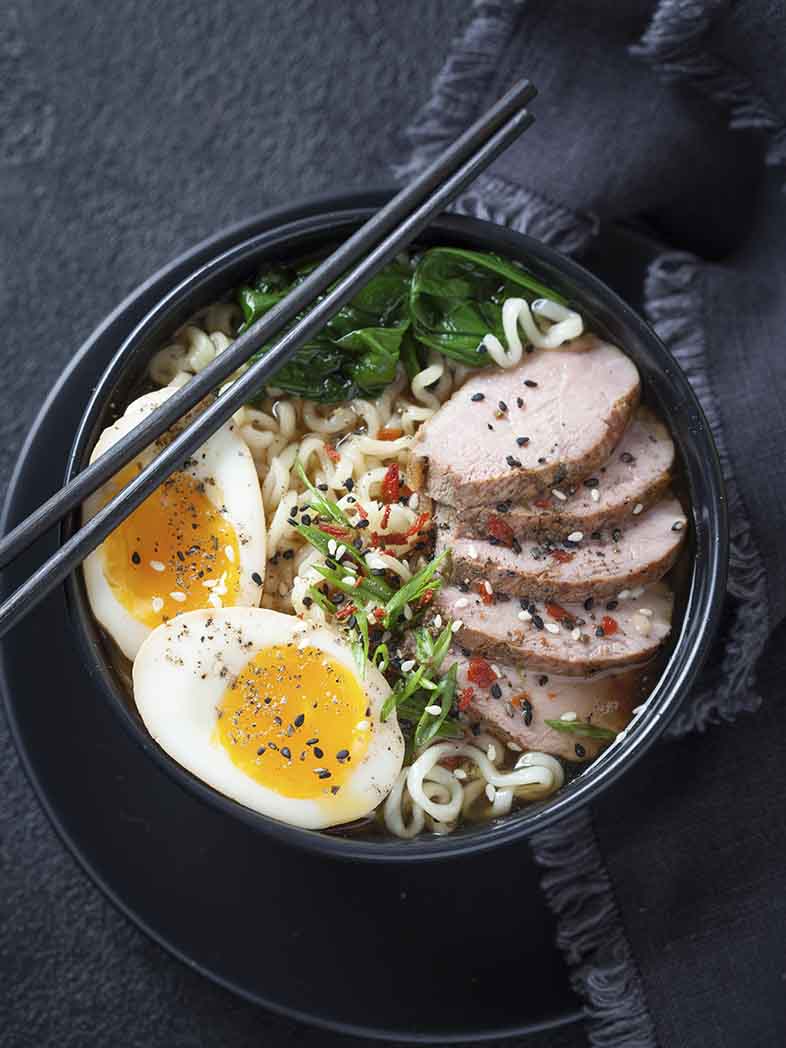 Ingredients
Ramen Egg
4 eggs
½ cup gluten free soy sauce
½ cup rice wine vinegar
Soup
8 cups chicken stock
12 scallions, green part only, thinly sliced
1 thumb sized piece of ginger, thinly sliced
½ cup gluten free soy sauce
¼ cup rice wine vinegar
2 star anise
2 whole dried chilies
4.5 oz dried rice noodles
1 tbs red wine vinegar
10.5 oz baby spinach leaves
2 tbs white sesame seeds, lightly toasted
2 tbs black sesame seeds, lightly toasted
2 tbs red pepper flakes
Duck
4 duck breast fillets
2 tsp salt
2 tsp Chinese 5 spice
Method
First, prepare your ramen eggs. Soft or hard boil your eggs (depending on your preference). Once cooked, cool quickly in an ice bath, then peel the eggs and place in a small container or zip lock bag. Add the soy sauce and rice wine vinegar. Add as much water is required to ensure the eggs are fully submerged. Marinate in the fridge for a minimum of 4 hours up to 4 days. The longer the eggs marinate, the more of the flavor they will obtain.
In a large soup pot, place the chicken stock, 8 scallions, ginger, soy sauce, rice wine vinegar, star anise and dried chilies. Slowly bring to a simmer. Cook, covered, over a low heat for at least 30 minutes to infuse the flavors.
Place the rice noodles in a large bowl and cover with warm water. Allow to soften, then drain and set aside.
Preheat the oven to 400°F. Sprinkle the skin of the duck breast fillets with salt. Sprinkle the duck meat with Chinese 5 spice. Set aside for 10 minutes to allow the salt to extract some of the moisture from the skin. Pat dry with a paper towel. Place the fillets on a rack over a baking sheet and place in the oven for 20 minutes, or until cooked to your liking. Remove from the oven and rest for 10 minutes. Slice the duck breast fillets and set aside.
Remove the ramen eggs from their marinade and cut in half. Set aside.
To Serve
When ready to serve, divide the noodles between 4 large bowls. Add in the spinach. Pour in the hot stock (which will cook the noodles and wilt the spinach) then top with slices of duck breast, 1 egg (2 halves), remaining scallions, sesame seeds and red pepper flakes. Serve immediately.
Tell your friends
Why not share the love? We love it when you tell your friends about The Healthy Gut Recipes. Simply click one of the icons below to share it with your favourite social media platform.