Bite into a soft creamy centre, wrapped with delicious dark chocolate, and you will be in heaven.  These strawberry chocolate truffles are the perfect SIBO treat for those you love.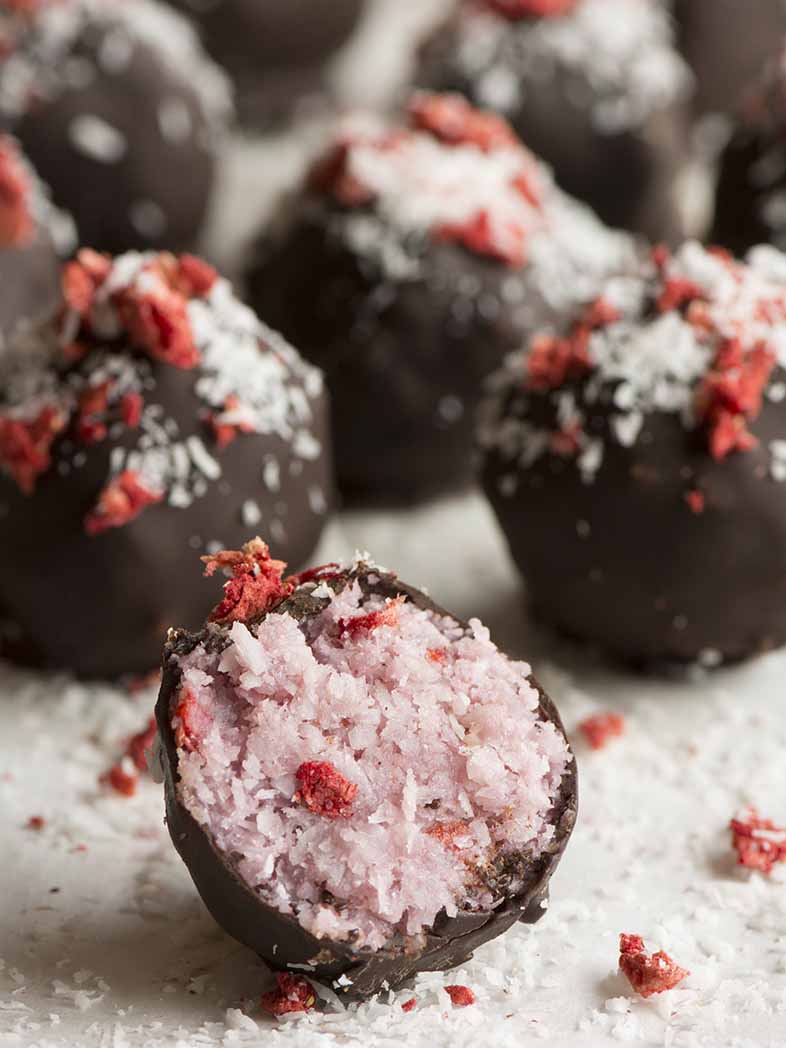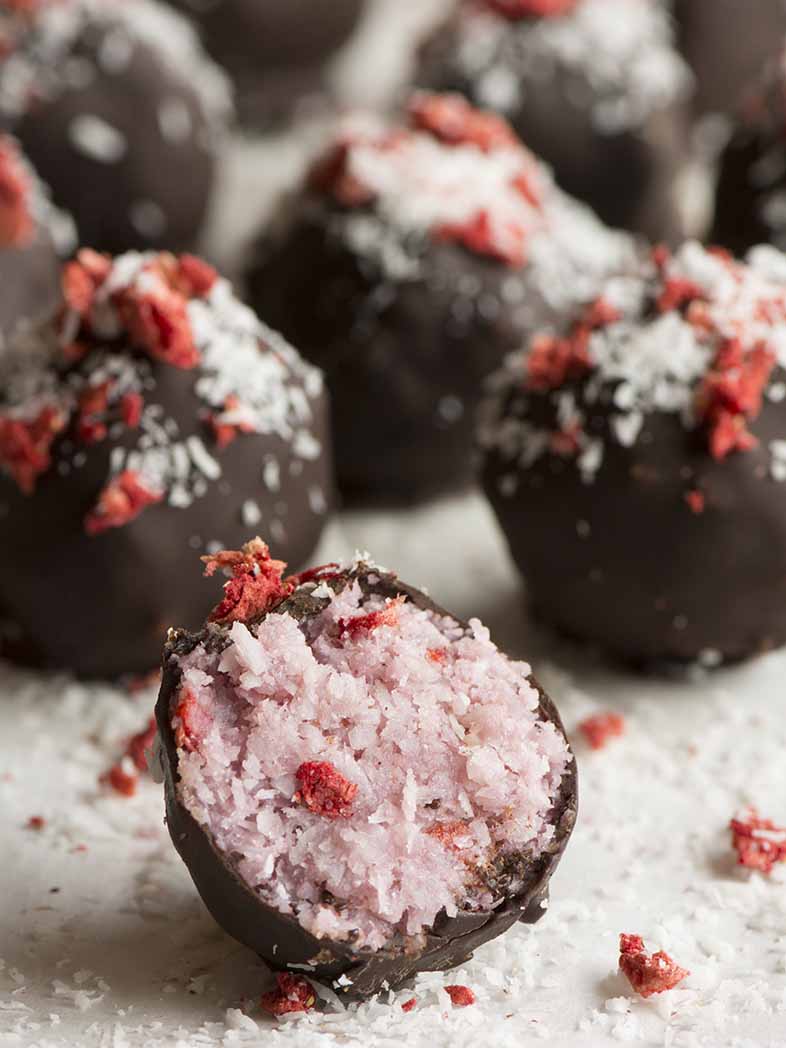 1.5 cups finely shredded coconut, plus extra for decoration

1 tbs honey (or maple syrup or sweetener of choice)
1 cup raw cacao butter, chopped

1/4 - 1/2 tsp 100% natural stevia

1/2 tsp 100% ground vanilla powder

3 tbs freeze dried strawberries, chopped
Hull the strawberries. Place them in a blender and blitz until completely puréed. Strain through a fine-mesh sieve to remove the seeds. 

Place in a saucepan and bring to the boil. Reduce to a simmer. Stir constantly until the liquid has thickened and reduced by half. Remove from the heat and cool slightly.

In a large bowl, add the strawberry purée and coconut. Melt the coconut oil and honey together then add to the bowl. Stir until well combined. 

Line a tray with non-stick paper. Take a small amount of mixture and roll into a small ball. Place on the tray. Repeat until all of the mixture has been used. Freeze for 1 hour.
Meanwhile, make the chocolate. Place the cacao butter in a heat-resistant plastic or silicone bowl. Microwave in 30-second increments until melted and it has reached a temperature of 104F-113F. 

Sift in the cacao powder, stevia and vanilla powder. Stir to combine thoroughly.  

Cover a cool surface with non-stick paper, then pour the chocolate onto it. Move it around constantly with a spatula until it thickens to a toothpaste consistency (watch my video on how to temper chocolate). 

Return to the bowl and microwave in 5-second increments until liquid and a temperature of 82.4F-93.2F.
Line a tray with non-stick paper. Remove the strawberry balls from the freezer. Dip the balls into the chocolate one at a time and decorate with coconut and freeze-dried strawberry before the chocolate sets. Repeat until all are covered. Store in the fridge. Will last for several days.
Only powdered or oil based items should be added to the chocolate. Water based ingredients will seize the chocolate, ruining it.
Tell your friends
Why not share the love? We love it when you tell your friends about The Healthy Gut Recipes. Simply click one of the icons below to share it with your favourite social media platform.