Enjoy these creamy SIBO friendly raspberry panna cottas and enjoy the taste of summer. Dairy free, gluten free and Low FODMAP. Suitable for Phase 1 Semi Restricted on the SIBO Bi Phasic Diet.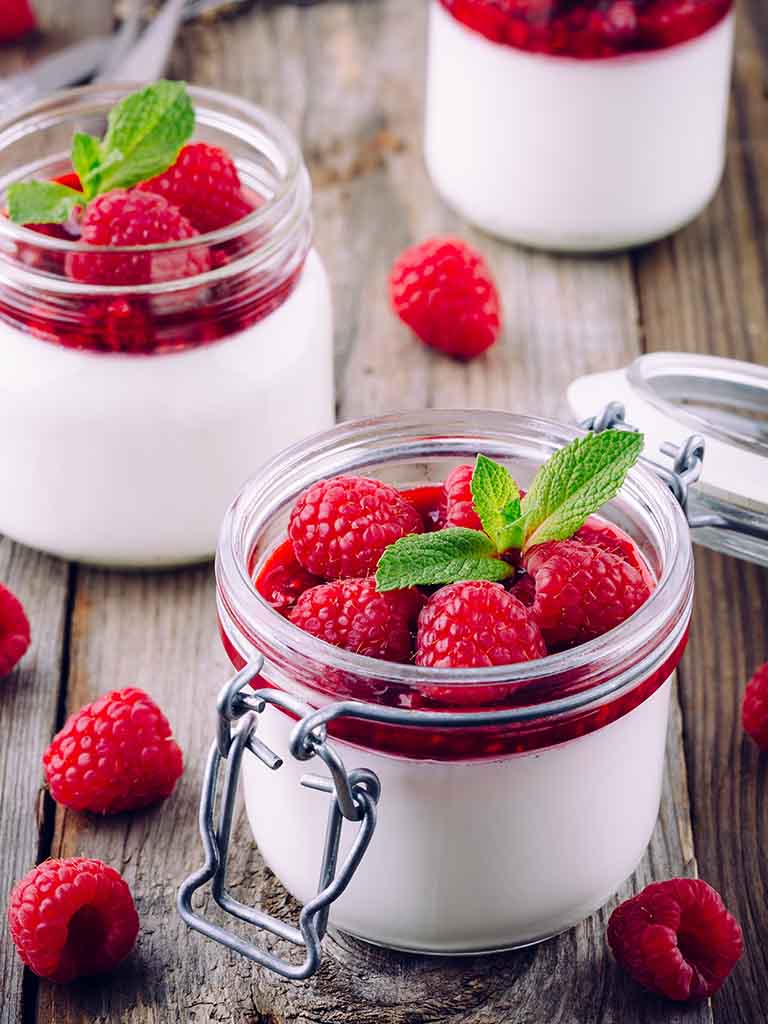 ¼ cup (2 fl oz) warm water

1 cup (8 fl oz) coconut milk

1 cup (8 fl oz) almond milk

2 tbs honey or maple syrup

Mint leaves for decoration
8.4 oz raspberries, with some retained for decoration

2 tbs honey or maple syrup
In a small saucepan, add the gelatin and warm water, stirring to combine. Leave for 5 minutes.

Add the coconut milk, almond milk, maple syrup and vanilla.  Over a low heat, stir the mixture until the gelatin has fully dissolved, being careful not to burn the mixture.

Remove from the heat and pour into 4 glasses.  Allow to cool to room temperature then place in the fridge to set.
Once set, it's time to make your raspberry topping.  Combine the gelatin with the water in a saucepan. Let stand for 5 minutes. 

Reserving some raspberries for decoration, place the rest in the saucepan with the honey or maple syrup and lemon juice.  Simmer for 5-10 minutes or until the raspberries have broken down and looks like jam.  Remove from the heat and pass through a fine-mesh strainer to remove the seeds.  Allow to cool before spooning on top of the panna cotta.  Return to the fridge until set.
When ready to serve, decorate with a few berries and a sprig of mint leaves.