This delicious SIBO friendly and Low FODMAP Pad Thai with prawns recipe will transport you to Thailand. No onions or garlic make it kind on your tummy. Change the protein each time you make it for a new flavour sensation. This is delicious with seafood, chicken, pork or beef.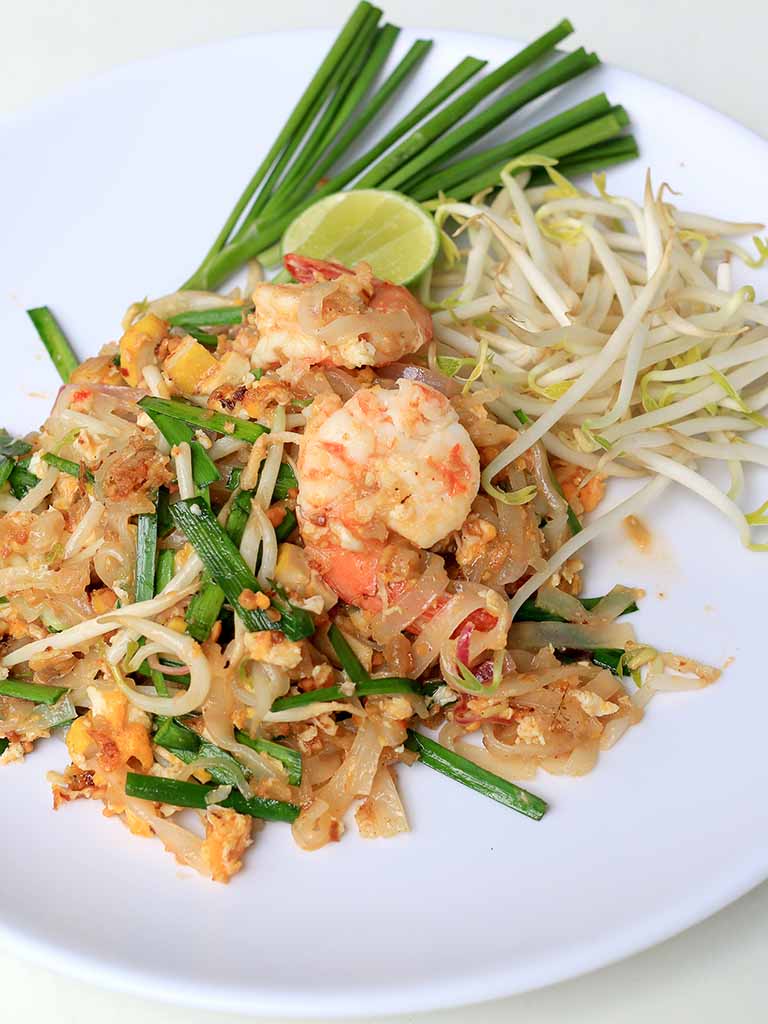 Ingredients
Sauce
3 tbs tamarind paste
3 tbs fish sauce
3 tbs palm sugar
1 tsp ground white pepper
4 tbs water
Noodles
3.5 oz rice noodles
3 tbs coconut oil
10 uncooked jumbo shrimp, shells and heads removed, tails intact.
2 eggs
50g firm tofu, diced
2 tbs preserved radish or turnip, chopped
1 bunch Asian chives (or green part of scallions), roughly chopped with a few left for garnish.
1 cup bean sprouts
¼ cup roasted, salted peanuts, chopped
Juice from 1 lime
Garnish
1 lime, cut into halves
Few sprigs of Asian chives
2 tbs roasted, salted peanuts
½ cup bean sprouts
Method
Sauce
Mix all of the sauce ingredients together in a small bowl then set aside.
Noodles
Place the rice noodles in a large bowl and cover with warm water. Soak until tender but still al dente.
Place a large wok over a high heat. Add 1 tablespoon of oil. Add the shrimp and quickly stir fry until pink and cooked through. Remove from the wok.
Add the remaining oil and add the noodles and pad Thai sauce, stirring constantly for 1 minute. Move the noodles to one side of the pan and add the eggs, stirring so they scramble, then mix through the noodles. Next, add the tofu, preserved radish or turnip, Asian chives, bean sprouts and peanuts. Pour in the lime juice. Stir until heated through.
Taste and season with extra fish sauce and/or lime juice if required.
To Serve
To serve, divide the noodles between two plates. Garnish with extra Asian chives, peanuts, bean sprouts and a lime wedge.
Tell your friends
Why not share the love? We love it when you tell your friends about The Healthy Gut Recipes. Simply click one of the icons below to share it with your favourite social media platform.