Luscious pancakes drizzled with a berry compote and creamy coconut yoghurt are the perfect meal for a lazy weekend brunch.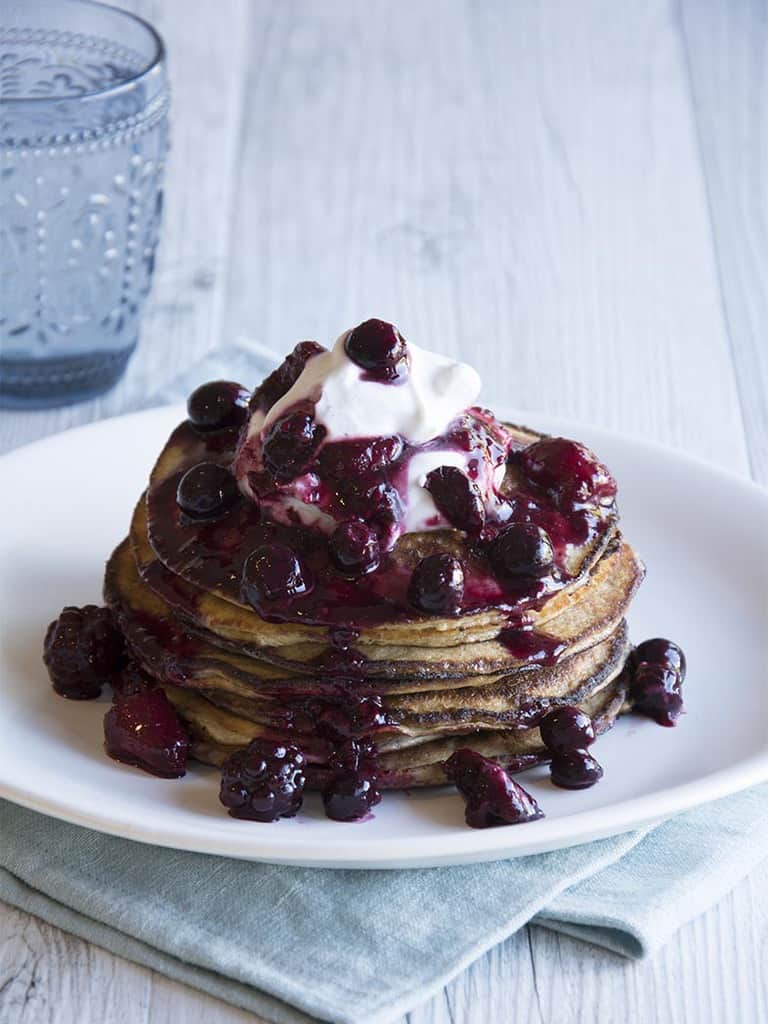 Ingredients
Pancakes
1 banana
4 eggs (ideally free-range)
4 tbs almond flour (ground almonds)
1 tsp baking powder
2-4 tbs butter
Toppings
1 cup mixed berries (eg. strawberries, blueberries, raspberries)
4 tbs coconut yoghurt (see recipe)
Method
Pancakes
Place all ingredients except the butter in a blender and blitz until really well combined.
Heat a skillet over a medium heat. Melt 1 tablespoon of butter in the pan and then pour some pancake mixture into the pan. You might like to make one big pancake or a few smaller pancakes.
Cook until small bubbles appear on the surface of the pancake. Flip and then cook the second side until golden brown.
Remove from the pan and set aside on a warm plate or keep in a lightly warmed oven until all pancakes are cooked. Repeat the process, melting new butter and cooking more of the pancake batter until all of the batter has been used.
Berry Compote
Place the mixed berries in a small saucepan. Slowly heat, stirring frequently, until the berries have broken down slightly and become syrupy. Remove from the heat.
To Serve
Divide the pancakes between two plates. Top with the berry compote and a dollop of coconut yoghurt. Serve immediately.
Tell your friends
Why not share the love? We love it when you tell your friends about The Healthy Gut Recipes. Simply click one of the icons below to share it with your favourite social media platform.