This SIBO Pecan Pie recipe is perfect for Thanksgiving, Christmas or any special occasion. 100% gluten-free, Low FODMAP and so easy to make.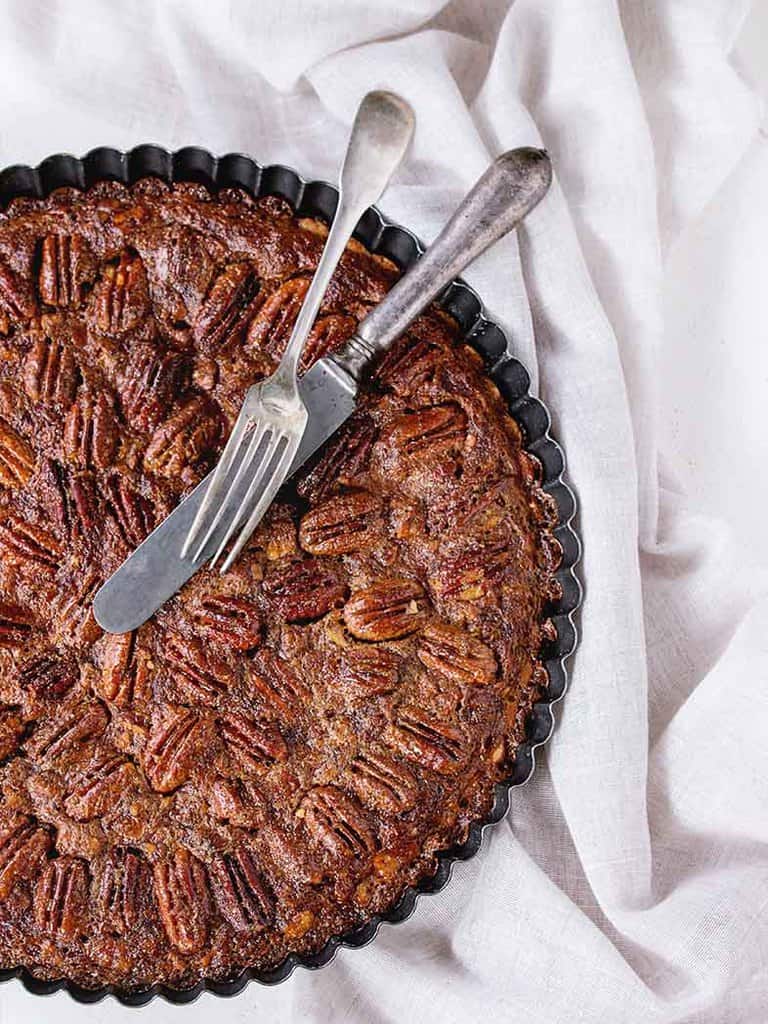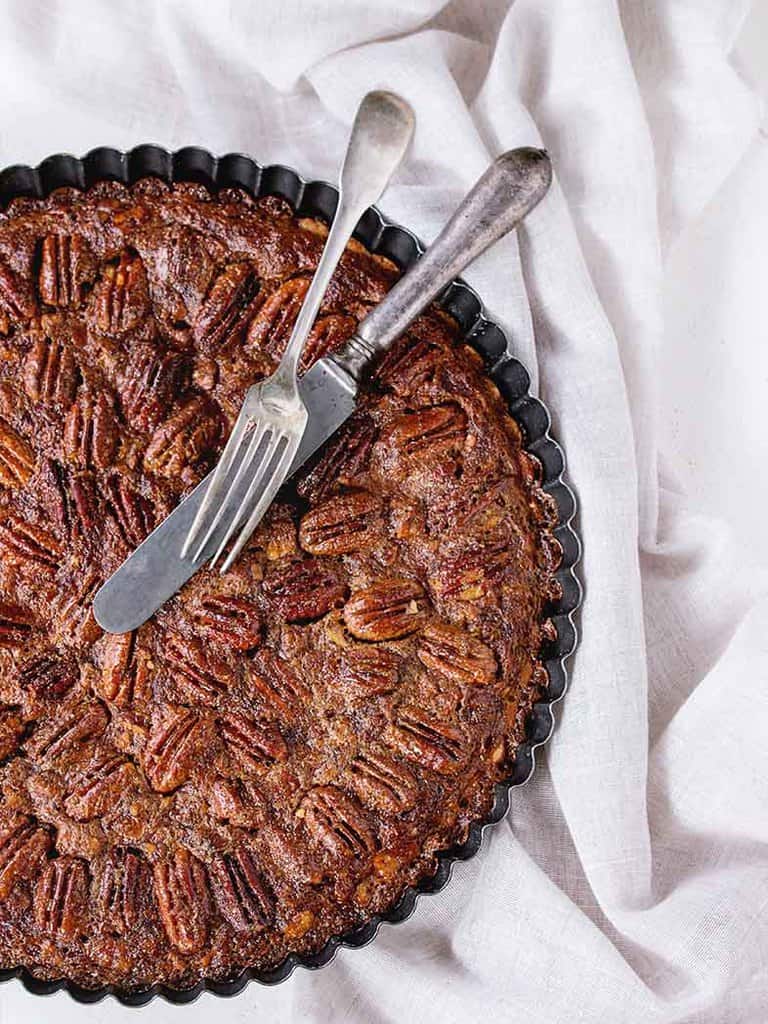 Ingredients
Crust
2 cups (7.6 oz) almond flour
¼ tsp salt
1/3 cup (2.8 oz) solid coconut oil (use butter if coconut not tolerated)
1 tbs maple syrup (or a few drops of liquid stevia)
1 egg
Filling
1 cup (8 oz) maple syrup
1/3 cup (2.8 oz) coconut oil (use butter if coconut not tolerated)
2 eggs
1 tbs almond flour (or use another nut flour you can tolerate)
1 tbs almond milk (or use another milk you can tolerate)
1 tsp vanilla
2 cups (8.5 oz) pecans
Method
Crust
Pre-heat the oven to 325F.
Grease a fully enclosed pie dish with butter or coconut oil.
Make the pie crust. Place all of the crust ingredients in a food processor and blitz until it forms into a ball. Place into the pie dish and flatten out evenly over the base and sides. Prick the base with a fork in several locations.
Bake for 10 minutes, turning the pie dish around halfway through cooking to ensure even distribution of cooking and heat.
Remove from the oven and cool slightly.
Filling
Next, make the filling. Add all filling ingredients into a food processor. If you would like to decorate the top of your pie with pecan halves, reserve ¾ cup of pecans.
Blitz until well combined. Pour into pie crust and smooth out. If decorating with pecan halves, place on the top, pressing down so they sit within the mixture.
Place in the oven for 40-45 minutes. Check during the cooking that the pie top isn't burning, as nuts can burn very quickly.
Remove from the oven and cool to room temperature. This pie holds its shape better if refrigerated, so place in the fridge for several hours or ideally overnight.
To Serve
Cut into slices and serve cold. Delicious with a dollop of whipped coconut cream.
Note
If you can't tolerate coconut oil, please feel free to substitute with butter or another fat you can tolerate.
If you can't tolerate maple syrup, please substitute with honey or another liquid sweetener you can tolerate. If only using liquid stevia, you will need to increase the liquid volume by adding some extra nut milk or egg.
Tell your friends
Why not share the love? We love it when you tell your friends about The Healthy Gut Recipes. Simply click one of the icons below to share it with your favourite social media platform.