Opening up the Yardmill box on the first morning was akin to Christmas morning.  It was full to the brim with containers of food peering back at me in their gorgeous healthiness.  After turning my health (and my life) around 18 months ago, I have been a steady fixture in my kitchen, cooking meals from scratch.  Whilst I love cooking, there are days when I wish someone could do it for me.  This is where Yardmill comes in with their SIBO home delivery service of pre-prepared meals that follow Dr. Nirala Jacobi's SIBO Bi-Phasic Diet Protocol.
day 1 - breakfast
The first meal from Yardmill was their Zucchini, Coconut and Chive Fritters.  I can't tolerate eggs at the moment, so it was great having fritters which were egg free.  They were really tasty and surprisingly filling.  They came paired with some spinach leaves and a dressing made out of a coconut yoghurt base.  The first two days were to follow the Reduce and Repair Phase 1, Restricted Diet from Dr. Nirala Jacobi's SIBO Bi-Phasic Diet Protocol.  In this stage, fermented foods are not to be consumed, so unfortunately the coconut yoghurt dressing was not compliant with the diet protocol. However, because I am through my SIBO treatment, I was able to eat the dressing.
Watch my vlog as I taste the zucchini, coconut and chive fritters.
day 1 - lunch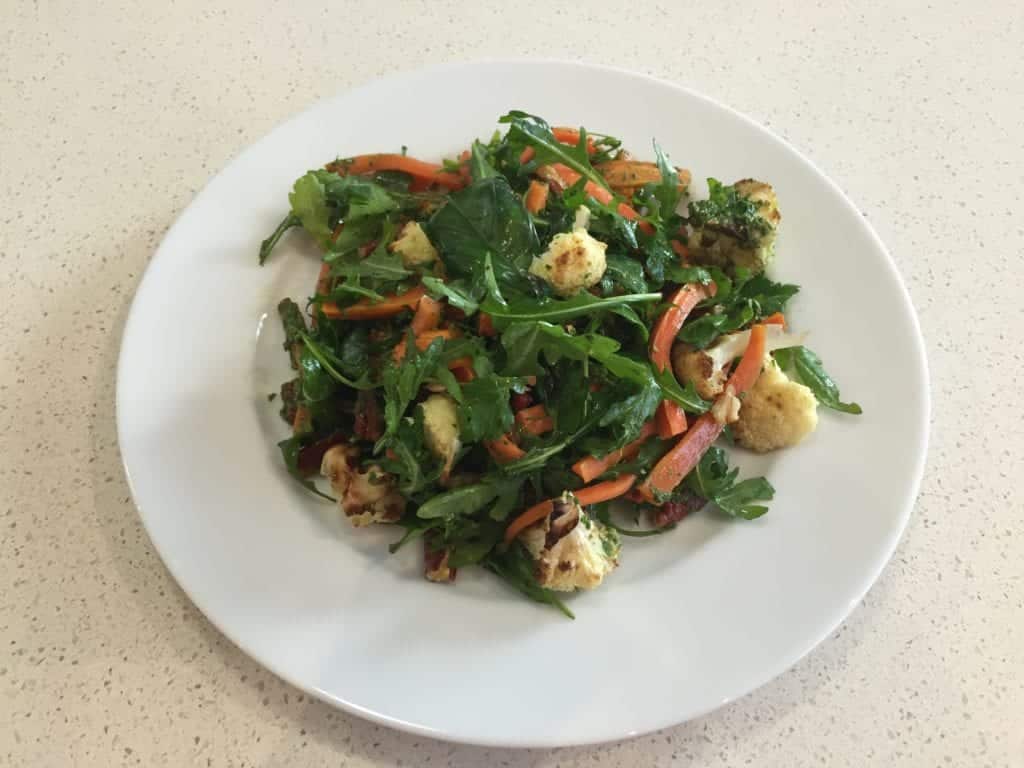 Lunch was a Roasted Carrot and Cauliflower Salad which came with a herb dressing on the side.  The portion was large and the flavours were gorgeous.  I particularly love the taste of roasted cauliflower, and it worked well with the crunch of the nuts and the fresh herb dressing.  I don't know about you, but eating for SIBO can make me pretty hungry because there are such limited carbohydrates in a meal.  To stay satisfied and reduce snacking between meals, I normally ensure that I include a good source of protein with each meal.  If I was making this for myself, I would have included some chicken with the salad.
Watch my vlog as I road test the roasted carrot and cauliflower salad.
day 1 - dinner
I was really impressed with the food today.  There was so much thought put into the flavours of the food, and the quality of the produce is exceptional.  I could really taste the effort that Tracey Sisson and her team put into sourcing and creating delicious meals.  Tonight's dinner was a Poached Chicken Breast on Steamed Bok Choy, Kale and Spring Onion with a Ginger and Chilli Dressing.  The flavours were really fresh and the ginger and chilli dressing added a light zing to the meal.  I definitely felt full of health and vitality at the end of it.
Watch my vlog of the poached chicken breast on steamed bok choy, kale and spring onion with a ginger and chilli dressing.
day 2 - breakfast
I had informed the team at Yardmill know that I couldn't eat eggs, so they had to make a substitution for this meal.  They would have provided me with a SIBO-friendly house made 'bread' but it contained eggs, so it was off the menu.  They replaced it with the Spiced Granola with Almond Milk which was crunchy, flavoursome and quite filling. The almond milk is made locally and doesn't contain any thickeners or gums that are often used in commercially made almond milks. The only problems was that the almond milk and puffed quinoa weren't suitable for the Reduce and Repair Phase 1, Restricted Diet from Dr. Nirala Jacobi's SIBO Bi-Phasic Diet Protocol.  If I was strictly following the protocol, this would have been problematic for me, but as I can now be more relaxed with my diet, I was able to eat it.  It is worth noting that I have previously had issues with quinoa but hadn't eaten it since healing my SIBO, so was keen to try it.  Unfortunately for me, the tell tale signs of quinoa intolerance reappeared an hour after eating it: nausea, some pain and just generally feeling off.
day 2 - lunch
I was having a pretty busy day today so spent a lot of the day running around.  As a result, I was pretty hungry by the time I hit lunchtime.  Today's lunch was a Grilled Vegetable Salad.  It was a cold winter's day in Melbourne, so my desire for a cold salad was pretty minimal!  But I have to say the salad tasted really nice, although it didn't fill me up and I would have loved some protein to go with it.  I adore salads, and eat them daily during the warmer summer months, but find I veer towards warmer, heartier food during the depths of winter. A warm meal for lunch would have been my preference today.
day 2 - dinner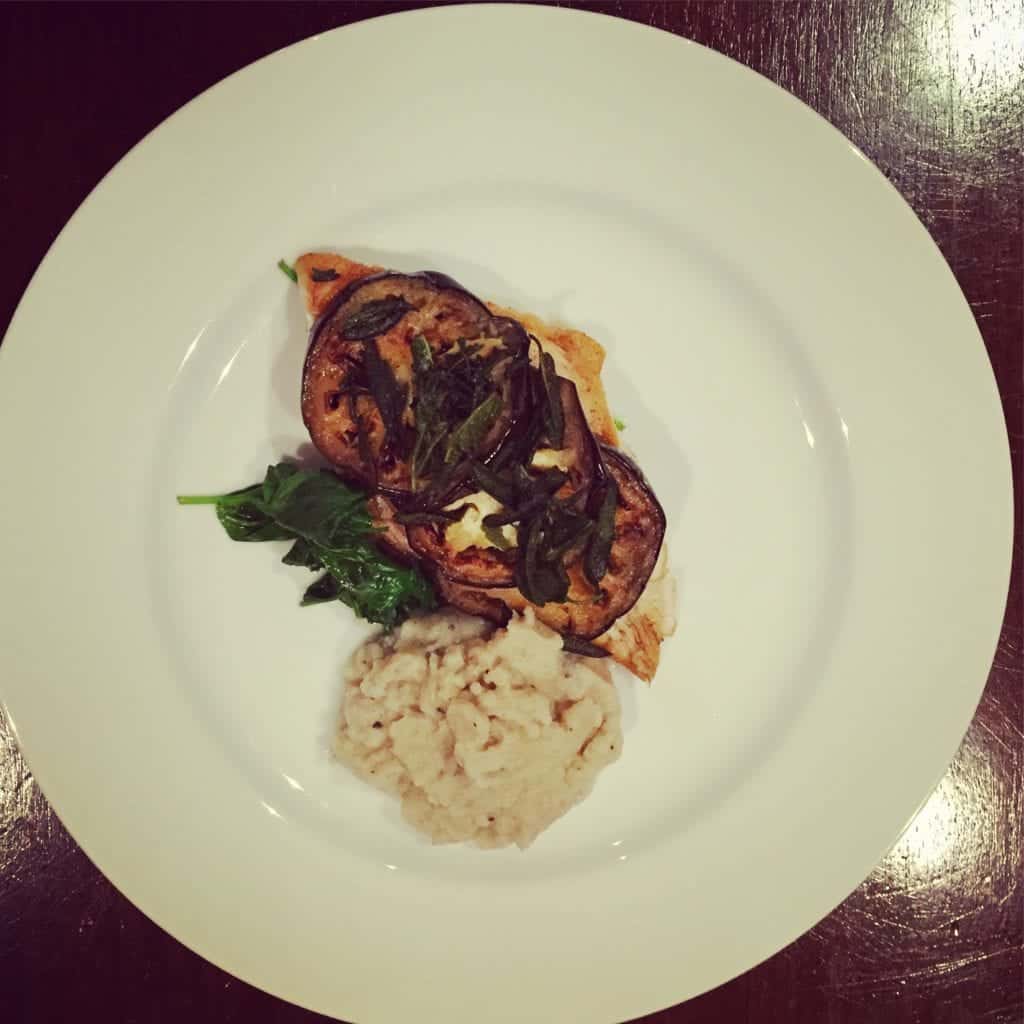 The final meal of the day was a Pan Fried Barramundi Fillet with Eggplant and Vegetable Purée.  I've got to be honest, I was starving by the time I sat down to eat.  The salad for lunch just hadn't filled me up.  The flavours of the fish were really enjoyable and I was surprised just how succulent the fish was after being re-heated.  When I first placed it on my plate, my heart sank a little as it looked like a small portion.  But it was surprisingly filling, and I was satisfied and comfortably full by the end of the meal.
days 3 and 4
I will release my next blog post this Friday when I review Days 3 and 4.  Stay tuned.