Searching for an easy to make meal that suits brunch with loved ones, or breakfast for one? Look no further. This week's episode of the SIBO Cooking Show features the perfect weekend breakfast, Mexican Baked Eggs. You'll likely have the ingredients in your fridge and pantry already, and what's not to love about a filling and easy to prepare SIBO-friendly breakfast? Rebecca Coomes shows you how to make individual sized portions for the ultimate one-pot wonder breakfast.


We love making this dish for a weekend brunch as it's easy to prepare ahead of time and set aside while you get cracking on the accompaniments. Pop the mixture in the oven just before your guests arrive, and they'll walk in to smell the wafting, fragrant aromas of paprika, cumin and coriander. This hearty dish is a crowd-pleaser and pretty good looking to boot. Prefer a more low-key breakfast? The tomato sauce mixture keeps well in the fridge and you can make one or two servings at a time and spread it out over a few days.

Breakfast doesn't have to be complicated or stressful. All you need are some great ingredients, like fresh organic vegetables (our friends at Organic Angels have gorgeous organic produce) and free-range eggs, a delicious meal to share, and the people you love to share it with.
Need a refresher on how to make ghee? Check out our previous blog post for the how-to. For this, and more SIBO-friendly recipes, head over to SIBO Family Favourites.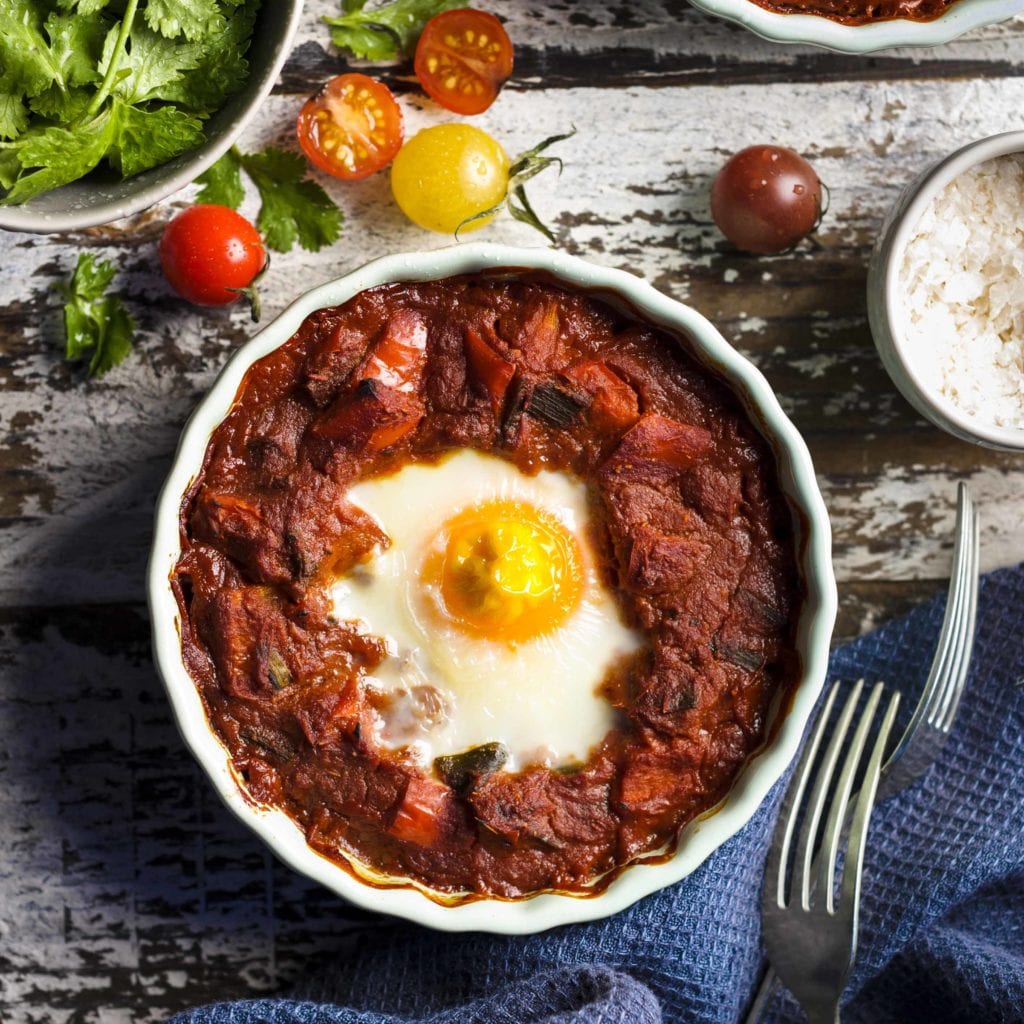 Ingredients
1 tbs ghee
1 red capsicum, diced
4 spring onions, green part only, sliced
2 tsp ground cumin
1 tsp ground coriander
1 tsp ground smoked paprika
1 cup tomato passata, free from onion and garlic
2 tbs tomato paste
4 free range eggs
2 tbs chopped coriander
Salt and pepper for seasoning
Method
Pre-heat the oven to 180C / 355F
Heat a large frying pan over a medium heat. Melt the ghee then add the capsicum and spring onions, and cook until slightly softened.
Stir in the spices and cook for 1 minute or until fragrant. Add in the tomato passata and tomato paste and stir to combine. Season with salt and pepper.
Divide the mixture evenly between 4 ramekins. Make a well in the centre of each
ramekin, then break one egg directly into the well. Repeat the process with the
remaining ramekins.
Place in the oven for 15–20 minutes or until the egg is cooked to your liking. Remove from the oven and sprinkle with chopped coriander. Best eaten while warm.