Eating breakfast can be a stressful affair.  There are children to get ready, dogs to walk, errands to run, and all before we have thought about what we can safely eat for SIBO. We want something that will taste great, keep us full and not aggravate our digestive system.  When Rebecca Coomes was in active treatment, she loved cooking up a big batch of her Breakfast Stir Fry.  She would fill it with vegetables and pasture fed meat and have it on hand in the fridge or freezer for those busy mornings when she wouldn't know what time lunch would be.
The great thing about this recipe is that you can mix and match the vegetables you have in your fridge.  It is a great way to use up veggies that are past their prime.  Simply dice them up, add them with your favourite minced/ground meat and voila, you have an incredibly filling meal.
If you are following a low FODMAP diet or simply don't like celery, you can easily omit it from this recipe.  And if you can tolerate rice, why not pair it with half a cup of cooked jasmine or basmati rice for a filling meal.  And we won't tell anyone if this becomes a quick and easy supper.
Thanks to our lovely friends at Organic Angels for supplying the scrumptious organic vegetables featured in this recipe.  Click here to find out more about how they could deliver beautiful organic produce to your door.
Serves 4
Classification: Restricted phase, gluten free, dairy free, grain free, sugar-free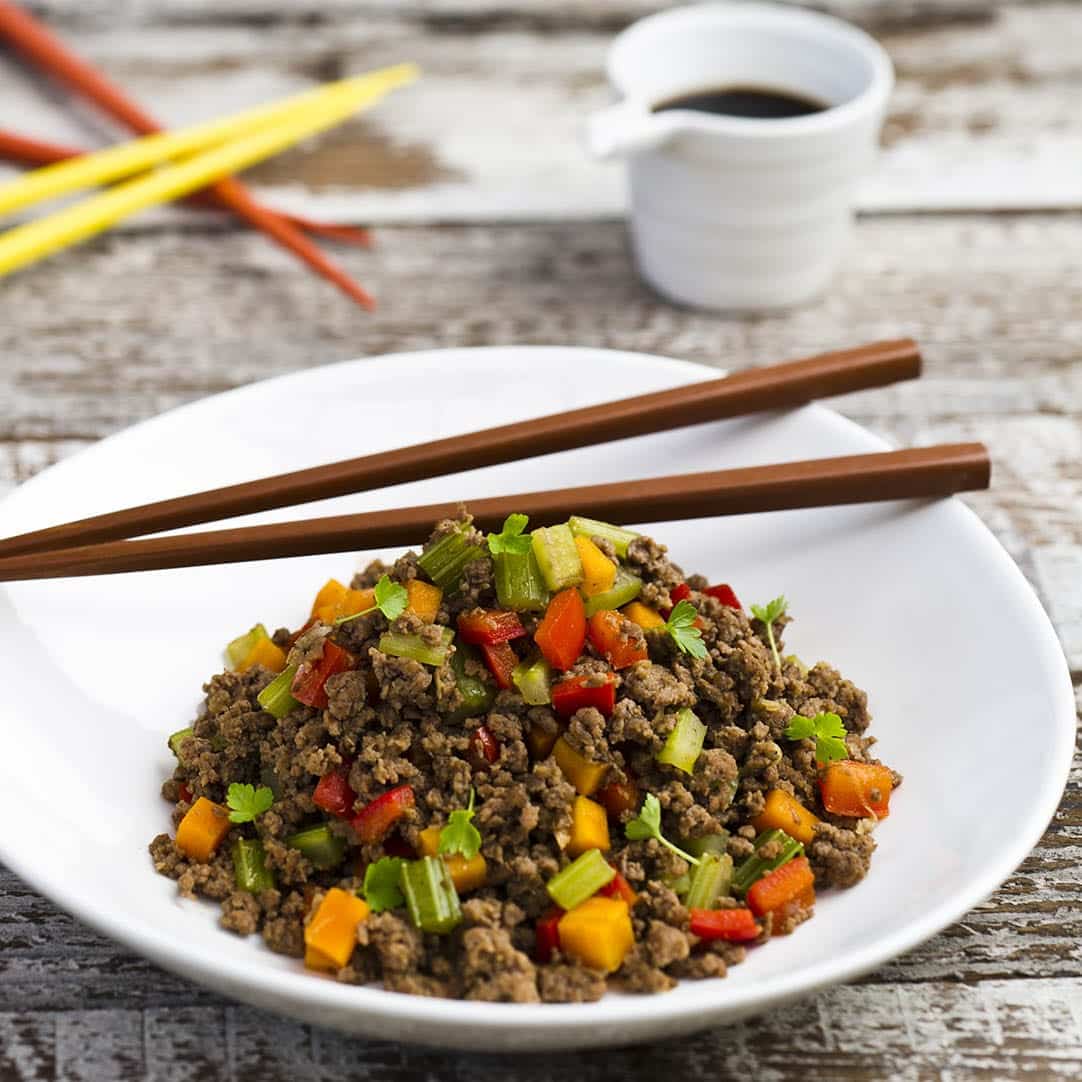 Ingredients
500g beef mince
1 tbs tallow
1 tsp grated ginger
2 carrot, diced
2 sticks celery, diced
1 red capsicum, diced
4 tbs coconut aminos
2 tbs chopped coriander
Salt and pepper for seasoning
Method
Heat a large wok over a high heat. Melt the lard in the wok, then add the beef mince. Stir the meat vigorously until it has cooked through and any liquid has evaporated.
Add the ginger, carrot, celery and capsicum. Stir-fry for 2 minutes or until the vegetables are starting to soften. Add in the coconut aminos and stir-fry for another minute. Season with salt and pepper to taste.
To serve, divide the mixture between four bowls and sprinkle some chopped coriander over the top.
Want more family favourites recipes?
The SIBO Family Favourites eCookbook is crammed full of family-friendly meals that the whole family can enjoy together. All recipes are based on the SIBO Bi-Phasic diet by Dr Nirala Jacobi ND and clearly list what phase they are suitable for.
All recipes are 100% gluten-free and soy-free. There are dairy-free, grain-free, sugar-free and low FODMAP options available.
Order your copy today and choose between an eCookbook or a hard copy one to scribble in, like we do!