SIBO, or Small Intestinal Bacterial Overgrowth, is a condition where regular bacteria that normally live within us, end up living in the small intestine in higher numbers than normal, causing havoc. Up to 20% of Americans and 1 in 5 Australians have Irritable Bowel Syndrome. Research shows that in on average, 60% of all people with IBS actually have SIBO, so this condition is common but not always well known.
Before we delve into what causes SIBO, as well as how and why we develop it, let's first look at how the digestive system works as this helps to explain what goes wrong when we develop SIBO.
The Human Digestive System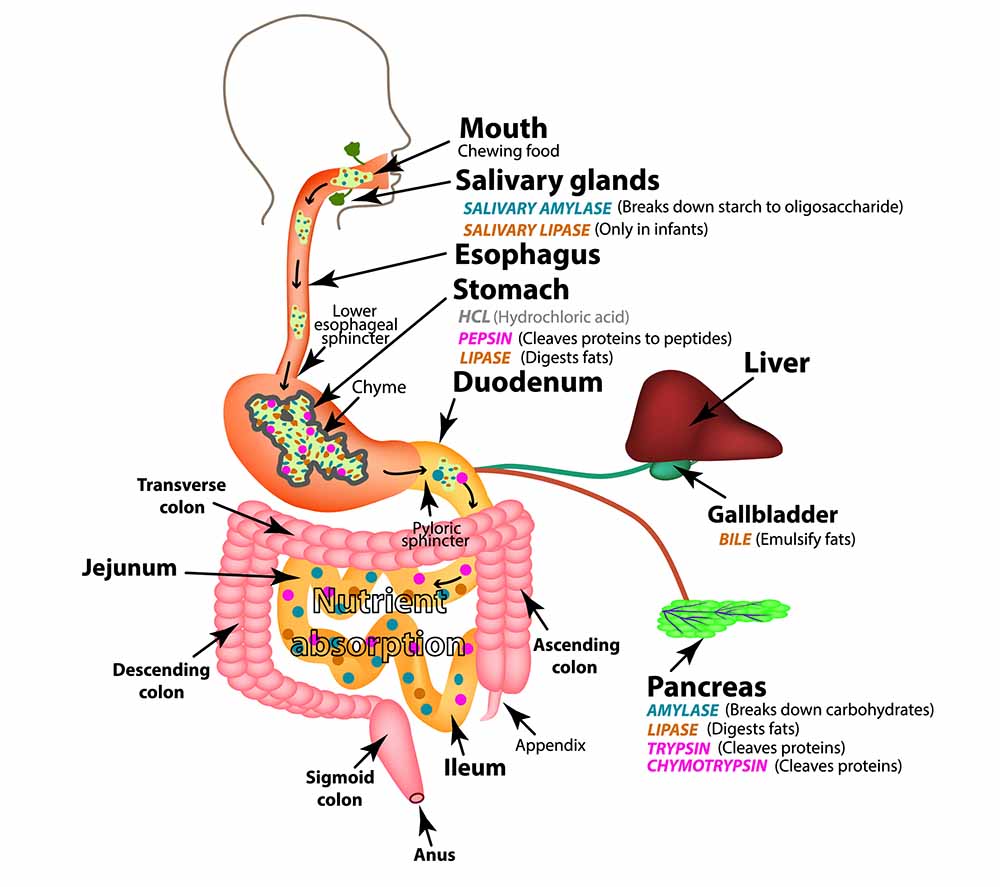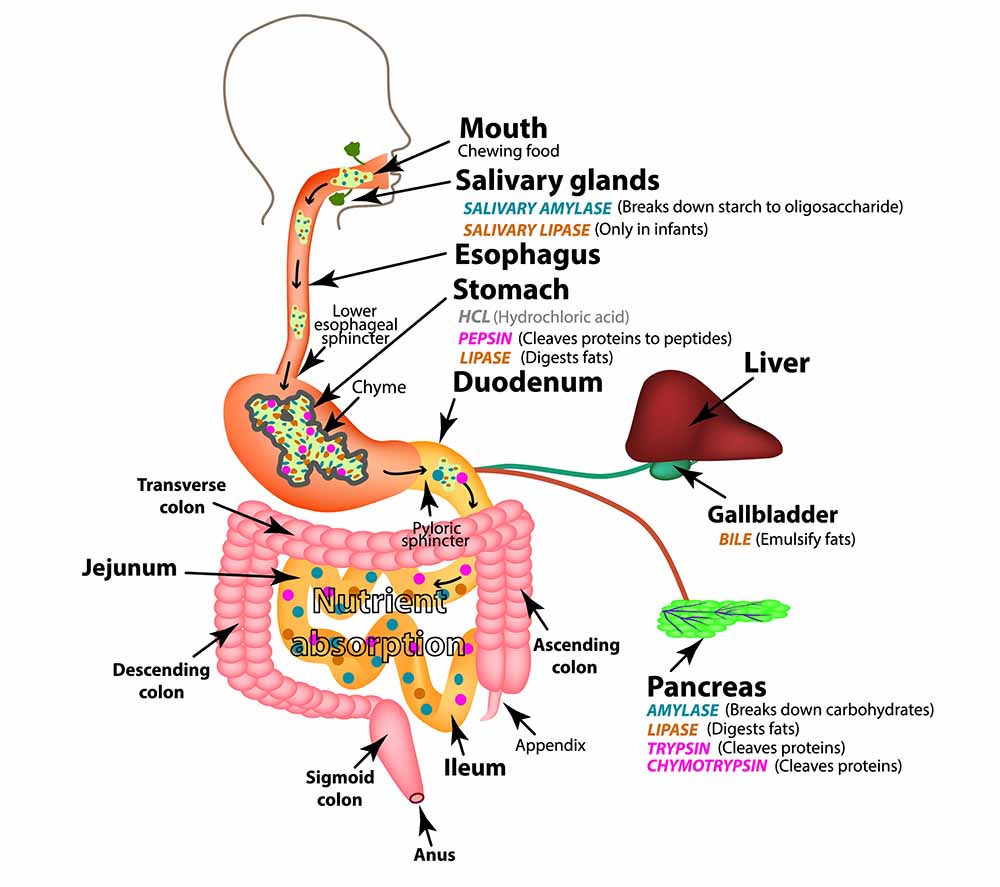 The human digestive system is one long, continuous tube, divided into sections, that starts at the mouth and ends at the anus. It supports the complex process of digesting food by turning it into nutrients that the body uses for energy, and ultimately survival. The old saying 'you are what you eat' is partly true, because not only are we what we eat, but also what we absorb.
Digestion occurs before we even take our first mouthful of food.  When we start thinking about eating, start cooking or watching our food being prepared, the brain sends signals to the digestive tract to get ready for food. Our salivary glands start producing saliva, which helps us break down our food. Upon the first mouthful of food, our saliva output increases and our teeth and tongue help us chew our food, which is the first step in breaking our food down for digestion. Saliva contains enzymes that help to break down our food, which is why chewing our food thoroughly is so important in aiding better digestion.
Once we swallow, our food passes down our esophagus by a series of muscular contractions, peristalsis, before arriving at the stomach. The lower esophageal sphincter opens to allow food into the stomach, then closes again to keep it there. When this sphincter is not working correctly, people can experience GERD or heartburn, from the feeling of food coming back up the esophagus.
Not only does the stomach act as a holding pouch for food, but it also releases more digestive enzymes and acids to further enhance the digestion of food, by turning it into a thick acidic paste called chyme.
As the chyme is ready to be processed, peristalsis waves push it towards the pyloric sphincter, the gateway between stomach and small intestine. It opens briefly, allowing a small amount to pass through and to begin the process of absorption in the small intestine. All of the food does not pass through at once, as this would flood the system and not be a manageable volume to maximise absorption from.
The pyloric sphincter acts as a one-way gate, preventing chyme from regurgitating back into the stomach from the small intestine.
The stomach is a major defence system to the bacteria and pathogenic organisms that we intake, with most of them being destroyed at this point. If you don't have sufficient enzymes or acids, bacteria can survive and move through to the small intestine.
The small intestine is the work-horse of the digestive system, as this is where most of our nutrients are absorbed. It is approximately 6 metres long (20 feet) and is divided into three sections: the duodenum, jejunum, and ileum. The duodenum is mostly responsible for continuing to breakdown the chyme, supported by enzymes from the pancreas and bile from the liver, while the jejunum and ileum are mainly responsible for absorption of nutrients into the bloodstream through the villi and microvilli.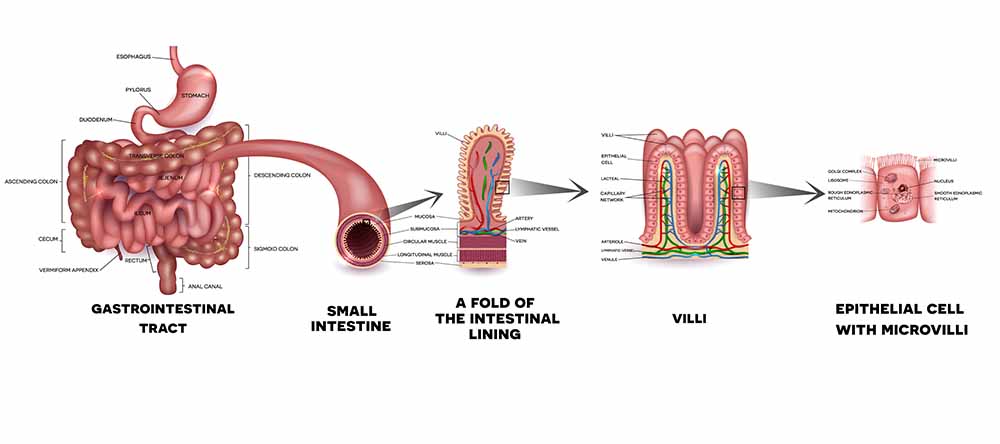 These finger-like structures in the small intestine help us absorb our nutrients.  Each villus (singular villi) has microvilli covering it, increasing the surface area of the small intestine. Any leftover chyme then moves through to the large intestine.
Because the role of the small intestine is to absorb nutrients from food, it does not need the assistance of bacteria to do this, and should be a relatively sterile environment. If we have large numbers of bacteria in the small intestine, they compete with us for our food and interfere with digestion and absorption. This is why people with SIBO can experience uncomfortable symptoms and experience deficiencies - their small intestine is not equipped to deal with bacteria here.
The process of moving matter through into the large intestine is called motility. The migrating motor complex (MMC), or sweeper wave, pushes leftover waste and other matter like bacteria along the small intestine, cleaning it up so that it is not sitting stagnant. This process is highly dependant on a network of nerves, muscles and hormones, and occurs in a fasting state (ie. not when you are eating) every 90 minutes and overnight and is commonly disrupted in SIBO patients. It is why intermittent fasting, no snacking and 4-5 hours between meals is commonly advised for SIBO patients.
The valve between the small intestine and the large intestine is called the ileocecal valve, and acts as a one-way system, preventing matter in the large intestine from re-entering the small intestine.
It takes 3-5 hours for chyme to completely empty from the stomach and small intestine and to move into the large intestine.
The large intestine is approximately 1.5 metres long (5 feet) and connects to the small intestine and rectum, and is divided into the cecum, the ascending colon, the transverse colon, the descending colon and the sigmoid colon.
It houses trillions of bacteria. The primary function of the large intestine to complete the absorption of nutrients and water, synthesize certain vitamins, form feces and eliminate them from the body.
The bacteria that live in the intestines are called the gut microbiome, and each person's microbiome is unique to them.
Chyme enters the caecum from the small intestine and slowly moves its way through the large intestine by a process of peristalsis, with water being absorbed from it so it changes from a liquid state to a solid state. If the matter moves through too quickly, not enough water is absorbed and can lead to dehydration and result in diarrhoea. If the matter moves through too slowly, too much liquid can be absorbed, making the feces too solid and causing constipation.
Feces is mostly comprised of undigested food particles, bacteria, old epithelial cells from the GI mucosa, inorganic salts, and water. When it reaches the rectum, it sends a signal to the brain to let it know it needs to be emptied.  We commonly know this sensation as needing to do a poop.  We can voluntarily control the urge to poop by holding on until we can reach a toilet.  The feces is then passed through the anus and out of the body.
START YOUR JOURNEY TO LIVING WELL WITH SIBO
Get instant access to 5 weeks of invaluable SIBO content and expert insights all in one place.
This on-demand course is the start of your journey back to health. And the great thing is, you can do it in your own time, at your own pace, and use it as many times as you want!
Now that you understand how the digestive system should work, let's look at what happens when it is not functioning properly and allows bacteria to overgrow in the small intestine.
According to leading SIBO expert, Dr Allison Siebecker, there are only three main causes of SIBO:
A deficient Migrating Motor Complex

Structural alterations to the small intestine

Frank Immunodeficiency Disorder
Deficient Migrating Motor Complex
The Migrating Motor Complex is the number one protection against the development of SIBO as it clears out bacteria, chyme and cellular debris from the small intestine and moves it into the large intestine.
The most common cause of a deficient MMC is due to food poisoning. In simplistic terms, when a food poisoning episode occurs, the nerve cells get damaged, thus impairing or stopping the MMC from working.
Supporting the MMC is an important, yet often forgotten component in SIBO treatment. This can be done through the use of herbal and/or pharmaceutical prokinetics and intermittent fasting (where appropriate and if the patient is not underweight).
Structural Alterations To The Small Intestine
If the structure of the small intestine is compromised, through adhesions, strictures, tumours, compression, blind loops, small intestine diverticula, twists or kinks, the body's ability to completely clear the small intestine is compromised, thus increasing the likelihood of SIBO developing.
The treatment of any structural alterations of the small intestine is an important step in the long term recovery and successful clearing of SIBO.  If this is not addressed, relapse is common.
Frank Immunodeficiency Disorder
When the immune system does not work correctly, it cannot kill or efficiently move out bacteria from the small intestine, thus allowing it to overgrow.  Where Frank Immunodeficiency Disorder is present, it is often common for a SIBO patient to also have a deficient MMC and issues with their hydrochloric acid (HCl).
Potential Additional SIBO Causes
In addition to the above agreed upon what causes SIBO, there are some other conditions that may cause SIBO, although there is not a consensus that they are responsible for it. However, they are seen as risk factors which can contribute to the development of a cause.
Deficient hydrochloric acid

Removed, damaged or inefficient ileocecal valve
While there are only three agreed upon what causes SIBO, there are a multitude of risk factors that can lead to one of the causes of SIBO.  These include:
Risk Factors For A Deficient Migrating Motor Complex:
Digestive infections. Eg. Gastroenteritis, food poisoning

Diseases eg. Diabetes, Hypothyroid, Parkinsons Disease, Scleroderma, Ehlers Danlos

Pharmaceutical use. Eg. Proton pump inhibitors, opiates

Lifestyle factors. Eg. Stress, poor sleep, poor eating habits
Risk Factors For Structural Alterations to the Small Intestine
Diseases eg. Endometriosis, Inflammatory Bowel Diseases, Cancer, Appendicitis 

Surgery and/or Injury. Eg. C-section, laparoscopy, Adhesions
Risk Factors For Frank Immunodeficiency
Diseases eg. HIV, CCL, T cell deficiency
Additional Risk Factors For SIBO Development
Proton Pump Inhibitors (PPIs)

Ileocecal valve issues. Eg. Surgical removal or partial obstruction
"Without addressing the underlying cause(s), it can be difficult to fully resolve your SIBO, and this is why relapse is so common.
Have you fully explored your underlying causes and risk factors?
I regularly speak with SIBO patients who have never discussed why they developed SIBO with their practitioner. If this is you, I recommend you share this article with them and ask to review your possible causes and risk factors at your next appointment.
If you are like me and have damaged nerves which impair your body's ability to efficiently operated the MMC, you may need to take a prokinetic long-term to support the clearing of the small intestine.
If you find that you relapse regularly or quickly from each round of SIBO treatment, this suggests the underlying reason(s) of why you have SIBO is not being addressed, and as soon as treatment finishes, the bacteria can accumulate in your small intestine, leading to your relapse.