Hands up whose Grandma still makes trifle for Christmas? If yours doesn't then we bet you know someone whose does. Trifle is just one of those things that we associate with Christmas meals, it's also one of those dishes that you might expect to have to miss out on if you have SIBO. That's why Rebecca has made this special SIBO-friendly ruby grapefruit and custard trifle from our SIBO Christmas eCookbook.
The ruby grapefruit and custard trifle has a soft almond cake as its base and a rich and creamy coconut custard complemented with the sweet citrus from the ruby grapefruit.  We know it's already sounding delicious, right? But with the addition of soft coconut whip and crunchy hazelnuts and almonds for the topping, it really does take it to another league. This is a serious contender for 'best trifle ever'. You never know, your Grandma might even love it as much as we do. Get out that heirloom bowl and get making!
Thanks to our lovely friends at Organic Angels for supplying the scrumptious organic produce featured in this recipe.  Click here to find out more about how they could deliver beautiful organic produce to your door.
ruby grapefruit and custard trifle
16 portions
Classification; Semi-restricted phase, gluten free, dairy free, vegetarian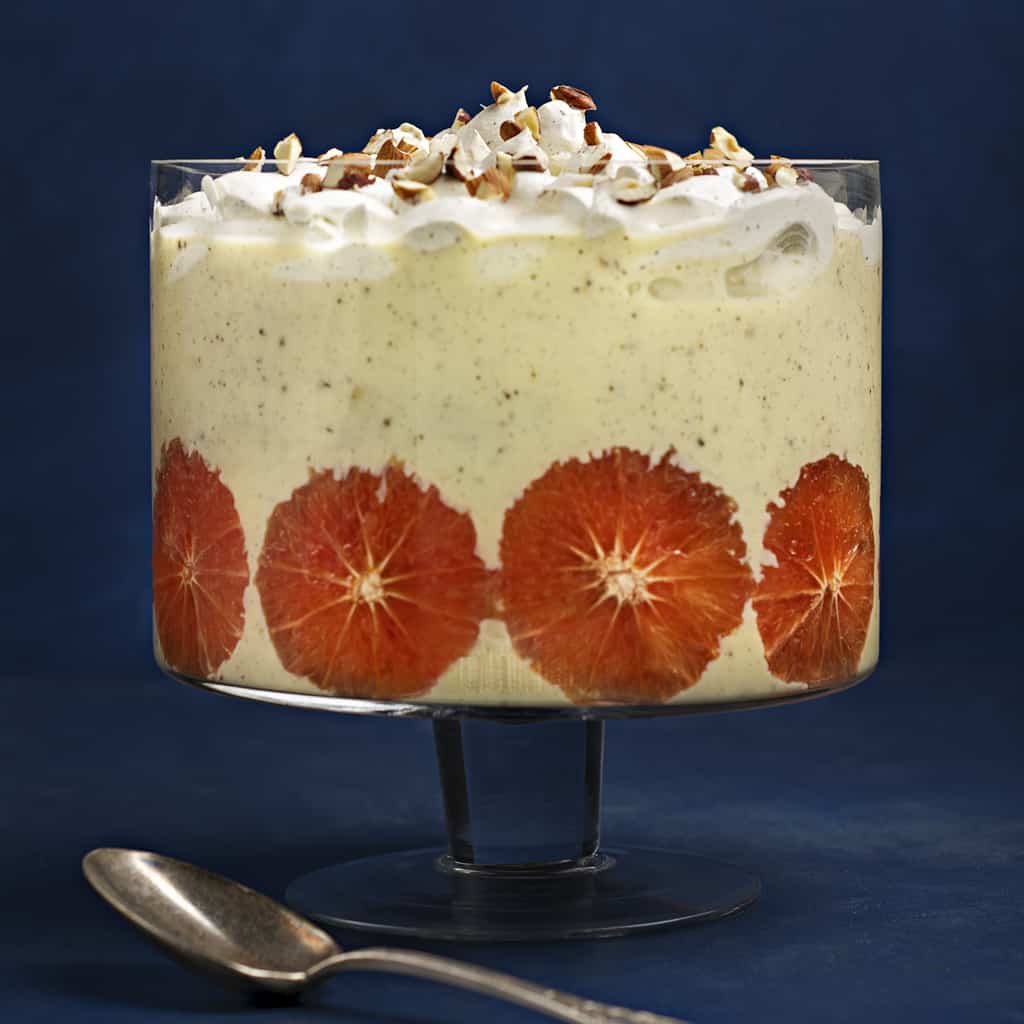 Ingredients
3 ruby grapefruit, rind removed, thinly sliced
Almond Cake
4 eggs, separated
1 ½ cups almond meal
¼ cup honey
1 tsp baking powder
2 tbs lemon zest
Custard
2 cups coconut milk
1 cup almond milk
2 eggs
2 egg yolks
1 vanilla bean
2 tsp honey
Coconut Whip
2 cups coconut milk, chilled
1 orange, zest only
4 tbsp hazelnuts, chopped
4 tbs almonds, chopped
Method
Pre-heat the oven to 180C/350F.  Grease a small, circular cake pan with coconut oil.
Place the egg yolks and honey in a bowl and beat until combined.  Stir through the almond meal, baking powder, and lemon zest.  In a separate bowl, whip the egg whites until stiff peaks form.  Fold in the almond mixture, keeping in as much air as possible.  Pour into the prepared pan and bake for 20-25 minutes or until a skewer inserted in the centre comes out clean.  Cool in the pan for 5 minutes, then turn out onto a wire rack to cool completely.
Next, make the custard.  Pour the coconut milk into a saucepan.  Split the vanilla bean and scrape the seeds out of it.  Place them and the bean into the coconut milk.  Heat until close to boiling.
Beat the eggs and yolks in a heat-resistant bowl.  Slowly pour in the hot coconut milk, stirring constantly.  Place the bowl over a pot of simmering water. You could also use a double boiler if you have one.  Stir constantly with a wooden spoon until it thickens and coats the back of the spoon.
Strain into a clean bowl and discard the vanilla pod.  Place in the fridge to chill.
When ready to assemble, scoop the refrigerated coconut milk out of the can. Discard the watery liquid at the bottom. Add half of the orange zest. Whip until stiffened.
Cut the cake in half horizontally.  Place the bottom half in a small trifle bowl.  Next, place a ring of grapefruit slices around the side of the bowl. Top with some custard and grapefruit slices.  Repeat, covering the final layer with custard, then whipped coconut.  Decorate with the remaining orange zest and nuts. Pop it on the table and let everyone admire your gorgeous SIBO-friendly ruby grapefruit and custard trifle!
What will you be serving as a dessert this Christmas?
We love seeing your creations in the kitchen. Don't forget to tag us with #CookingForSIBO or #TheHealthyGut so we can find your photos and videos. And we always love to hear what you think of our recipes.  If you enjoyed our ruby grapefruit and custard recipe, let us know in the comments below.
Want more SIBO Holiday recipes like this?
Don't feel deprived this holiday season!  The SIBO Holiday eCookbook is bursting with SIBO-friendly appetisers, sides, desserts and sweet treats.  All recipes are based on the SIBO Bi-Phasic Diet by Dr. Nirala Jacobi ND and clearly list what phase they are suitable for.
All recipes are 100% gluten-free and soy-free.  There are dairy-free, grain-free, sugar-free, and low FODMAP options available. Recipes list AU and US measurements, temperatures and ingredient names.
Order your copy today to have it emailed to you immediately.