Love Thai green curry but can't eat onion or garlic? Then you will love our Low FODMAP Thai Green Curry with Prawns recipe. Perfect for sensitive tummies.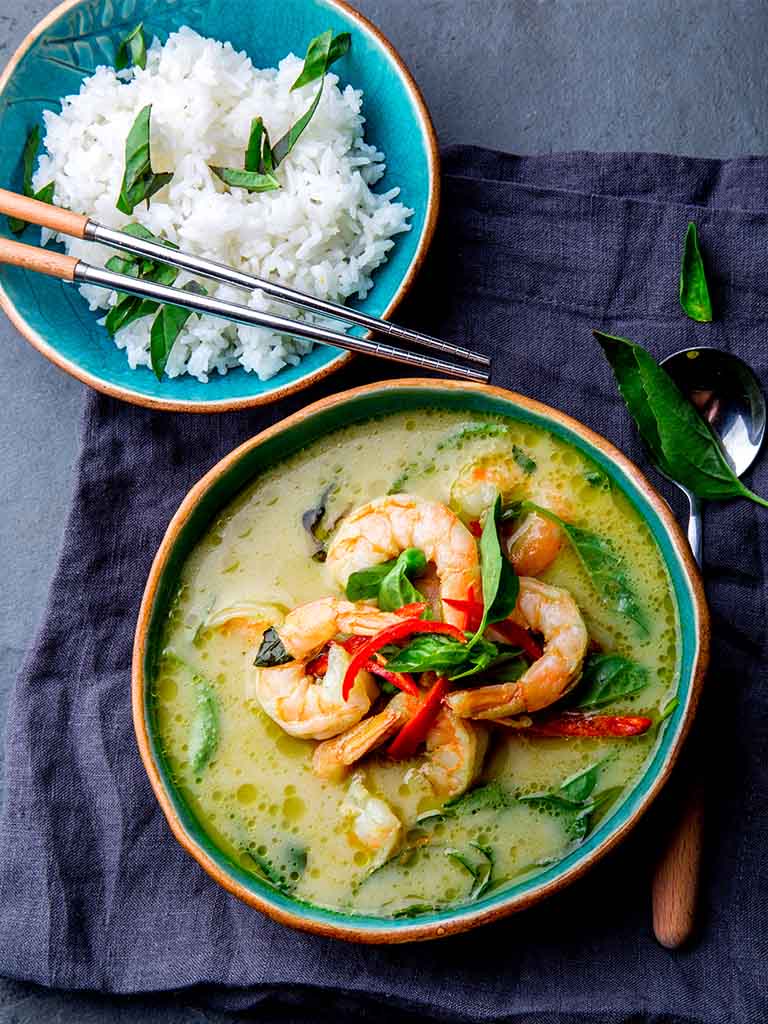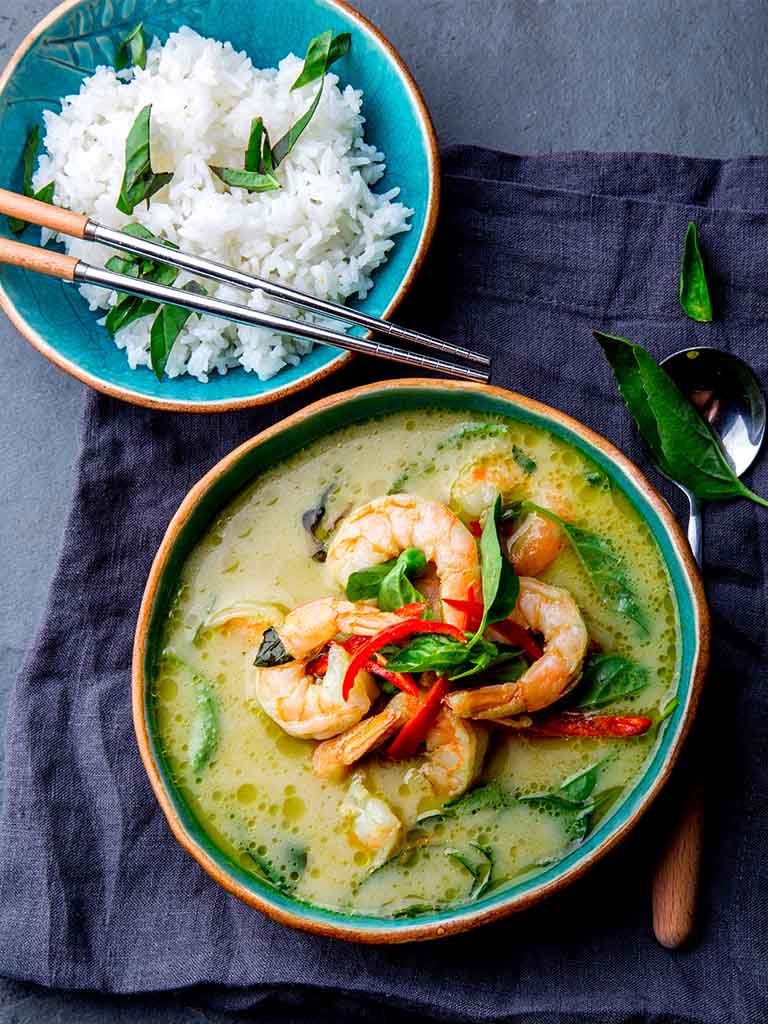 Ingredients
Thai Green Curry Paste
1 tbs white peppercorns
1 tsp coriander seeds
1 tsp cumin seeds
4 oz Thai green chillies
1 bunch scallions, green part only
1 thumb size piece of galangal
5 cilantro roots, washed
Peel from 1 kaffir lime
2 lemongrass stalks
1 tsp sea salt
1 tbs dried shrimp paste
Curry
2 cups (16 oz) water
20 kaffir lime leaves, shredded
20 raw jumbo shrimp, heads and shells removed, tails intact
1 cup (8 oz) canned coconut milk
1 cup (8 oz) low FODMAP fish or chicken stock
8 Thai eggplants (or baby eggplants), quartered
Salt, to taste
10 stalks of Thai sweet basil
2 long red chillies, finely sliced
2 cups cooked jasmine rice
Method
Curry Paste
First, prepare your curry paste. Heat a frying pan over a medium heat. Add the peppercorns, coriander seeds and cumin seeds to the dry pan. Heat until fragrant, then remove from the heat. Place in a mortar and pestle or spice grinder and grind into a powder.
Next, chop the chillies, scallions, galangal, coriander roots, kaffir lime peel and lemongrass.
Place the spices, chopped ingredients, and salt in a large mortar and pestle and pound until it has turned into a paste. This will take about an hour. Add the shrimp paste and pound until well combined.
If you are short on time, you can place all ingredients in a high-powered blender and blitz until smooth. Set the curry paste aside.
Curry
To make the Thai green curry, in a large pot, add the water, green curry paste and kaffir lime leaves. Bring to the boil then reduce the heat and cook until the sauce has reduced and thickened.
Add the shrimp, coconut milk, stock and eggplants, bring to the boil, then cook until the prawns and eggplants are cooked through. Taste and add salt if necessary. Just before serving, stir through the Thai basil and red chillies.
To Serve
Serve with jasmine rice and spoons to mop up the delicious curry sauce.
Note
Galangal is a root vegetable, similar to ginger, and can be found in Asian supermarkets. If you can't find it, you can substitute it with ginger.
Dried shrimp paste adds a unique flavour to this dish, but is not overpowering. It can also be found in Asian supermarkets. If you can't find it, you could substitute with fish sauce.
Kaffir lime and kaffir lime leaves have a unique flavour and are an important flavour component in this dish. If you can't find them from your local Asian supermarket, you can substitute with regular lime juice, but the flavour will be different.
Thai eggplants are little round eggplants, the size of a chicken egg. They have quite a different texture and flavour to regular eggplant. They are available from Asian supermarkets. If you can't find them, you could substitute them with large cubes of regular eggplant.
Thai sweet basil is very different to regular basil, and can also be found in Asian supermarkets. If you can't find it, you could substitute with fresh cilantro, but the flavour will be different.
Tell your friends
Why not share the love? We love it when you tell your friends about The Healthy Gut Recipes. Simply click one of the icons below to share it with your favourite social media platform.