Yields: Approximately 20 small chocolates
Sugar free strawberry chocolate bites are a seriously amazing treat for anyone who loves the delicious combination of strawberries and chocolate. They're suitable for Phase 2 on the SIBO Bi Phasic Diet.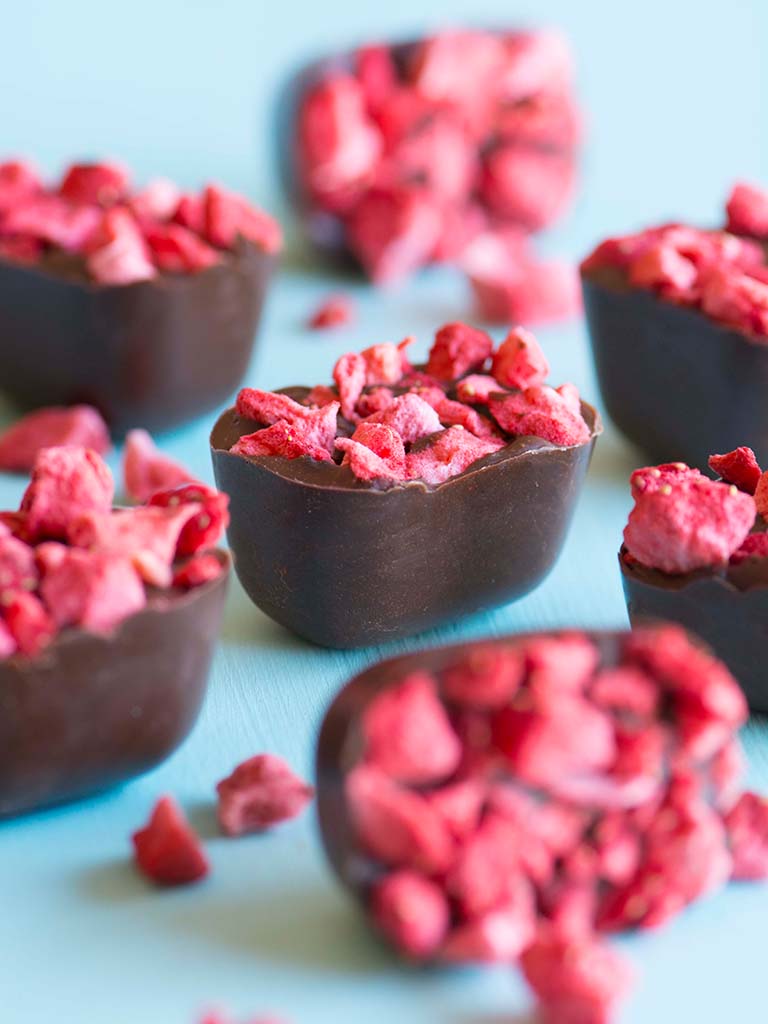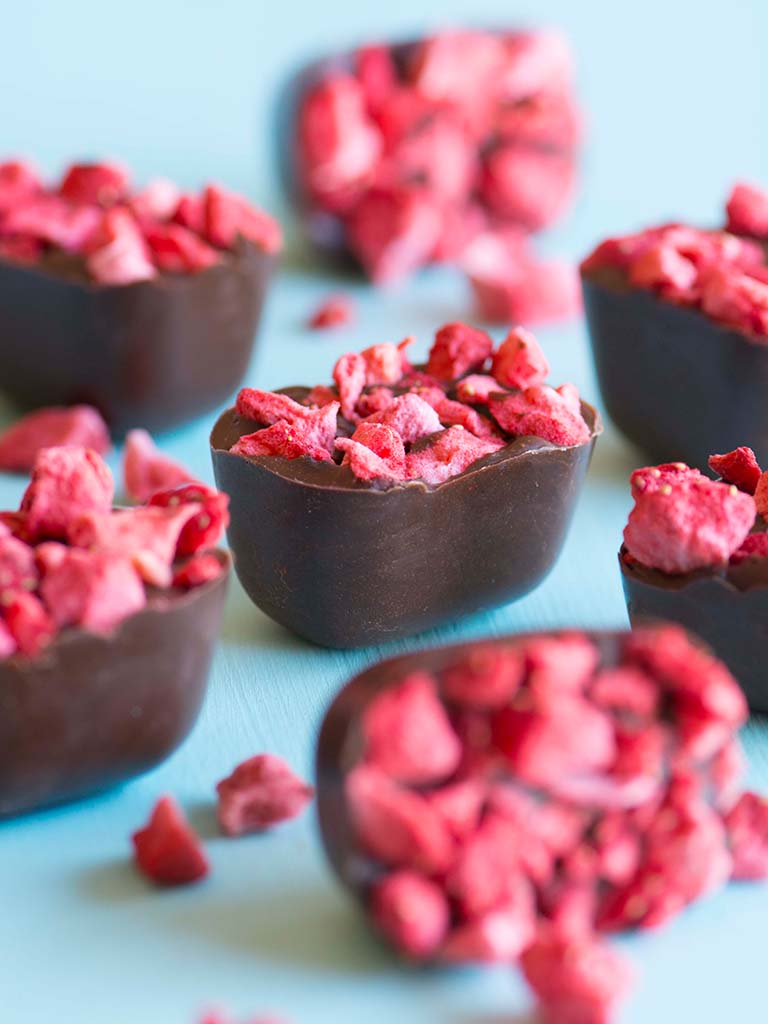 Ingredients
8.8oz raw cacao butter
1 cup raw cacao powder
1/2 - 1 tsp powdered stevia
4 tbs freeze dried strawberries
Method
Chop the cacao butter so that the pieces are even in size. Place in a plastic or silicone bowl that is microwave safe. Microwave at 30-second intervals, stirring with a plastic spatula between each zapping.
Once the cacao butter begins to melt, place a digital thermometer in the mixture to take the temperate. Stop heating the butter when it reaches between 104F – 113F.
Sift in the cacao and stevia powders, stirring as you go to prevent lumps. Taste and add more stevia if required.
Cover a cool heat resistant bench surface with baking/silicone paper. Pour the chocolate mixture onto the paper and then move the chocolate around with a spatula until it achieves a toothpaste thick consistency. The key to tempering chocolate is the movement as it cools. This will give it a lovely crack as you bite into it and a glossy finish.
Scrape the thickened chocolate off the baking paper. Return to the bowl. Heat in the microwave in 5-second bursts, taking the temperature and stirring with the spatula between each zapping. Heat until the chocolate is between 82.4F – 93.2F, and all lumps have been removed.
Pour the chocolate into small, clean ice cube trays. Fill 3/4 of the way so you leave room for the strawberries. Once all of the chocolate mixture has been poured in, sprinkle the freeze-dried strawberry pieces over the top of the chocolate. Lightly press down to ensure the strawberry pieces will set in the chocolate.
Place the trays in the fridge for 5-10 minutes to help set the chocolate. Once set, remove from the ice cube trays and enjoy.
The chocolate can be stored in an airtight container. Only store them in the fridge in very warm temperature, as it can cause condensation to form on the chocolate.
Tell your friends
Why not share the love? We love it when you tell your friends about The Healthy Gut Recipes. Simply click one of the icons below to share it with your favourite social media platform.