These succulent lamb cutlets are offset beautifully by the crunch and sweet fl avour of the salad.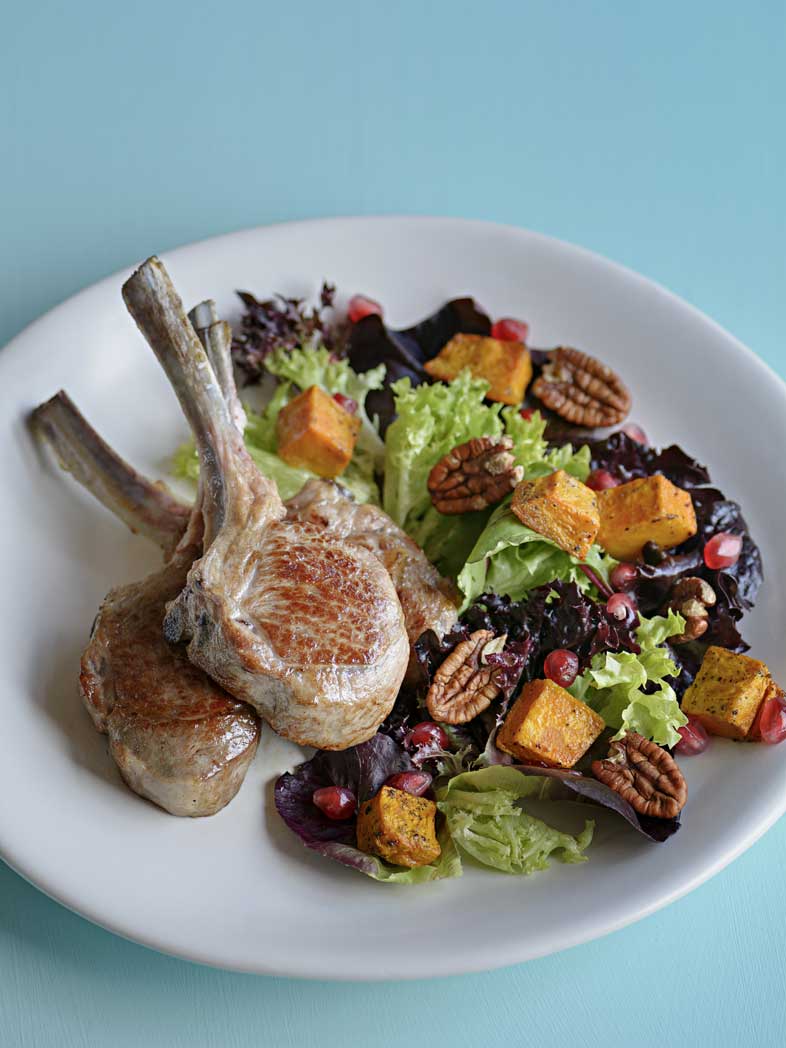 Ingredients
Main Dish
6 lamb chops
1 tbs olive oil
Salt and pepper
Salad
20 pecans
1 cup pumpkin or squash
1 tbs lard (see recipe, page 133)
2 large handfuls mixed salad greens, washed
1 small pomegranate, seeds removed and retained
1 tbs olive oil
1 tbs white wine vinegar
Salt and pepper
Method
Pre-heat the oven to 350ºF. Place the pecans on a roasting tray and roast in the oven for 5-10 minutes. Watch them carefully as they can burn quickly. Remove once they have roasted and slightly changed colour. Cool and set aside.
Cut the pumpkin into cubes. Place in a large bowl. Melt 1 tablespoon of lard and pour over the pumpkin, then sprinkle with salt and pepper. Mix well. Place the pumpkin on a tray lined with baking paper and roast until cooked through and golden. This may take 30–45 minutes depending on your oven. Remove and cool slightly.
Cover your lamb cutlets with oil, salt and pepper. Next, heat your BBQ or grill on a medium-high heat. Place the cutlets on the BBQ and cook to your liking. Remove from the heat, cover lightly with foil and rest for half the cooking time. For example, if you cooked your cutlets for 5 minutes, rest them for 2 ½ minutes.
In a large bowl, mix the salad leaves, pomegranate seeds, pecans and pumpkin. In a small bowl, mix the olive oil, vinegar, salt and pepper, then drizzle over the salad and toss well to combine.
Serve the cutlets warm with a portion of the salad.
Tell your friends
Why not share the love? We love it when you tell your friends about The Healthy Gut Recipes. Simply click one of the icons below to share it with your favourite social media platform.