If you love eggs Benedict, you will swoon over this SIBO friendly version: Poached eggs, creamy Hollandaise sauce, smoked salmon and zucchini pancakes. It's the perfect breakfast, brunch, or even light dinner or supper.  It's also special enough to make for the holidays or birthday celebrations.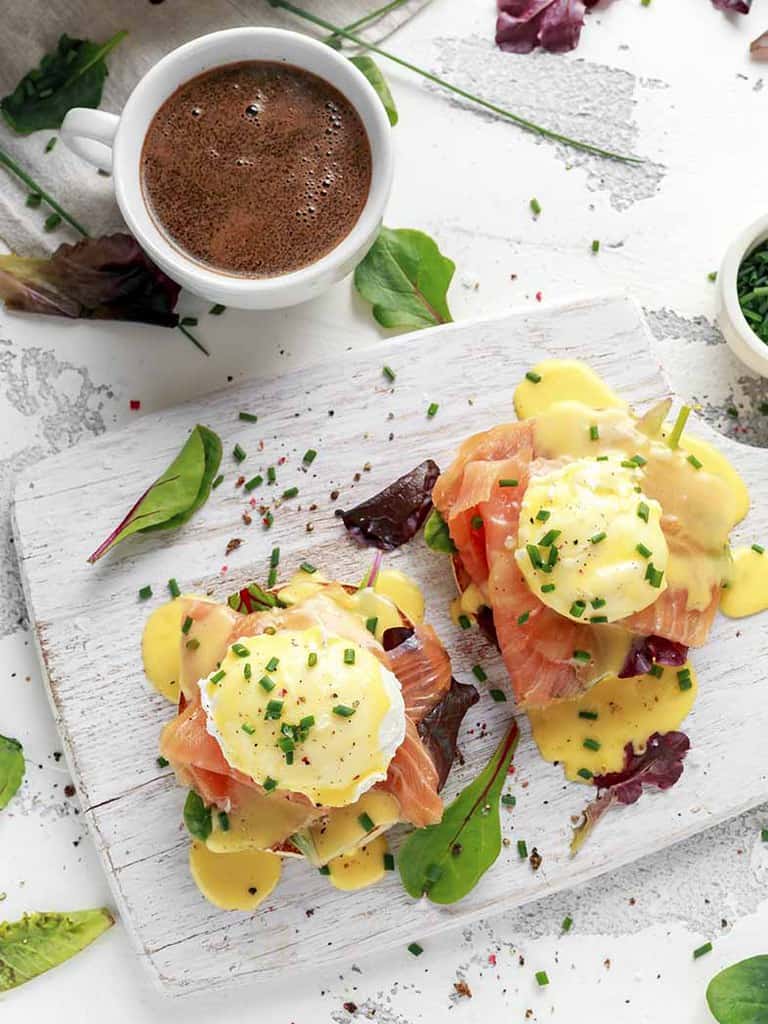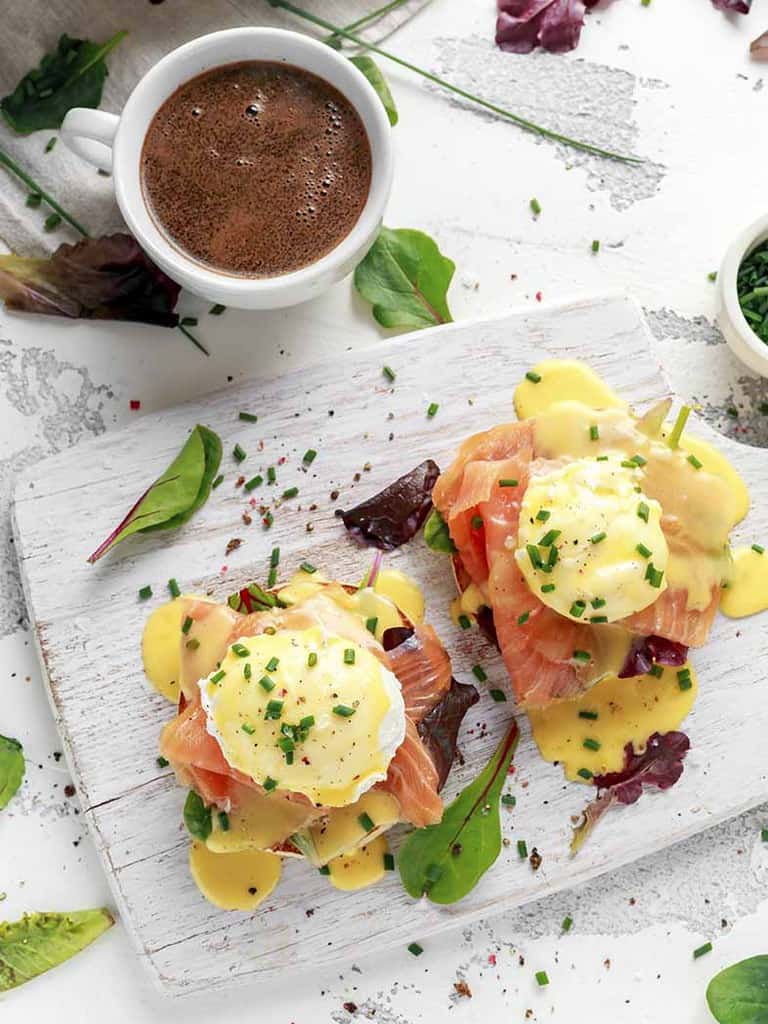 Ingredients
Zucchini Pancakes
2 zucchini, grated
2 eggs (ideally free-range)
4 tbs coconut flour
1/2 tsp salt
1/4 tsp freshly cracked black pepper
2-4 tbs butter
Hollandaise Sauce
2 tsp lemon juice
2 tsp white vinegar
3 egg yolks (ideally free-range)
4.5 oz butter, cubed
Salt and white pepper to taste
Smoked Salmon and Poached Eggs
8 eggs (ideally free-range)
8 slices smoked salmon (no added sugar)
2 handfuls mixed salad greens
2 tbs chopped chives
Method
Zucchini Pancakes
Pre-heat the oven to 250F.
Squeeze the zucchini so that most of the moisture comes out of it. Place it into a clean bowl.
Add the egg, coconut flour, salt and pepper, and stir to combine.
Melt the butter in a large skillet over a medium heat.
Drop large spoonfuls of batter into the skillet and cook for a few minutes on each side, or until lightly golden. Remove from the pan and place on a heatproof plate and place in the oven to keep warm. Repeat until all of the mixture has been cooked.
Add more butter between batches if the skillet gets dry.
Hollandaise Sauce
Place the vinegar, lemon juice and egg yolks in a heatproof bowl and whisk until well combined.
Place the bowl over a pan of simmering water, making sure the bottom of the bowl doesn't touch the water. Whisk continuously until the mixture thickens.
Add in cubes of butter, whisking well between each addition. If the mixture looks like it is going to split, take it off the heat and whisk until it returns to form.
Remove from the heat, season with salt and pepper and keep warm.
Poached Eggs
Bring a wide pan of water to the boil then reduce the heat so the water is gently simmering.
One at a time, crack an egg into a mug or small bowl then slowly lower into the water. Repeat until all of the eggs are in the water (if your pan is large enough so they are not crowded. If not, cook the eggs in two batches).
Cook for 2-4 minutes, depending on how runny you like your egg yolks. If you like a very soft poached egg, cook for less time than if you prefer a more firm yolk.
Gently remove the eggs one by one with a slotted spoon, being careful to drain off as much liquid as possible.
To Serve
Divide the zucchini pancakes between four plates. Top with a few salad greens, 2 slices of smoked salmon, 2 poached eggs and a drizzle of hollandaise sauce. Sprinkle with chopped chives and season with salt and pepper. Serve immediately.
Note
If you can't tolerate coconut flour, you can substitute it with a nut flour you can tolerate, or you could leave it out for a more moist pancake.
Coconut flour is highly absorbent. If you find your pancake mixture is too dry, you can add 1 tablespoon of water at a time until it is the consistency you like.
Tell your friends
Why not share the love? We love it when you tell your friends about The Healthy Gut Recipes. Simply click one of the icons below to share it with your favourite social media platform.