Make delicious boneless chicken stock without onion or garlic. Use in soups, stews and more during your SIBO or Low FODMAP diet.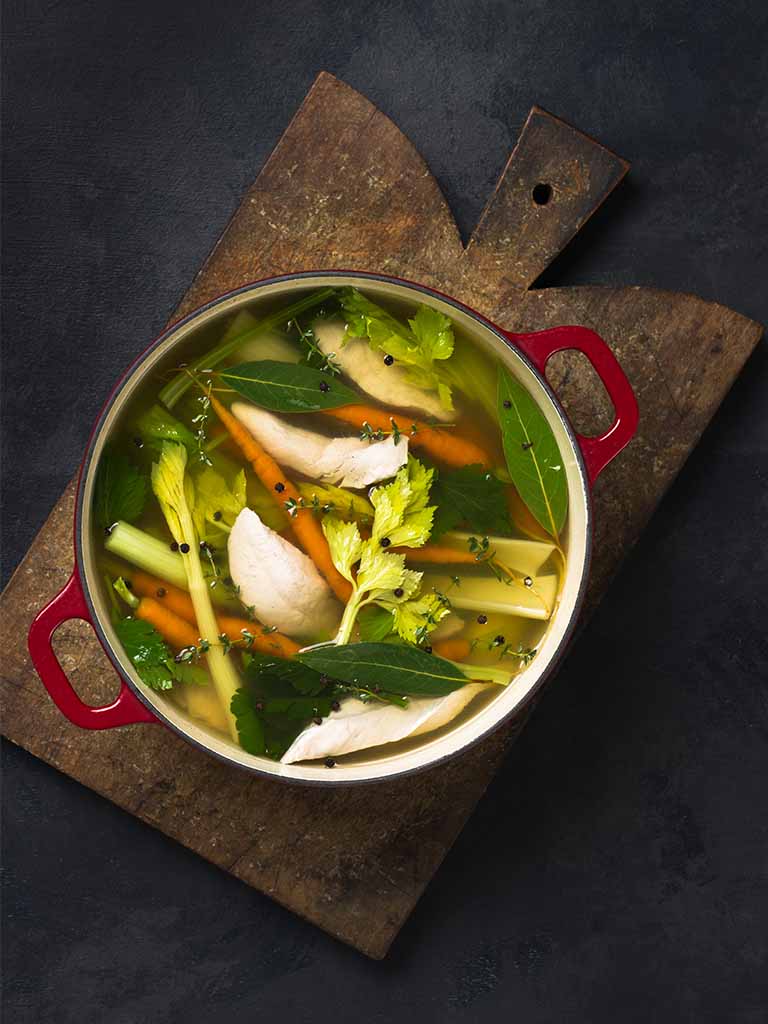 2 lbs chicken meat, chopped (eg. breast, thighs) 

4 large carrots, roughly chopped

4 sticks celery, roughly chopped (omit if following Low FODMAP diet)

1 bunch scallions, green part only, roughly chopped

1 small bunch fresh thyme

1 large bunch fresh parsley

1 tbs apple cider vinegar

1/2 tsp whole black peppercorns
Place all of the ingredients in a large, deep pot.

Bring to the boil, then reduce the heat, cover and simmer for 1.5 hours.

Remove the pieces of chicken and set aside. These can be used in soup or other meals.

Strain the remaining liquid through a fine mesh sieve. The vegetables can be used in another recipe, such as a soup or stew.

Allow to cool then store in the fridge for a few days or in the freezer for 4-6 months.
Store some stock in ice cube trays. Add a cube or two to your dishes for a pop of extra flavour and moisture.

If freezing all of the stock, store it in different sized portions (eg. 1/2 cup, 1 cup and 2 cups) so you can use it as you need it, rather than having one solidly frozen block of stock.

This recipe can be doubled, tripled or quadrupled if you want to make a large batch of stock at any one time.

When treating SIBO, it is best to avoid chicken frames and bones in your stock, as this contains cartilage which turns into carbohydrates in the stock, and can provide fuel for the overgrowth of bacteria. Chicken bones can be used for stock once your SIBO is under control.