This roasted tomato and basil soup is a comforting classic that everyone will enjoy. I personally love this recipe because it's delicious, gluten-free, SIBO friendly, and creamy even without cream. If you can tolerate parmesan cheese, you can sprinkle some freshly grated parmesan on top to make a cheesy version of this soup.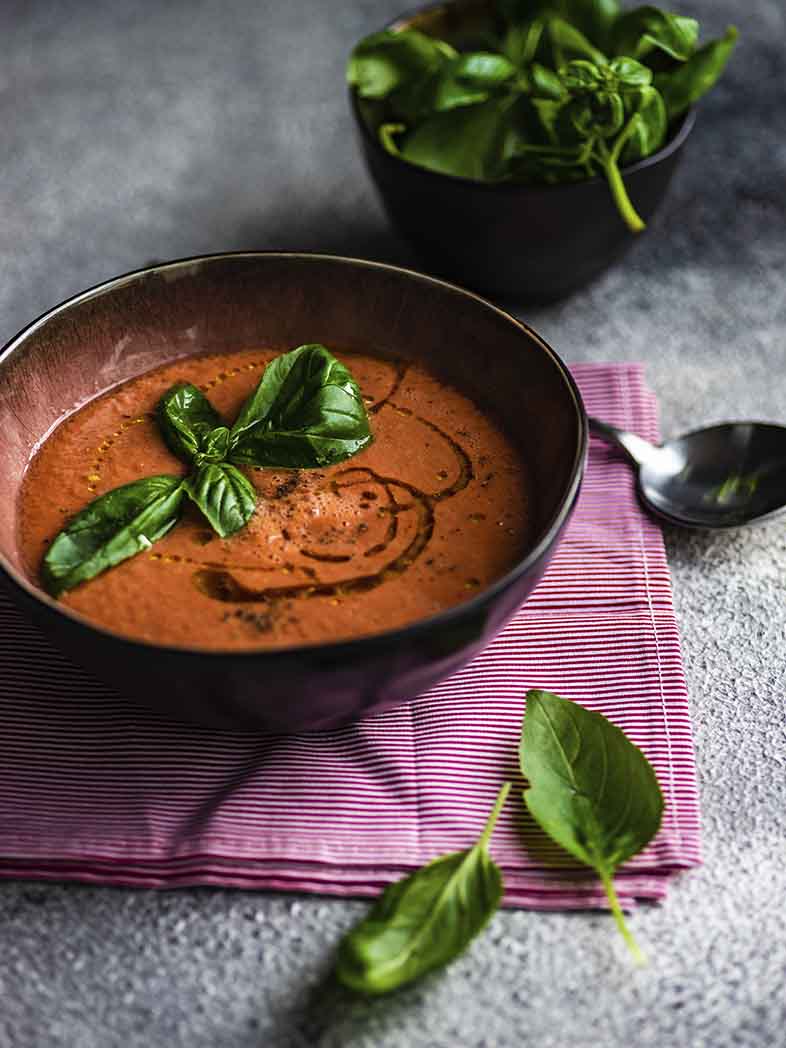 Ingredients
2 lbs plum roma tomatoes, halved
2 tbs olive oil
1 tsp salt
1 tsp pepper
1 bunch of basil, finely chopped
6 scallions, green part only, chopped
16 oz vegetable stock
1/3 cup tomato paste
2 tbs garlic infused olive oil(optional)
Basil leaves for garnish
Method
Pre-heat the oven to 350°F.
Place the plum roma tomatoes on a roasting sheet and drizzle with 1 tablespoon of olive oil and the salt and pepper. Place in the oven for 30-40 minutes or until the tomatoes are roasted and tender. Remove from the oven and set aside to cool slightly.
Once cool enough to handle, place the tomatoes and ½ cup of basil in a high-powered food processor and blitz until well combined and creamy.
In a large pot, heat the remaining olive oil and wilt the scallions. Add to the blender and blitz again.
Pour the tomato mixture, vegetable stock and tomato paste into the pot and cook for 15 minutes, stirring frequently, until thickened slightly. Right before serving, stir through the remaining basil.
To Serve
Pour into 4 soup bowls, drizzle with garlic infused olive oil and decorate with extra basil leaves.
Note
If you can tolerate parmesan, you can sprinkle some freshly grated parmesan on the top to make a cheesy version of this soup.
Tell your friends
Why not share the love? We love it when you tell your friends about The Healthy Gut Recipes. Simply click one of the icons below to share it with your favourite social media platform.