Yields: 12 hot cross buns
Looking for a Low FODMAP, gluten, dairy and dried fruit free hot cross bun for Easter?  Then look no further! Bursting with aromatic spices you've come to love in a hot cross bun, these moist buns are perfect with a cup of tea. Once you've perfected these, you can get creative with different flavour combinations, such as adding some chopped dark chocolate. Making them for someone who can tolerate dried fruit, add half a cup of raisins in for a fruity treat.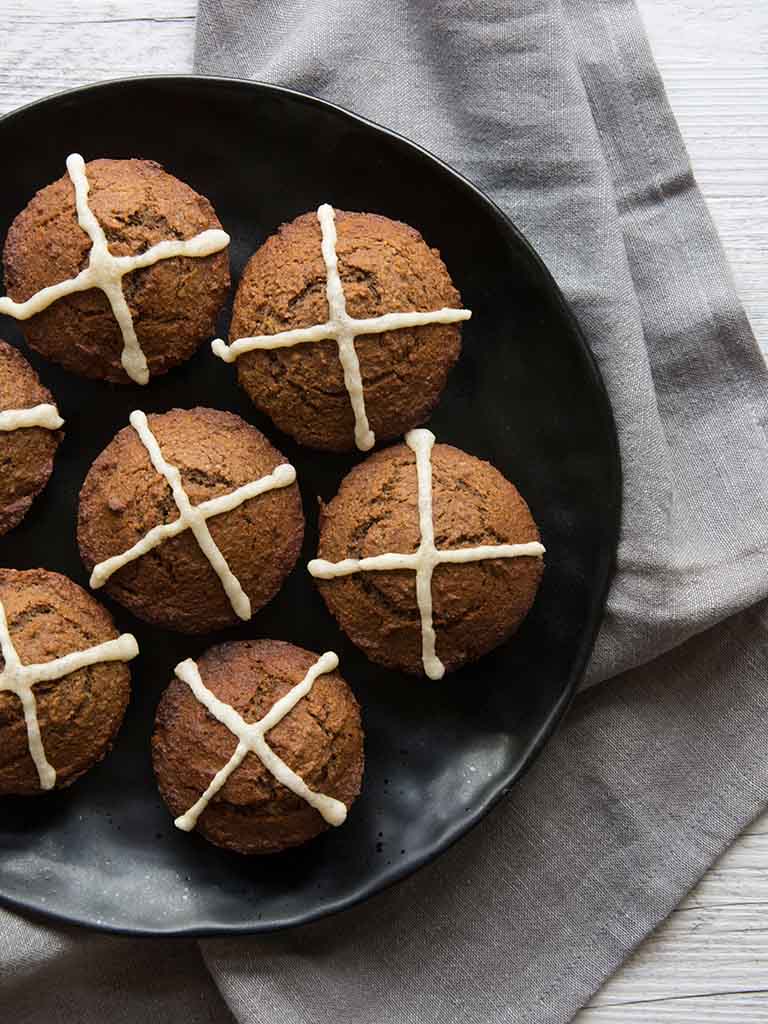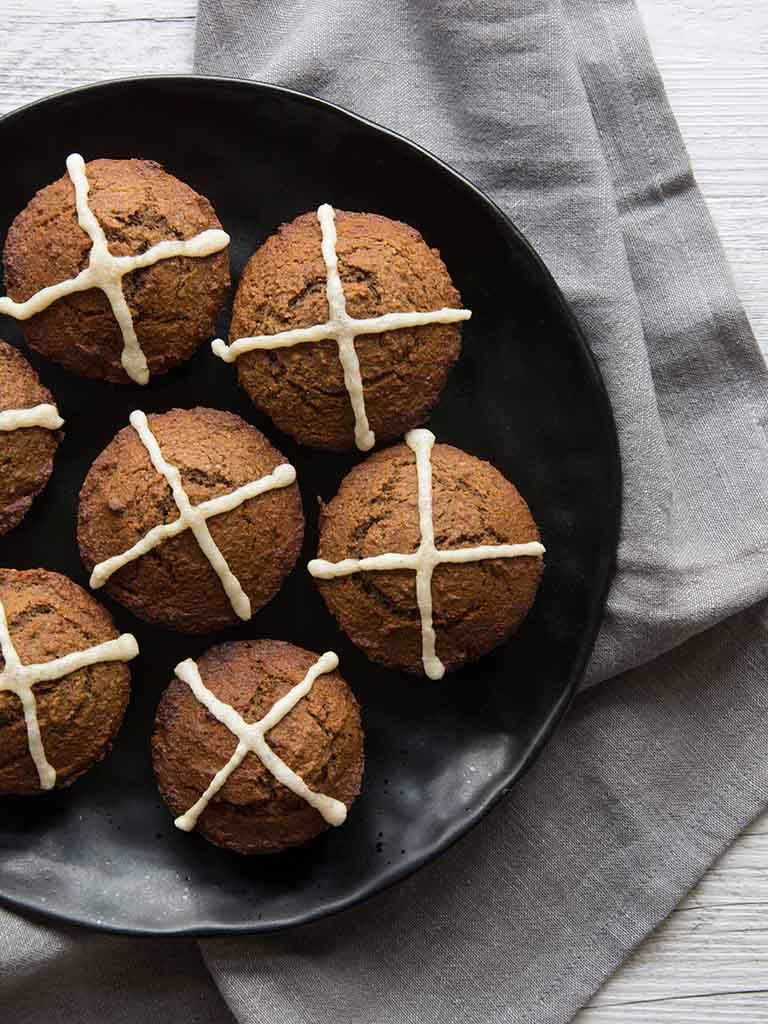 Ingredients
Hot Cross Buns
4 eggs, beaten
1 banana, mashed
2 tbs maple syrup
¼ cup coconut oil
1 tsp vanilla extract
Zest from 1 orange
Zest from 1 lemon
2 cups (6.7 oz) almond flour
3 tsp cinnamon
2 tsp nutmeg
1 tsp ground ginger
½ tsp ground cloves
1 tsp baking powder
½ tsp baking soda
¼ tsp salt
Cross
3 tbs (1.2 oz) almond flour
2 tbs (1 oz) corn flour
1 ½ to 1 ¾ tbs water
Method
Hot Cross Buns
Pre-heat your oven to 350F.
Pour in all of the wet ingredients into a large bowl, and mix until well combined. Add the remaining ingredients and mix until well combined.
Grease a muffin tray. Spoon mixture evenly into each muffin hole. Place in the oven for 10 minutes.
Cross
Meanwhile, mix together all ingredients for the cross.  Scoop into a small piping bag fitted with a small nozzle.  At the 10 minute mark, quickly pull the muffin tray out of the oven and pipe crosses over each bun.  Return to the oven to cook for a further 5-10 minutes, or until a skewer inserted in the middle of them comes out clean.
Cool in the tray for 5 minutes before moving to a cake rack to finish cooling.
To Serve
These are delicious served slightly warm. If you can tolerate butter, they are even more delicious with some butter spread over them. They are best eaten on the day they are made.  Keep any leftovers in the fridge and reheated before serving.
Note
For a chocolate twist, add 1/2 cup 100% chocolate chips to the batter before baking.
Tell your friends
Why not share the love? We love it when you tell your friends about The Healthy Gut Recipes. Simply click one of the icons below to share it with your favourite social media platform.