A delicious sweet and sour pork crispy salad by Charlotte Miller from Food & Joy.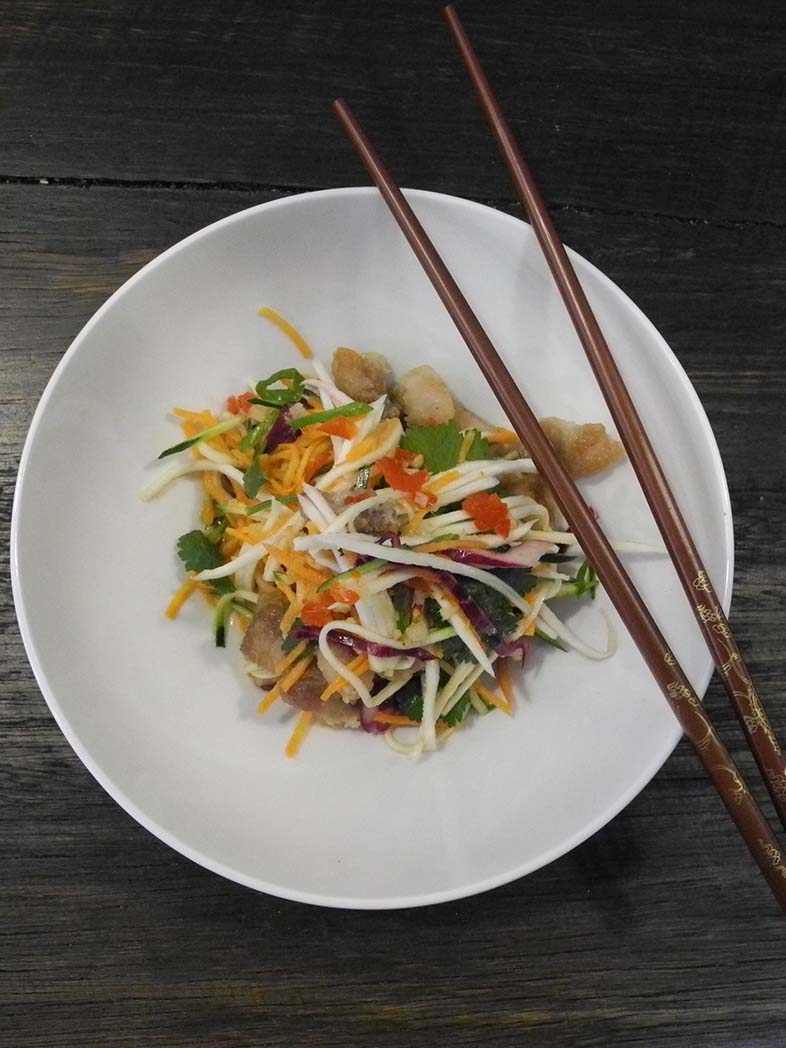 Ingredients
Main Dish
200 - 300g pork fillet
1/2 cup corn flour
1/2 cup peanut oil
Salt and pepper, to taste
1 medium zucchini, grated
1 small parsnip, shaved
1 medium carrot, grated
1 cup red cabbage, shredded
2 spring onions (green part only)
1/2 cup coriander, washed and chopped
Sauce
1/2 cup palm sugar
3 tbs ginger grated
1 long red chilli, finely chopped
3/4 cup rice vinegar
1/2 tsp salt
Method
To make the sauce, combine all ingredients in a small saucepan and bring to the boil. Turn down heat and reduce liquid by a third. Set aside.
Cut pork into small chunks. Combine salt and pepper with cornflour. Coat each piece well and shake to remove excess flour.
Heat oil in a small pot (don't leave this unattended). To test when temperature is hot enough, sprinkle a small amount of flour in – it should sizzle immediately.
Set up a plate with paper towel next to the pot then gently lower pork into hot oil, using tongs or a slotted spoon. Cook until browned then remove from oil and set aside to drain. Continue until all pork is cooked then remove the oil from the heat and cool.
Combine all raw shredded and shaved vegetables into a mixing bowl.
Return the sauce to the boil and add in pork. Bring to the boil then add all sauce and pork to the mixing bowl of vegetables. Mix well and add fresh herbs.
Serve with brown jasmine rice if you can tolerate it.
Tell your friends
Why not share the love? We love it when you tell your friends about The Healthy Gut Recipes. Simply click one of the icons below to share it with your favourite social media platform.