There's nothing like a hearty soup during colder months. This dairy- and gluten-free clam chowder is actually very easy to make using pantry ingredients. If you can't get fresh clam meat, you can substitute it with canned clam meat.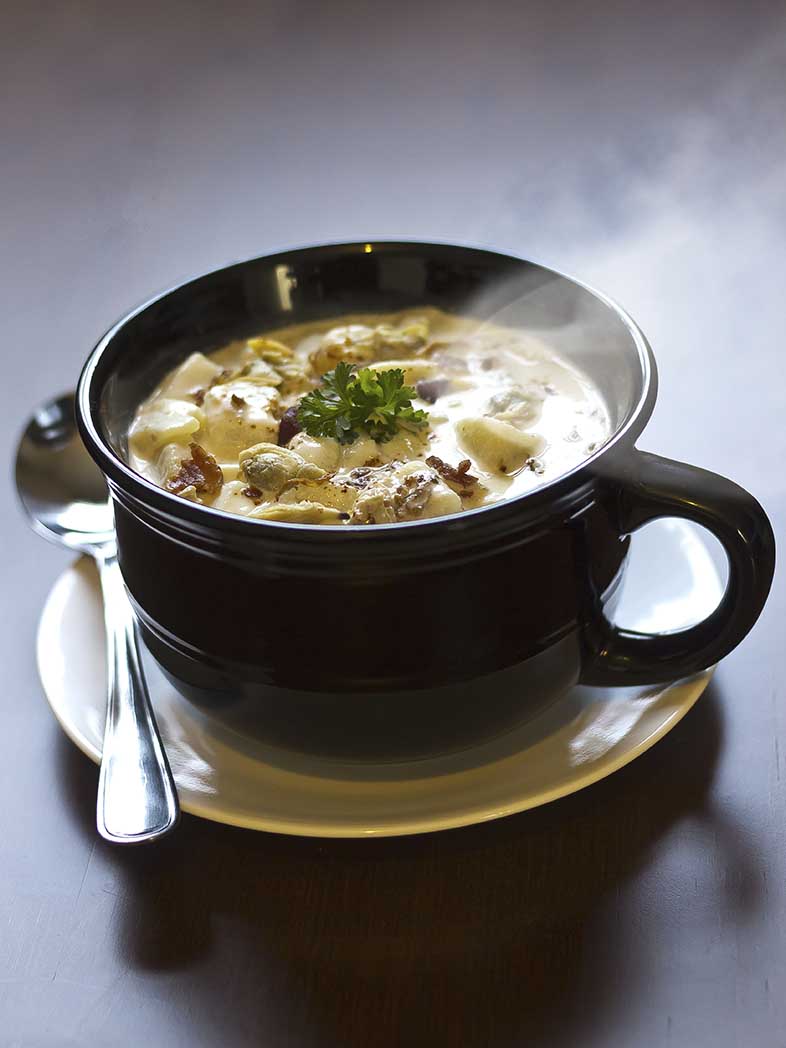 Ingredients
1 tbs butter
8.5 oz bacon or pancetta, diced
2 sticks celery
1 leek, diced
6 cups seafood stock
3 potatoes peeled and diced
1.1 lbs fresh clam meat
1 large handful parsley, chopped
Salt
Pepper
Method
Heat a large skillet over a medium heat. Melt the butter then add the bacon or pancetta to the pan. Cook until the fat has rendered out of the meat and it is crispy. Using a slotted spoon, remove the bacon from the skillet and set aside on absorbent paper.
Add the celery and leek to the bacon fat in the pan. Cook, stirring frequently, until softened and slightly browned.
Tip the bacon mixture into a large soup pot. Add the stock and potatoes. Cook for 20 minutes or until the potatoes are soft. If you want a slightly creamy soup, blitz for a few seconds with a hand blender.
Add the clam meat and ¾ of the crispy bacon. Cook for 2-3 minutes, or until the clam meat has cooked through. Stir in the parsley. Taste and season with salt and pepper.
To Serve
Divide the soup between 4 large soup bowls and sprinkle with the remaining crispy bacon. Serve immediately.
Note
To make this soup Low FODMAP, omit the celery and replace the leek with 6 scallions, green part only. If you can't get fresh clam meat, you can substitute it with canned clam meat.
Tell your friends
Why not share the love? We love it when you tell your friends about The Healthy Gut Recipes. Simply click one of the icons below to share it with your favourite social media platform.