A moist and decadent chocolate and hazelnut cake with chocolate ganache. No gluten, dairy or eggs. It's perfect for a SIBO, low FODMAP, vegetarian or vegan diet.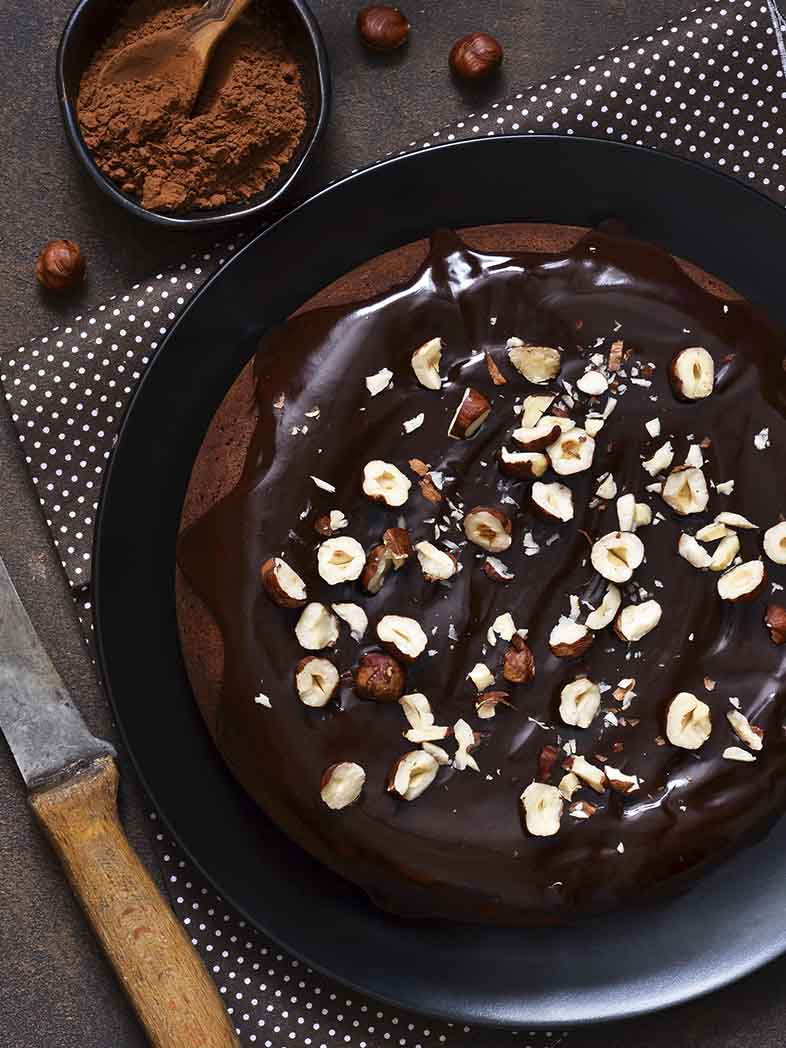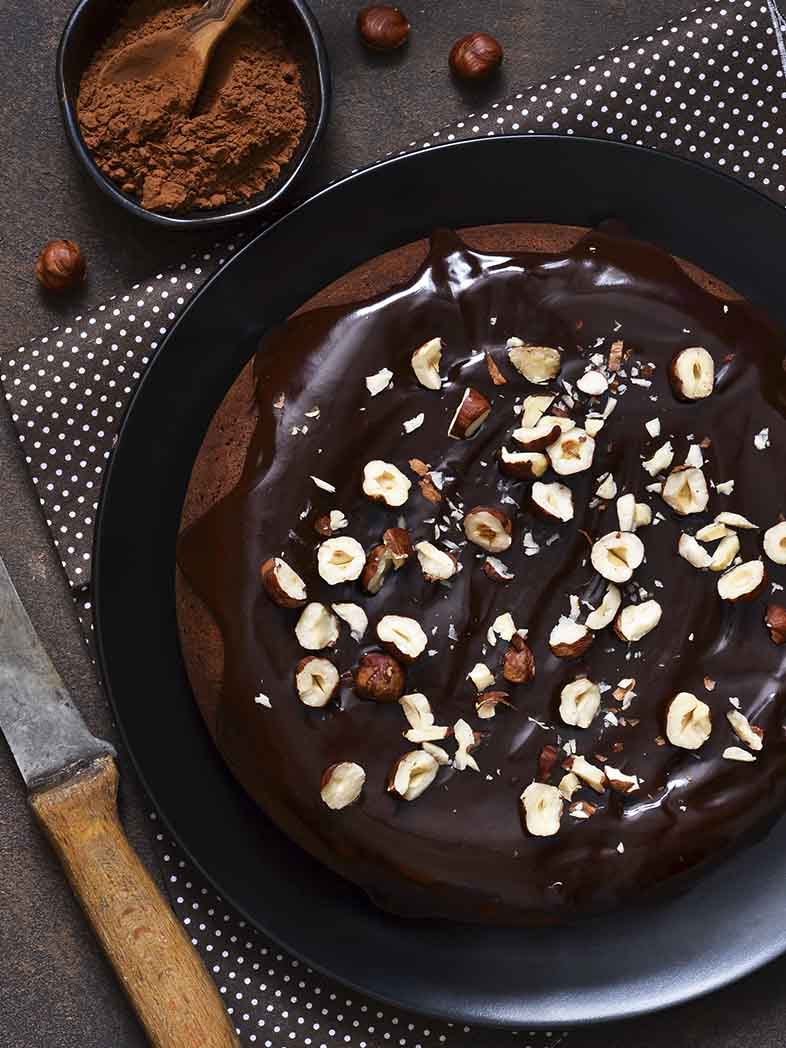 Ingredients
Wet Ingredients
3 tbs (1.5 oz) flax seeds
3/4 cup (6 oz) water
1 cup (9 oz) pumpkin purée
10 oz canned coconut milk
1/2 cup (4 oz) melted coconut oil
2 tsp apple cider vinegar
2 tsp vanilla
Ganache
7 oz dairy-free dark chocolate (70%-100% cacao)
2/3 cup (5.5 oz) canned coconut cream
1-4 tbs palm sugar (adjust according to desired sweetness
Pinch sea salt
Dry Ingredients
2 cups (8 oz) hazelnut flour
3/4 cup (4 oz) arrowroot (or tapioca flour)
2 tbs (1 oz) coconut flour
1 cup (6 oz) granulated palm sugar
1 cup (3.5 oz) raw cacao powder
1 1/2 tsp (0.5 oz) baking soda
1/2 tsp (0.1 oz) salt
Decoration
2 oz hazelnuts, roasted and roughly chopped
Method
Cake
Pre-heat your over to 350F.
Grease and line one deep 9-inch springform cake tins. Set aside.
Grind the flax seeds in a high powered blender or coffee grinder until ground into a fine powder. Tip into a bowl then stir in the water. Stir to remove all lumps then set aside.
Place all remaining wet ingredients in a large bowl and stir to combine. Mix through the flax seed mixture. Set aside.
Sift the dry ingredients into a large bowl, then pour in the wet ingredients. Mix thoroughly.
Pour the mixture into the prepared cake tin. Bake for 40-50 minutes. The cooking time will depend on the speed of your oven. To check if your cake is ready, insert a thin skewer into the middle of the cake. When it comes out clean, the cake is ready.
Cool in the tin for 15 minutes, then flip onto a cake rack to finish cooling completely.
Ganache
Chop the chocolate into small pieces, then place in a heat proof bowl.
Place the bowl over a saucepan of simmering water, being careful not to touch the bottom of the bowl with the water. Gently melt the chocolate into the coconut cream, stirring regularly, until all chocolate pieces have melted. Allow to cool, stirring regularly to prevent lumps from forming.
To Serve
Place the cake on a cake stand. Drizzle the ganache onto it, then sprinkle with the hazelnuts.
Note
If you can't tolerate hazelnuts, you could substitute another nut flour that you can tolerate. Almond or pecan flour would work well.
Tell your friends
Why not share the love? We love it when you tell your friends about The Healthy Gut Recipes. Simply click one of the icons below to share it with your favourite social media platform.