Nothing beats a well cooked steak. This dish combines the delicious BBQ flavours of the steak with the wonderful crunch and tang of the salad. I'm sure sure it will be a favourite in your household too.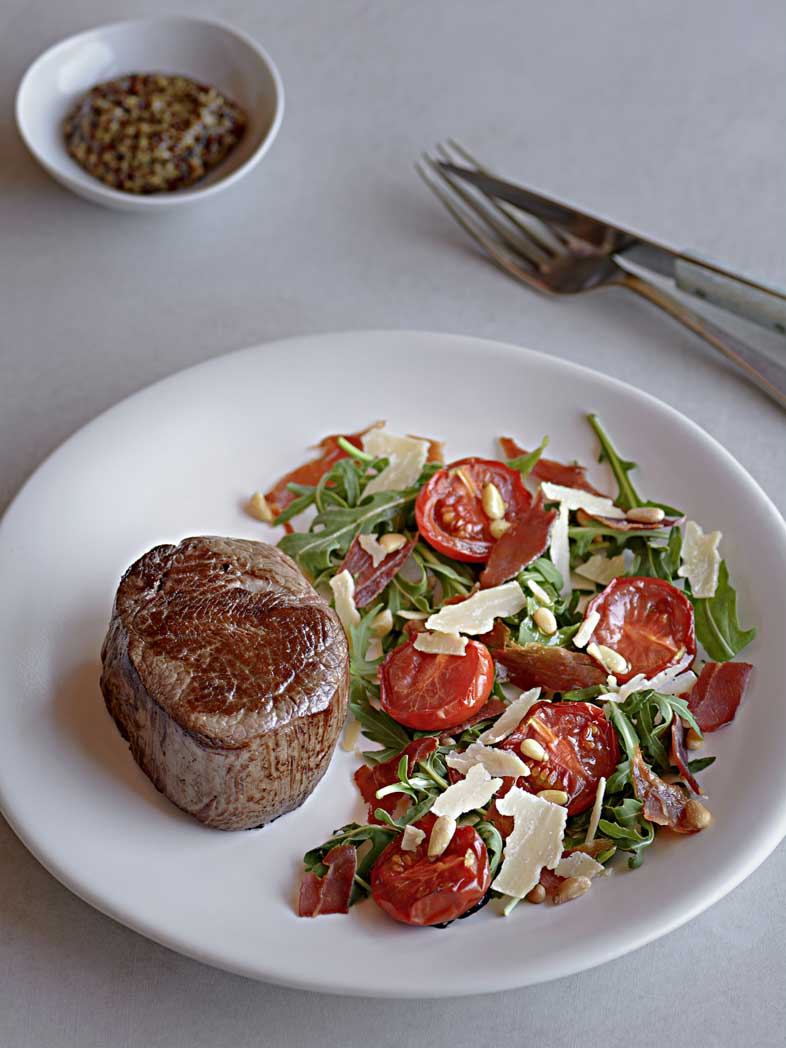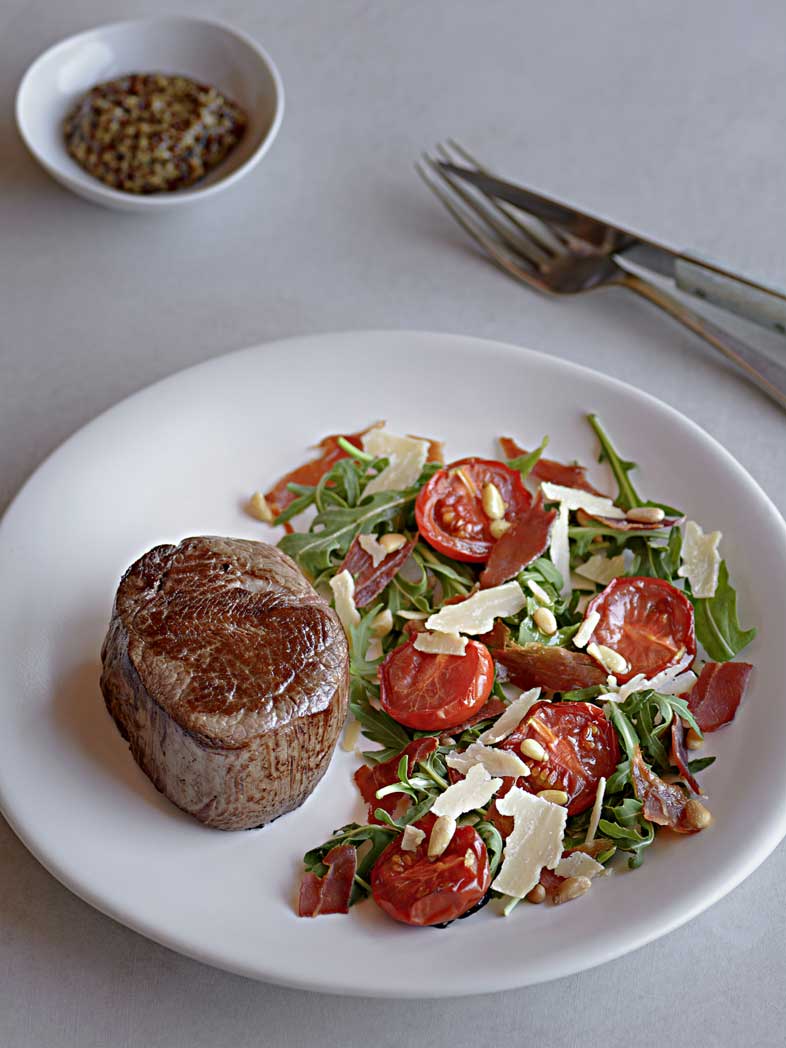 Ingredients
2 grass-fed, free-range beef steaks
1 tbs olive oil
6 slices prosciutto, salt cured, free from sugar and nitrates
2 tbs pine nuts, toasted
1 pint cherry tomatoes, halved
2 tbs extra-virgin olive oil
2 large handfuls of arugula leaves, washed
1 tbs red wine vinegar
Salt and pepper
2 oz parmesan cheese, grated
2 tbs mustard
Method
Pre-heat the oven to 400F.
Rub the steak with olive oil then season liberally with salt and pepper. Set aside.
Place the prosciutto on a baking sheet covered in parchment paper. Bake for 10 minutes or until crispy. Remove from the oven to cool. Once cool enough to handle, break into small pieces. Set aside.
Place the pine nuts on a baking sheet and roast in the oven for 5 minutes, or until golden. Keep an eye on the nuts as they can burn quickly. Set aside.
Place the cherry tomatoes on a baking sheet and sprinkle with olive oil, salt and pepper. Cook for 20-30 minutes until roasted and cooked through. Remove from the oven and set aside to cool slightly.
Heat the BBQ grill until hot. Turn down the heat to medium-high. Place the steaks on the grill and cook to your liking. Once cooked, remove from the heat and cover lightly with foil. Rest for half the length of the cooking time. So if the cooking time was 6 minutes, rest for 3 minutes.
Assemble the salad while the steak is resting. In a large bowl, mix the arugula, cherry tomatoes, prosciutto, pine nuts, olive oil, vinegar, prosciutto, salt, and pepper together. Mix until well combined.
Serve the steak with the salad on the side. A dollop of your favorite mustard will go perfectly with the steak.
Tell your friends
Why not share the love? We love it when you tell your friends about The Healthy Gut Recipes. Simply click one of the icons below to share it with your favourite social media platform.