At its heart, rice porridge is a straightforward dish. Don't let that fool you, though. This warm, nourishing SIBO friendly rice porridge recipe is easy enough to make during the week but scrumptious enough that you'll want to savour it during a lazy weekend morning, too. This breakfast recipe is a favourite of Rebecca Coomes; watch this week's episode of the SIBO Cooking Show to find out why.
This breakfast wonder shines no matter which way you craft it. Rice porridge is a great SIBO-friendly breakfast to add to your repertoire because it can be modified to fit almost any dietary restriction, and still taste fantastic no matter what. Plus, it's egg-free, is a great alternative to the protein and vegetable breakfast staple of many SIBO diets, and pays homage to breakfasts of the past.
We love simple dishes that allow creativity to take centre stage, and rice porridge lets you fulfil almost any taste craving you have. There's almost endless room to have fun with the flavours. Keep it simple with a drizzle of honey, make it sweeter with a serve of berries, or even go nuts and add a dusting of slivered almonds. When possible, try to use organic produce as it's best for your body and the environment. We love the lush fruit from Organic Angels, so you can always find us figuring out new ways to get creative with our breakfast dishes. Let us know what your favourite rice porridge toppings are in the comments below.  
This recipe, and plenty of other SIBO-friendly recipes are available in the SIBO Family Favourites Cookbook. Click here to learn more.

SIBO friendly rice porridge recipe
Serves: 2
Classification: SIBO Bi-Phasic Diet Phase 1 Semi Restricted, gluten-free, dairy-free, vegetarian, vegan (if stevia is used)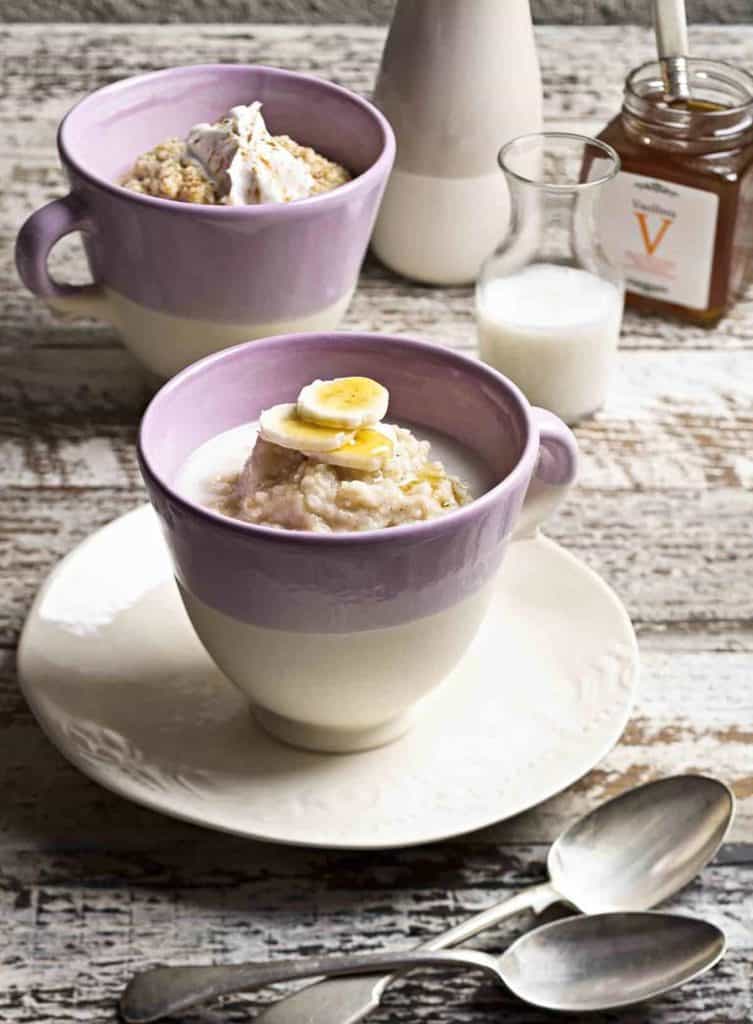 Ingredients
½ cup basmati or jasmine rice
2 cups almond milk, unsweetened
Pinch of salt
1 tsp vanilla powder
1 banana
2 tbs honey or few drops of liquid stevia
Method
Place your uncooked rice in a high-powered blender and blitz for a few seconds to chop the grains. Place the rice in a saucepan and cover with 1 ¼ cups almond milk. Stir in the salt and vanilla. Bring to the boil then reduce to a low simmer. Cover and cook for 15 minutes. Remove the lid and stir the rice. Pour in the remaining almond milk to warm. Let stand for 5 minutes.
Divide the porridge between two bowls and top with slices of banana. If you can tolerate it, drizzle with honey, or a few drops of stevia.